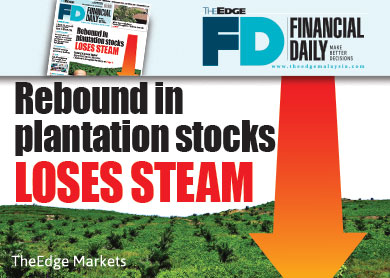 KUALA LUMPUR: The recent rebound in plantation stocks seems to have lost steam, no thanks to the glum earnings expectations and the narrower discount to soyoil that has discouraged palm oil consumption.
To add more to the gloomy outlook, India intends to impose a higher import tax on edible oils. Already the major edible oil importer has bought less palm oil.
Shipments fell 4.1% to 7.96 million tonnes for the year ended Oct 31, 2014, compared with 8.29 million tonnes in the previous year, the first drop since 2009/2010 based on the latest statistics of the Solvent Extractors' Association of India.
In fact, India's total vegetable oil imports, including industrial oils, jumped 12% to a record 11.8 million tonnes as purchases of soyoil and sunflower oils climbed to the highest ever. The latest statistics indicate the Indians are consuming more edible oil, but not palm oil.
The discount between palm oil and soyoil narrowed to an average of US$84 (RM280) a tonne this year from US$244 in 2013, according to data compiled by Bloomberg.
Sime Darby Bhd president and group chief executive Tan Sri Mohd Bakke Salleh said the performance of the conglomerate's plantation division would be affected by the weak crude palm oil (CPO) price.
"CPO price is an important element in determining the performance of the plantation division. If the price drops, obviously it will affect [our performance]," he told reporters after the group shareholders' meeting yesterday.
Mohd Bakke explained that for every RM100 drop in CPO price, it would translate into RM200 million of opportunity lost for Sime Darby. "It (the CPO price) is holding steadily at RM2,250 per tonne. There's an impact compared with last year, but I think the fundamentals of the business bode well for the plantation division," he said.
In the financial year ended June 30, 2014 (FY14), the plantation segment generated RM10.95 billion or 24.9% of Sime Darby's total revenue.
JF Apex Research plantation analyst Jessica Low told The Edge Financial Daily that CPO prices would come under pressure if other ministries in India gave the green light on the proposal for a higher import tax on edible oils.
"Companies in India may be discouraged from  importing edible oils from other countries but it would not be significant," Low said. "We will see a slight negative impact in the short term [on CPO prices] but it's not going to be huge." Low expects CPO prices to be at RM2,400 by year-end.
UOB KayHian maintains its market weight rating on the plantation sector, as "there is no strong catalyst to send CPO prices to the recent high of RM2,900 per tonne due to ample edible oilseed supplies".  It has a forecast CPO price of RM2,400 per tonne in 2014, RM2,525 per tonne in 2015 and RM2,600 per tonne in 2016.
RHB Research plantation analyst Alvin Tai said CPO price should strengthen until February or March next year. He has a "tactical buy" recommendation on the sector with the estimated CPO price to close between RM2,400 and RM2,500 per tonne by year-end.
Four plantation counters — Genting Plantations Bhd, PPB Group Bhd, United Plantations Bhd and Felda Global Ventures Holdings Bhd (FGV) — were among the top losers on Bursa Malaysia yesterday.
Genting Plantations shed 26 sen or 2.48% to RM10.24, PPB Group fell 24 sen or 1.6% to RM14.80, United Plantations dropped 0.89% or 22 sen to end at RM24.60 and FGV fell 19 sen or 5.26% to close at RM3.42 yesterday.
This article first appeared in The Edge Financial Daily, on November 14, 2014.