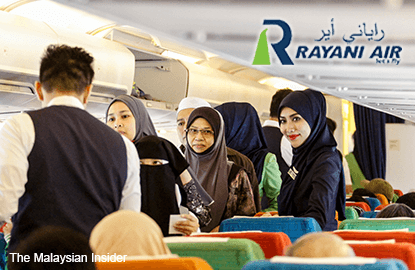 KUALA LUMPUR (June 13): The Malaysian Aviation Commission (MAVCOM) has revoked Rayani Air's Air Service Licence (ASL), effective today.
This ruling means that Rayani Air can no longer operate as a commercial airline with immediate effect.
In a statement today, the independent economic regulatory body said it found that Rayani Air had breached the conditions of its ASL and lacked the financial and management capacity to continue operating as a commercial airline.
"This episode serves as a reminder that operating a scheduled commercial airline is an exceedingly challenging undertaking and requires a high degree of panning, financial depth, operational know-how and execution capability to stand any chance of succeeding," said MAVCOM executive chairman Tan Sri Abdullah Ahmad.
Meanwhile, MAVCOM stated that Rayani Air is still liable to refund customers who have purchased tickets with Rayani Air but were not able to go on their journey.
The second blow to the airline operator today came when the Department of Civil Aviation Malaysia (DCA) ruled to revoke Rayani Air's Air Operator Certificate (AOC) after a full investigation into the administration and safety audit of the airline's state of operations.
Rayani Air is required to return the AOC to DCA director general Datuk Seri Azharuddin Abdul Rahman within 14 days from the date of notice of revocation.
"The DCA and the Ministry of Transport is working closely with MAVCOM in this matter as safety and security of the aviation industry is of paramount importance," stated Azharuddin in the DCA press statement.