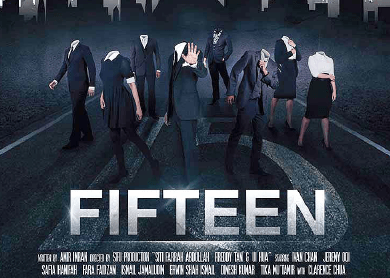 Playwright Amir Imran's play examines the struggle of the rat race in 2015
Amir Imran was living life on the streets of London—by choice, no less — when he had an epiphany about life. More accurately, about how people go about their daily lives, running in their personal rat races without realising what they are missing in the process. Sitting along the streets day in and day out, he began to see the façade of London's glitz and glamour slowly crumble in front of his eyes, and that became the catalyst for his play, Fifteen.
Set in Kuala Lumpur and revolving around five stories consisting of several characters struggling through the banal reality of the rat race, Fifteen is an examination of the socio-economic conditions of the city told through the viewpoints of its different characters, inspired by Amir's time living on London's streets. 
Directed by Siti Farrah Abdullah, Freddy Tan and Ui Hua, Fifteen sports a cast of nine which includes Ivan Chan, Jeremy Ooi, Safia Hanifah, Fara Faidzan, Ismail Jamaludin, Erwin Ismail, Dinesh Kumar, Tika Mu'tamir and Clarence Chua. 
Siti, who stumbled upon the world of theatre by accident in 2008 believes that the audience will be able to relate to the choices that the characters in this play make, as they are dilemmas which we all face at some point or other in our lives.
"Are you responsible for your choices? Are you willing to accept the changes that you effect on your life and of the lives of others around you?" she reasons.
"I don't think the objective of Fifteen is to get people to come away with some deep understanding about the circle of life, but instead reflect upon our urban lifestyle in KL. This play tackles a lot of current issues that our country is experiencing — socio-economic and political issues," explains Tan. 
"We want people to find some common ground between their lives and the lives of the characters. And of course, there is humour in the play as well," he continues.
Although there are elements of criminality in Fifteen, the directors are adamant that their intent is not to advocate crime; rather, to invite the viewers to contemplate the reasons behind crimes that are committed, and to examine the grey areas that exist in morality. 
"When you are in dire need, robbing someone becomes an option, and sometimes, the only way out. Some scenes even challenge the definition of crime. For example, we all know that jaywalking is illegal. However, is it still wrong to cross the street when it's two in the morning and there is not a single soul around?" Tan muses. 
The cast and crew of Fifteen have been hard at work for the past five months, struggling to successfully stage this play amid tight budget and time constraints. 
"We have done a lot of short theatre productions, but this is the first time that we are staging a full-length production. Our biggest problem was the fear, the uncertainty, and the fact that we didn't have people involved in this project," says Siti regarding the difficulties that the team faced.
The team, however, was stoic and ploughed through the hurdles thrown at them, finally arriving at the end of their journey — the premiere of Fifteen will take place on Thursday. 
---
Fifteen runs from June 11 to 14 at Theatre KuAsh, 48 Jalan Tun Mohd Fuad, TTDI, KL. Show times are 8.30pm (June 11 to 14) and 3pm (June 14). For tickets, visit www.ticketpro.com.my or call (03) 7880 7999. Tickets are priced at RM53 for adults and RM38 for students (inclusive of 6% GST). For inquiries, email [email protected] or call (017) 360 6110.
This article first appeared in The Edge Financial Daily, on June 8, 2015.