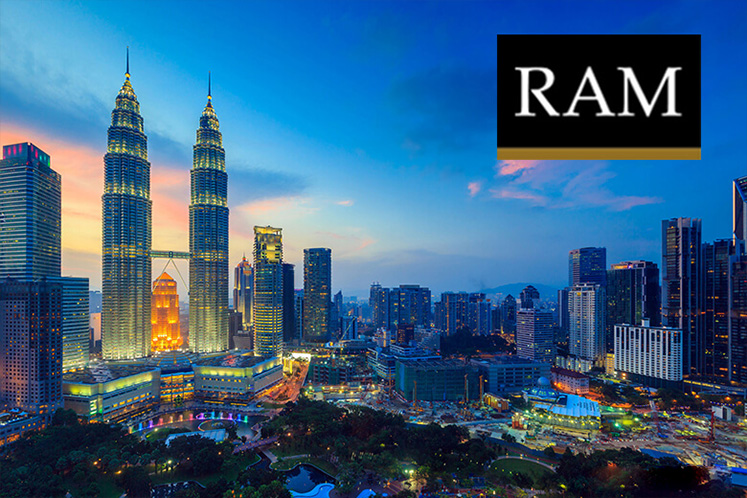 KUALA LUMPUR (Aug 17): RAM Rating Services Bhd has revised down its gross domestic product (GDP) growth forecast for Malaysia for 2018 to 4.9%, from an earlier 5.2% projection, as private investment growth is expected to be less robust than anticipated.
In a statement today, the local rating agency expects private investment growth to come in at a more muted 3.9% compared with its initial forecast of 8.3%.
"Private consumption will continue to be the driving force for domestic demand this year with growth forecasted at 7.4%, as private investment is set to slow.
"Infrastructure project rationalisation has come at a time of moderating capacity building activities, as shown by insights from our quarterly RAM Business Confidence Index (RAM BCI), which indicate reduced impetus for marginal investment activity as capacity constraints become less binding," it said.
With diminished incremental impetus for industrialised economies to invest after growing from a low base the previous year and a corresponding ramp-up in restocking activities, RAM's expectations for export growth had already veered towards a slower year without the additional distraction of tit-for-tat trade retaliation.
It is expecting export growth to clock in at 2.8% in 2018 — below its initial forecast of 4.2%.
"Potential benefits from trade diversion are only expected in the medium term after an adjustment period for global value chains and will be dependent on future domestic industrial and investment policies," said RAM.
"Specifically, Malaysia stands to gain from potential trade diversion stemming from 'Part 2' of the US$50 billion Trump tariffs effective from Aug 23, which are heavily concentrated on chemical and technology-related goods.
"Conversely, minimal trade diversion benefits are expected from 'Part 1' and the RM50 billion worth of Chinese retaliatory tariffs due to come into effect soon," it noted.
Headline inflation is also anticipated to stay subdued at 1.3% on the back of a sizeable downward pull from the goods and services tax-zerorisation, the reinstatement of fuel subsidies, as well as a lower-than-expected contribution from food inflation this year, said RAM.
"In view of the lower core inflation trajectory and moderating growth, there seems to be some downward bias for the overnight policy rate (OPR) this year.
"However, our base case is still for the OPR to stay put at 3.25% for the rest of the year, as we feel that lingering policy uncertainties and macro risks may continue to pose some capital outflow bias. That said, monetary policy will, in our view, play a bigger role as fiscal consolidation is seen to be a key trend going forward and, hence, will afford less scope for additional pump-priming," it added.
RAM head of research Kristina Fong said the big reveal of the government's key fiscal policy initiatives and direction going forward, and the renewed longer-term development policies of the revamped 11th Malaysia Plan after its mid-term review, will help provide more guidance on the medium-term economic growth trajectory.
"The first 100 days in office was just the start of what seems to be a period of re-adjustment for the economy and managing this will require a careful balancing act by both policy makers and businesses alike," she said in the statement.