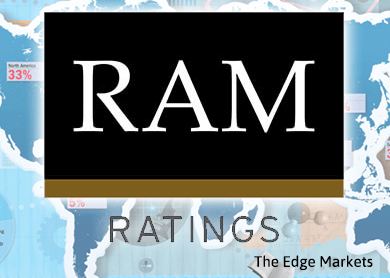 KUALA LUMPUR (Aug 18): RAM Ratings Services Bhd has today reaffirmed Genting Bhd's global corporate credit ratings (CCR) of gA2/Stable/gP1.
It has also reaffirmed the group's respective ASEAN and national CCR of seaAAA/Stable/seaP1 and AAA/Stable/P1, according to RAM Ratings' statement.
"At the same time, we have reaffirmed the AAA(s)/Stable ratings of the RM2.0 billion MTN (medium term note) Programme (2012/2032) and RM1.6 billion MTN Programme (2009/2024) issued by the Group's wholly-owned subsidiaries, Genting Capital Bhd and GB Services Bhd, respectively," the rating agency said.
The ratings reaffirmation came after Norway's sovereign wealth fund, the world's biggest, dropped Genting from its investment portfolio, together with IJM Corp and two other Korean companies, on concerns of "severe environmental damage".
RAM Ratings said today Genting's credit profile is supported by its strong business position in the Malaysian, Singaporean and United Kingdom (UK) gaming markets.
Underpinned by Resorts World Genting's (RWG) monopolistic position in Malaysia and Resorts World Sentosa's (RWS) strong foothold in Singapore's gaming duopoly, the group's overall operating profit before depreciation, interest and tax margins of 30%–40% are among the highest of gaming groups, it added.
Further, RAM Ratings said contributions from RWG and RWS are relatively well balanced, while Genting's balance sheet possesses strong liquidity, with strong cashflow-generating ability.
The group's net gearing ratio remained solid at 0.07 times as at end-FY Dec 2014 (end-FY Dec 2013: 0.08 times), backed by RM16.97 billion of cash and cash equivalents.
However, it added that Genting's debts are expected to rise in view of planned capex and investments in the development of Resorts World Las Vegas, the rejuvenation of RWG, the construction of a power plant in Indonesia, and oil and gas (O&G) exploration costs.
"Notwithstanding weaker cashflow debt-coverage levels, Genting's high cash levels are expected to be maintained, while its metrics are anticipated to improve in the medium term", says RAM Ratings' Head of Consumer and Industrial Ratings Kevin Lim.
The ratings, meanwhile, are moderated by the group's exposure to regulatory risk, its aggressive expansion strategy and the execution risks that this entails. The gaming industry, owing to its sensitive nature, also faces regulatory controls that may evolve over time, noted RAM Ratings.
It also said Genting is in the midst of rejuvenating RWG and developing integrated resorts (IRs) in the UK and Las Vegas, US. The Group may also develop an IR in Miami in the US, if there is a favourable legislative outcome on casino gaming there.
Besides the leisure and hospitality (L&H) segment, Genting is investing heavily in its O&G, power and plantation divisions.
"We remain cautious of the possible impact of large debt-funded expansions on Genting's financial metrics," RAM Ratings said.
RAM Ratings pointed out that Genting's expansion, particularly into new markets, involves considerable execution risks. The concurrent expansion of more than one sizeable project will also entail a considerable demand on resources.
"Nonetheless, we derive comfort from the group's strong operational performance in Malaysia and Singapore, and its success in turning around and growing its UK operations further," RAM Ratings added.
Shares in Genting (fundamental: 2.1; valuation: 1.4) dropped 4 sen or 0.56% to close at RM7.10 today, for a market capitalisation of RM26.55 billion.
(Note: The Edge Research's fundamental score reflects a company's profitability and balance sheet strength, calculated based on historical numbers. The valuation score determines if a stock is attractively valued or not, also based on historical numbers. A score of 3 suggests strong fundamentals and attractive valuations.)