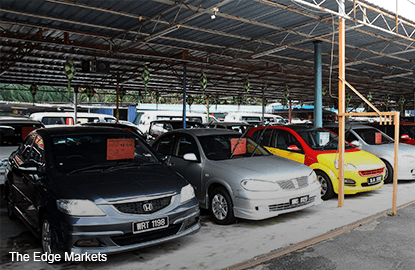 KUALA LUMPUR (June 21): RAM Rating Services Bhd has maintained its negative outlook on the automotive sector and expects total automotive industry volume (TIV) to contract up to 10% this year, following a 17.6% year-on-year plunge in vehicle sales to 218,101 units in the first five months of the year.
In a statement today, RAM's head of consumer and industrial ratings Kevin Lim said poor consumer sentiment, compounded by the frontloading of sales last year, had resulted in the severe downtrend in TIV, the extent of which was deeper than initially expected.
Lim said consumer confidence is expected to remain weak this year owing to the uncertain economic environment, the rising cost of living and tighter credit conditions.
He said these challenges will pose a severe drag on automotive sales, although a slight uptick is anticipated in the second half of this year, in view of the introduction of significant new models.
"At the same time, most industry players face slimmer margins from a higher cost structure and intense competition.
"As such, RAM has maintained its negative outlook on the sector, premised on continued tough operating conditions," Lim said.
He said growth in TIV last year had been flat, totalling 666,674 units (2014: 666,465 units), despite the support of popular new models and sales-inducing events.
Significant sales of new models such as Perodua's Axia and Honda's Jazz and HR-V had helped support the TIV, he added.
This factor, he said, together with the frontloading of purchases by consumers in the first and fourth quarters of 2015 (consumers bought ahead of the implementation of the goods and services tax in April 2015 and impending price increase of popular models in January 2016) had just offset overall dampened automotive sales.
"Meanwhile, the severe devaluation of the ringgit last year had impacted the sector, given the higher costs of imported completely-knocked-down vehicle kits and automotive parts.
"These costs had mostly been absorbed by the manufacturers in view of intense competition amidst an environment of weaker demand, which had necessitated promotions and discounts. Many large local automotive players had seen an up to 10-percentage-point deterioration in pre-tax profit margins," said Lim.
He explained that while the extensive deterioration of the ringgit has since largely stabilised, he expects the value of the currency to remain weak against the US dollar this year, likely in the range of between RM4 and RM4.25 (2015 average: RM3.91).
As such, the majority of automotive players may see their margins slide further, he added.
"We note that most manufacturers have embarked on aggressive cost-cutting exercises and price adjustments, which are anticipated to cushion margin contraction," said Lim.
The worst may not be over for some players in the sector, due to the continued tough operating environment this year, he added.
"Nonetheless, we do not expect persistent and substantial deterioration in performance, given the relative stability of the ringgit compared to last year.
"We foresee a gradual recovery next year, in line with our anticipation of a measured retracement in the value of the ringgit over the medium term.
"Furthermore, sales of vehicles usually rebound after a period of contraction," he said.