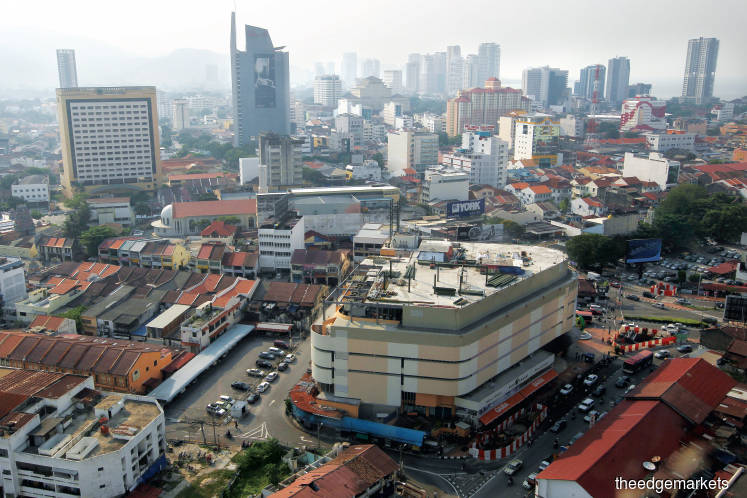 Property transactions in Penang for 2019 totalled 17,118 units worth  RM8.63 billion, compared with 17,087 units worth RM10.19 billion in 2018, according to Raine & Horne International Zaki + Partners Sdn Bhd senior partner Michael Geh.
In presenting the 1Q2020 Penang Housing Property Housing Monitor, Geh says property transactions in the state in 1Q2020 totalled 3,734 units worth RM1.71 billion, slightly lower than the 1Q2019 figure of 4,096 units worth RM2.03 billion.
For residential property,  a total of 12,718 units worth RM4.96 billion were transacted in 2019, versus 12,551 units worth RM5.47 billion the preceding year. In 1Q2020, the figure was 2,748 units worth RM1.06 billion.
A total of 1,448 commercial property units worth RM1.27 billion were transacted in 2019 versus 1,304 units worth RM1.12 billion in the preceding year. For industrial property, a total of 392 units worth RM860 million were recorded in 2019 versus 458 units worth RM1.17 billion the preceding year.
In 1Q2020, 288 commercial properties were transacted at a total value of RM210 million while 104 industrial properties were sold at RM200 million in Penang. Development land transactions fell to 268 transactions worth RM130 million in 1Q2020 compared with 249 transactions worth RM230 million in the preceding quarter.
"Increases in transactions were noted in both the primary and secondary residential property markets … The higher number of units sold last year is credited to the successful Home Ownership Campaign (HOC) of 2019. The 2019 value is lower than the previous year's even though more units were transacted, which shows that more properties in the secondary market were sold at a lower price than before," Geh tells City & Country.
Last year, property developers in Penang were busy with roadshows and exhibitions to promote their projects in Hong Kong while trying to sell as many of their products as possible under the HOC, which ended on Dec 31.
There has been a rise in the number of Hong Kong homebuyers in Penang, who favour properties with a sea view. They have since snapped up properties in both the primary and secondary markets.
Effects of Covid-19 pandemic
Like other states in Malaysia, various sectors in Penang have been severely affected by the Covid-19 pandemic and the subsequent Movement Control Order (MCO) imposed since March 18. In 1Q2020, the sectors badly hit by the pandemic in Penang include tourism, hospitality, airport and seaport, according to Geh.
He notes that, during the quarter, the tourism and hospitality sector was the second-highest contributor to the state's gross domestic product after the industrial sector.
"The airport and seaport have shut down and the loss of domestic and foreign tourists has caused the loss of business. I expect to see reduced business for the whole of 2020. I am confident, however, that the proactive state and federal governments will implement stimulus actions to positively impact the property market," he says.
The government imposed a nationwide MCO in March to curb the spread of Covid-19.
Malaysians were banned from travelling overseas during this period, while those who returned from abroad had to undergo health checks and self-quarantine for 14 days.
The restrictions included a ban on all mass gatherings for religious, sports, social and cultural activities. All education institutions, government and private premises also had to cease operations, with the exception of those involved in the provision of essential services. The MCO was extended four times.
On May 4, the Conditional MCO (CMCO) was imposed until June 9. As part of Malaysia's exit strategy from the MCO, it has entered a recovery phase, which will end on Aug 31. Under the Recovery MCO, most business, social, educational and religious activities as well as economic sectors will reopen in phases, but have to comply with standard operating procedures. The country's borders remain closed, but interstate travel is allowed, except for areas placed under Enhanced MCO.
Government intervention
While the MCO has greatly affected the country's economy, the International Monetary Fund was quoted as saying that it expects Malaysia's economy to bounce back by a massive 9% next year, compared with -1.7% this year.
Nevertheless,most believe that government  intervention is important. Geh says among other things, the government can revise  development charges and statutory compliance costs, which will ultimately be borne by property buyers.
"On property purchases by foreign buyers, I request that the levy imposed be temporarily waived and the purchase ceiling price be reduced to RM600,000," he says.
"The government should also review compliance with technical requirements such as guidelines for green building and rooftop rainwater harvesting to reduce development costs. Penang is a top destination for international lifestyle relocation and MM2H (Malaysia My Second Home), so it must be market-friendly to maintain this status."
Infrastructure projects
Geh says the ongoing RM46 billion Penang Transport Master Plan (PTMP) is in the planning stage, with the Penang South Islands Masterplan Design Competition in progress. In January, the Penang government announced the five finalists of the competition.
He explains that the PTMP is necessary to elevate traffic congestion, improve transport mobility and bring economic transformation to the state. The project entails the construction of an undersea tunnel connecting the island to the mainland, highways, light rail transit, monorail and a comprehensive bus network between the island and Seberang Perai.
On the other hand, non-governmental organisations have been urging the government to review the project because of the environmental and social impact.
Prices and rents remain flat
The Penang Housing Property Monitor for 1Q2020 shows that performance was flat quarter on quarter, as there was no movement in housing prices and rents in the housing schemes sampled.
Most schemes have seen no movement in prices and rents for more than four quarters. Geh reckons one reason is that the schemes are mostly in mature areas.
Schemes that have seen movements in transacted prices in the past two years, albeit marginal, are 1-storey terraced houses (1,200 to 1,600 sq ft) in Seberang Perai Utara and Seberang Perai Selatan as well as 2-storey terraced houses (1,300 to 1,800 sq ft) in Seberang Perai Utara, Seberang Perai Tengah and Seberang Perai Selatan. These schemes last saw a price movement in 4Q2018.
Semi-detached houses, detached houses and high-rise units have seen no movements annually across the board since 2016.