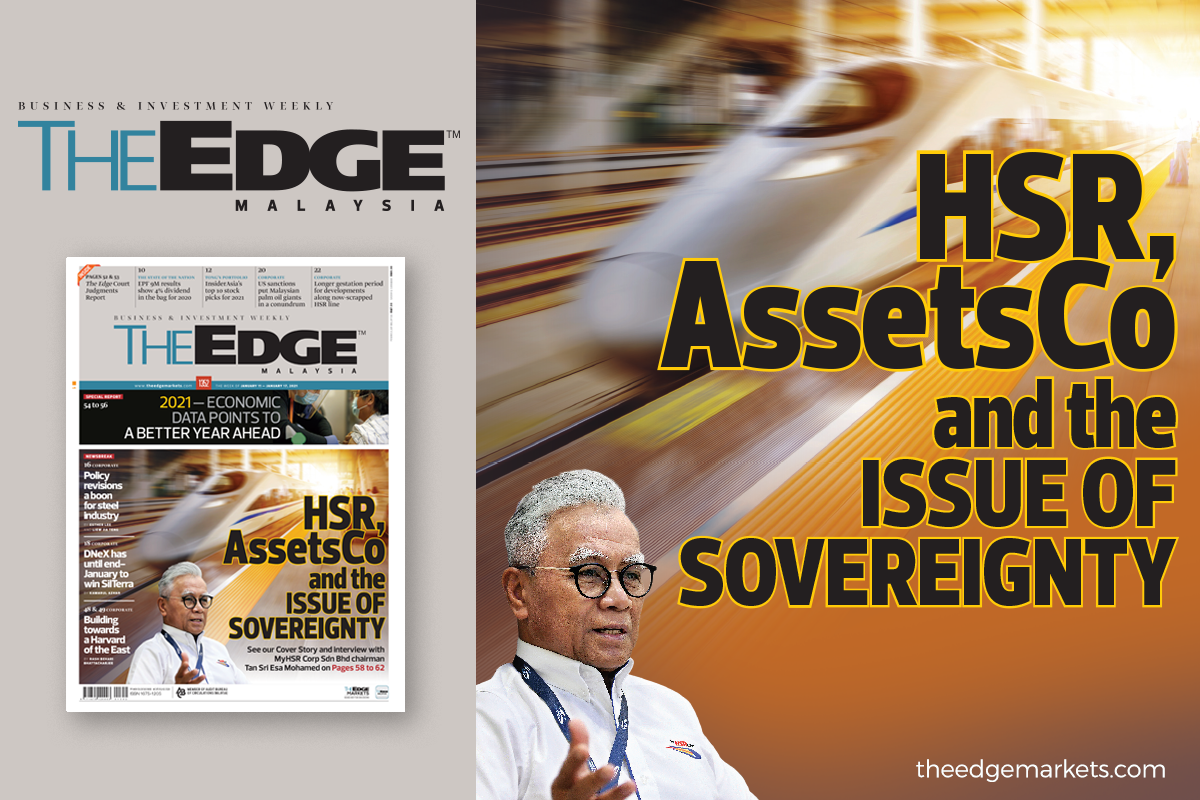 KUALA LUMPUR (Jan 9): A dream dashed. Calls for transparency. Land of missed opportunities. These are some of the cries uttered by Malaysians after learning that the long-awaited Kuala Lumpur-Singapore High Speed Rail (HSR) was scrapped by the government on the first day of 2021.
While the HSR has been touted as a game changer for both Malaysia and Singapore in terms of connectivity — door-to-door travel time within 90 minutes between both country's capitals — the issue at hand goes beyond politics and economics.
It is a question of Malaysia's sovereignty over its own national strategic infrastructure.
Had Malaysian officials backed down in their negotiations with Singapore and agreed to continue with the HSR based on what was agreed in the December 2016 bilateral agreement, the island nation would have had a say in the running of a rail line 335km long within our territory.
In contrast, Malaysia would only have had a say in the running of a 15km line within Singapore. Also, Singapore would have been able to place their Customs, Immigration and Quarantine (CIQ) complex in two strategic locations within Malaysia — Iskandar Puteri in Johor and Bandar Malaysia in Kuala Lumpur.
Meanwhile, Malaysia would only have had access to the CIQ in Jurong East, not Downtown Core.
How could this happen? It boils down to Singapore's insistence on having the assets company (AssetsCo) structure where a jointly controlled entity would own the rolling stocks, communications and signalling system and power grid of the entire 350km of the HSR line.
Such a structure has not been used in any HSR lines in the world.
So why, one wonders, did the Malaysian government back in December 2016 sign the agreement?
First, the cost was an issue. The AssetsCo model allows for an international consortium of companies to raise the financing required for the procurement, installation and commissioning of the HSR railway assets.
Without the AssetsCo model and the involvement of Singapore, Malaysia would have to fork out its own money to fund the railway assets itself. At a conservative estimate, the HSR would have cost about RM60 billion, with a substantial portion for the railway assets.
However, countries at a similar development level as Malaysia, such as Thailand, India, Indonesia and Morocco, have funded their HSR assets themselves, with help from international financing bodies.
In an interview with The Edge, MyHSR Corp Sdn Bhd chairman Tan Sri Esa Mohamed explained some of the issues.
Read it in this week's issue of The Edge Malaysia.