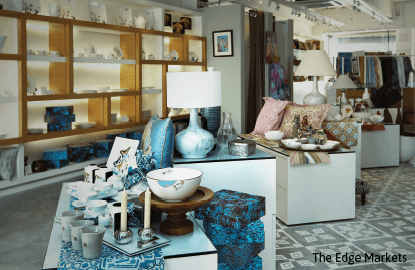 This article first appeared in haven, The Edge Malaysia Weekly, on Issue #76 December 2015 + January 2016.
KitaKita
G1.10, 1 Jalan Medan Setia 1
Bukit Damansara
50490 Kuala Lumpur
Email: [email protected] 
Website: www.kitakita.my
Concept
Nestled within Bukit Damansara is the newly refurbished KitaKita, which sells Malaysian arts and craft products. It is named KitaKita ("kita" means "us" in Bahasa Malaysia) because it showcases the beauty, creativity and diversity in the crafts of Malaysia.
The family-run business — founded by Nori Abdullah Badawi, Mona Jamaluddin, Hana Jamaluddin and Pam Shahril @ Yazwa Yahya — places a strong emphasis on quality. 
"We ensure that the items are aesthetically appealing and have a certain level of quality. Every single item has to have its own appeal," Nori tells haven at KitaKita Café, which adjoins the shop. "We have a lot of beautiful things in the country but what you see in most of the shops are for tourists and are sometimes kitsch and not reflective of our rich heritage. One of the reasons why we decided to establish KitaKita was because we realised that there was no real setting in which to show off what we have in terms of skill, craftsmanship and artistry."
The boutique indeed has a strong Malaysian vibe that is translated effortlessly in the motif, material and origin of each product. "While we do want to preserve things in their original form and authenticity, it is also very important to see some of these things take on a change, to adapt to more current tastes and what the market wants," she adds.
Ambience 
The 2,300 sq ft shop is predominantly white and grey, allowing the plethora of merchandise to take centre stage. "We started off very small," says Nori. It was just a third of the current floor space. Products are beautifully displayed, inviting customers in for a closer look. Crockery and smaller items are arranged in cabinets while bigger pieces such as footrests and baskets are stacked on the floor. 
Furniture and interior design-related products occupy the front section and are clearly visible through the floor-to-ceiling glass windows and doors. There are also little nooks that have been curated in various corners — such as an armchair with batik cushions paired with a side table and table lamp as well as a dining table setting made up of pieces from the various collections available — enabling customers to have an idea of how they can incorporate the pieces into their own décor. 
The fast-selling wooden coasters that are intricately carved with KitaKita's signature hibiscus design hang from a wooden installation on the wall while stacks of batik coasters and place mats with the same hibiscus design, secured with ribbons, are offered up in baskets on the payment counter.
Quality
The beauty of KitaKita's merchandise is that the Malaysian references are incorporated in a subtle and thoughtful way. Beautifully designed and polished with a more contemporary aesthetic, the products are indeed local arts and craft but elevated to a higher quality and standard. There is, for instance, the range of fine bone china tableware adorned with a series of hand-painted colourful traditional nyonya kebaya, which has become KitaKita's signature series. It can either be used as a set or mixed and matched for a more playful and personalised table setting. There is also a range of fine bone china frame plate, trinket tray and lidded jar, which features a hand-painted tiger. 
The products offer a fresh and contemporary approach to furnishing your home with well-loved Malaysian craft. Says Nori, "You see a lot of things that people don't immediately associate with Malaysian craft but the local component is clear, in terms of the inspiration." 
Alongside KitaKita's signature pieces are items by emerging as well as renowned local artists. Nori explains that there is a social enterprise aspect to the shop, with KitaKita being a platform for local designers and artisans, with whom the four founders work with hand in hand. These collaborations have resulted in some amazing decorative centrepieces and interesting pieces such as a lap tray with a wooden surface and soft cushiony batik base.
At times, KitaKita commissions craftsmen to make a particular item. Nori says that if they come across "something others can appreciate", they will either purchase a quantity of the said product or work with the artist to come up with something new. Its rattan baskets, for instance, are inspired by the rattan weavers and bemban from the East Coast.
KitaKita offers an extensive selection for local arts and craft aficionados with pieces that are unique to Malaysia, yet contemporary enough to blend in beautifully with any home, regardless of theme or design.