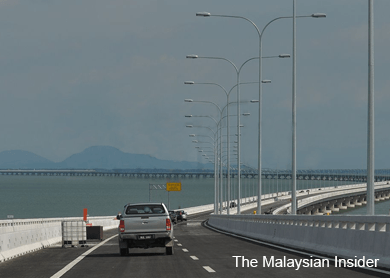 (Dec 17): Driving across both the bridges to Penang island will cost 6% more when the goods and services tax (GST) takes effect  next April 1 unless Putrajaya rescinds the consumption tax, the state government said today.
Penang Chief Minister Lim Guan Eng said Putrajaya's move will affect millions who depend on crossing important bridge links every day in the island state and also Johor, which also has two bridges to Singapore.
The bridges which connect the island and the mainland – Penang Bridge and the Sultan Abdul Halim Mu'adzam Shah Bridge which opened in March this year – have toll charges for any vehicles entering the island.
Those who use the 92-year-old Johor-Singapore Causeway and the Tuas Second Link which connects Tanjung Kupang in Johor to Tuas in Singapore, would also have to pay GST for their journey to Singapore, in addition to paying the toll to the Singapore authority for the trip back.
Lim said all public bridges were originally exempted from GST, together with highways.
But, during a briefing last month by the Customs Department it was found that the exemption for bridges had been removed.
Lim said the state executive council resolved to object to this removal of exemption as it would burden countless people, especially in Penang and Johor.
"We will write officially to federal government to ask that this exemption be reinstated," he said at a press conference after the executive council meeting today.
Lim said he would like to ask Prime Minister Datuk Seri Najib Razak on why the change had been made. "Bridges were exempted before, but now they are not," he said.
"This will burden the 1.6 million population of Penang," he said. "Millions will also be affected in Johor."
"We hope that this can be corrected," he added.
The GST will be imposed on a list of goods and services which will be charged 6% tax at every stage of the supply chain. – The Malaysian Insider