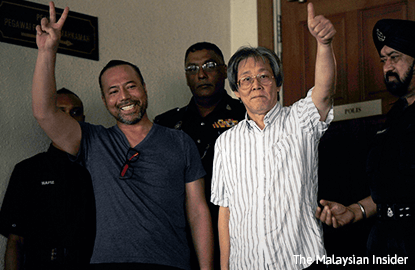 (Dec 2): The prosecution is appealing against a High Court decision to grant bail to former Umno leader Datuk Seri Khairuddin Abu Hassan and lawyer Matthias Chang who are facing a charge of sabotaging the Malaysian economy.
Khairuddin's lawyer Mohamed Haniff Khatri Abdulla said the prosecution filed a notice of appeal on Nov 18, the same day the court made a ruling in favour of the duo.
The Malaysian Insider learnt that the prosecution was awaiting the judge's written grounds to enable them to file the petition of appeal.
"The petition will outline the error committed by the High Court for the consideration of the Court of Appeal," a deputy public prosecutor said.
On November 3, Chief Justice Tun Arifin Zakaria had directed this case be heard on urgent basis, in the event the matter went to the Court of Appeal.
High Court judge Datuk Mohd Azman Husin had ruled that Parliament had never intended the charge under Section 124L of the Penal Code to be a security offence.
"As such, procedures under Security Offences (Special Measures) 2012 could not be applied on them," the judge said in allowing the duo's application.
He released them on RM10,000 bail, and ordered the trial to commence in the Sessions Court.
The charge under this section carries a jail term of up to 15 years upon conviction.
Khairuddin was detained on Sept 8 and Chang, a former political aide to ex-prime minister Tun Dr Mahathir Mohamad, was arrested on Oct 8.
On Oct 12, both men were charged with attempted sabotage of the Malaysian economy and the country's financial and banking system after Khairuddin lodged reports against 1Malaysia Development Berhad. – The Malaysian Insider