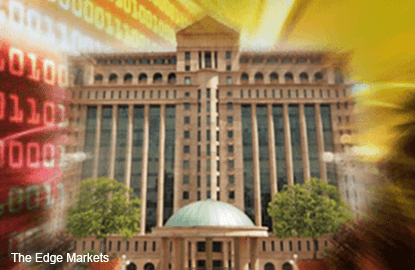 KUALA LUMPUR (Jan 14): Put warrants were among top gainers on Bursa Malaysia this morning, as both the Hang Seng Index and the FBM KLCI were in the red.
At 10.37 a.m, put warrants which have the Hang Seng index as its underlying, such as the HSI-HW (up 29 sen or 31.18%), HSI-HO (up 27 sen or 13.17%), HSI-HN (up 19 sen or 14.18%), HSI-HS (up 17 sen or 12.59%), HSI-HR (up 12.5 sen or 14.88%), HSI-HU (up 11 sen or 8.87%) and HSI-HT (up 9 sen or 11.92%) were among the top 15 gainers on Bursa Malaysia this morning.
This comes as no surprise, as put warrants are investors' cup of tea during a market downtrend, and the Hang Seng index which was down 331.25 points or 1.66%  at time of writing, seems to have triggered some trade in put warrants.
According to Reuters, Asian share markets weakened across the board this morning, hit by steep losses on Wall Street overnight, as rout in oil prices heightened worries about the global economy.
The FBM KLCI, which was down 6.05 points or 0.37% at time of writing, had also triggered some active trade in its put warrants. At 10.45 a.m, the FBMKLCI-HK saw 24.63 million of its warrants traded, and was up 1 sen or 8%.