This article first appeared in The Edge Financial Daily, on October 29, 2018.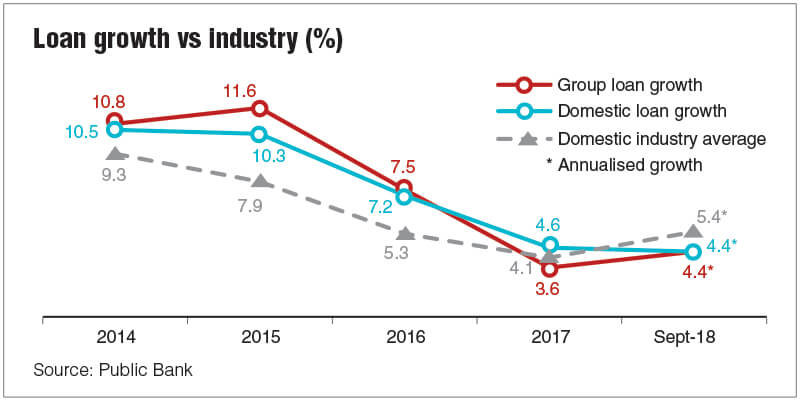 KUALA LUMPUR: Public Bank Bhd, the country's third largest lender by assets, is likely to see loan growth coming in at the lower end of its targeted 4% to 5% range this year, said analysts.
Its domestic loan growth stood at 4.4% on an annualised basis as at end-September, which was below the industry's 5.4% growth. Overall loan growth (including overseas loans) also stood at 4.4%.
"Weaker business loan application and approval trends due to policy uncertainties after the 14th general election, coupled with continued weakness in commercial property lending — which forms a large portion of the group's SME (small and medium enterprise) financing base (95%) — could continue to be a slight drag on the group's loan growth outlook into 2019," UOB Kay Hian Research said in a report after the bank released its third quarter of financial year 2018 (3QFY18) results last Thursday.
Public Bank was the first among local banks to report 3QFY18 earnings. The rest are expected to do so next month.
At the results briefing for analysts last week, Public Bank's management indicated that going by its loan approval pipeline, overall loan growth could come in at the lower end of its target range for this year.
Previously, Maybank Investment Bank (MIB) Research trimmed its loan growth forecast for the lender to 4.2% from 4.7%.
The other challenge Public Bank faces is to keep its net interest margin (NIM) from falling further. Its NIM fell by a larger-than-expected eight basis points (bps) quarter-on-quarter (q-o-q) to 2.16%, the lowest in three years. It was the second consecutive quarter of a decline in NIM, the result of intense deposit competition in the industry which raised its funding cost.
"Public Bank's primary challenge at this stage is in sustaining loan growth momentum and [its] NIM," MIB Research observed.
Going forward, deposit pricing pressure may taper off after Bank Negara Malaysia's announcement last week that it was postponing the implementation of the net stable funding ratio (NSFR) for banks. The NSFR was initially meant to be implemented on Jan 1, 2019 and as such, many banks chased retail deposits this year in a bid to boost their stable long-term funding.
Nevertheless, given the intense deposit competition it faced in the second and third quarters, Public Bank expects its NIM to decline this year on a year-on-year (y-o-y) basis. MIB Research sees its NIM declining by 6bps this year from 2.28% last year, compared with an earlier expectation of a 3bps fall.
Public Bank's 3QFY18 net profit of RM1.38 billion was 1.5% lower y-o-y and 0.9% lower q-o-q, but nevertheless fell within analysts' expectations. Profit fell from a year ago due to the absence of a one-off capital gain on investment, higher operating expenses and lower gains from financial instruments.
The bank made no changes to its targets for this year. Analysts expected it to easily meet its targets of a return on equity (ROE) of 14% to 15%, cost-to-income ratio of 33% to 34% and deposit growth of 5%.
Public Bank's share price fell 28 sen or 1.28% to RM24.62 last Friday, the day after it announced its financial results.
Bloomberg data showed that of 24 analysts that track the stock, most (12) have a "hold" call on it, while nine have a "buy" and three a "sell". The average 12-month target price for the stock is RM25.38, implying a limited upside.
"Although we continue to acknowledge the stock's defensive earnings qualities and robust provision buffers, its premium valuations have certainly factored in such qualities. The stock is currently trading at a 75% price-to-book premium to the sector's average of 1.2 times versus an ROE premium of 40%," said UOB Kay Hian, which has a "hold" call on the stock.