This article first appeared in The Edge Financial Daily, on January 30, 2019.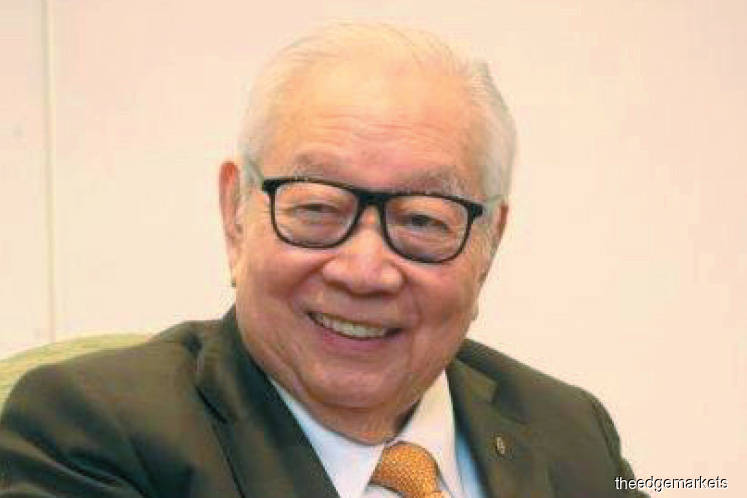 KUALA LUMPUR: Tan Sri Dr Teh Hong Piow (pic), the founder, chairman emeritus, director and adviser of Public Bank Bhd, has been conferred an Honorary Doctor of the University by Sunway University.
In a statement yesterday, Public Bank said the conferment is in recognition of Teh's outstanding contribution in overseeing the evolution of the bank into a modern and integrated financial institution and for his outstanding contribution to the growth of the banking and finance industry in Malaysia.
"Sunway University is very pleased to be associated with Tan Sri Teh, a man of great stature, who built Public Bank from ground up in 1966. Public Bank has not only become a household name, it has held the record of over 50 years of unbroken profitability," said Sunway University chancellor Tan Sri Dr Jeffrey Cheah.
"Tan Sri Teh and I share many similarities. Both of us built our companies from scratch. We both had a dream and a vision, and worked hard to make it a reality. Both of us came from backgrounds that shape our values and who we are today. And one of these values that he holds, of which I regard highly, is integrity," he added.
Teh in acknowledging the award said: "I am deeply honoured and touched to be conferred such a high honour and because it is not always that a man of 89 years of age gets to receive awards, let alone be conferred an honorary doctorate."
"In banking, I found my true vocation. For me, it was never just a job. It is therefore an uplifting experience for me to be recognised and rewarded for doing the things that I truly enjoy. I guess there may be some truth to the saying that 'pleasure in the job puts perfection in the work'," he added.
With this latest award, Teh has amassed 43 personal-to-holder awards of lifetime excellence and achievements and exemplary leadership.