This article first appeared in The Edge Financial Daily, on January 17, 2019.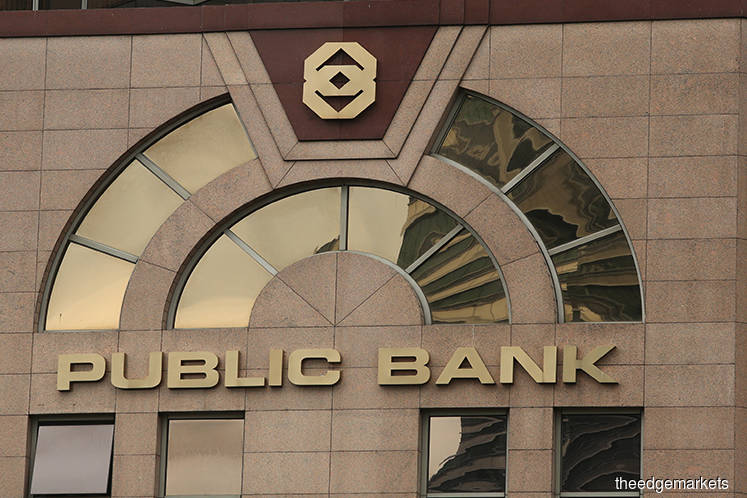 Public Bank Bhd
(Jan 16, RM24.70)
Maintain hold with an unchanged target price (TP) of RM23.50: A slowdown in fund-based income growth was the key factor driving a moderation in Public Bank Bhd's operating income in 2018, which is estimated to grow by 2.7% year-on-year (y-o-y) versus a growth rate of 4.4% to 10% per annum (pa) in the last five years.
This is attributable to the tapering off in loans growth and to a larger extent the building up of deposit cost pressure, which was clearly reflected in cumulative nine months of financial year 2018 (9MFY18) results.
Public Bank's net interest margin (NIM) had seen a pullback from an average of 2.28% in 2017 to 2.24% for 9MFY18, with fourth quarter of FY18 (4QFY18) expected to stabilise at around 3QFY18's NIM level of 2.16%.
Given its on-going deposit campaign (since 4QFY18 and ending Jan 19, 2019), more cost pressure will be reflected over the next six to 12 months. In our view, Public Bank undertook this strategy to prevent attrition of deposits, which could even cost more to raise in the future.
Public Bank is expected to see a sustainable level of non-interest income (around 21% to 22% of the group's total net income) from fees and commission generation, largely driven by unit trust fees, banking transactions and bancassurance.
As at Nov 18, 2018, Public Mutual's net asset value stood at RM80.15 billion with a market share of 38% and it remains the top private unit trust firm.
We also foresee a level of low net credit cost of around eight basis points pa in FY18 estimate (FY18E)to FY20E on the back of a sound loan book (as implied by a gross impaired loan ratio 0.5%, loan loss coverage at 272.6% in 9MFY18) and a prudent cost-to-income ratio level of 32% to 33%.
In our view, Public Bank's loan growth outlook may stay soft (at around 4.5% pa in FY18E to FY20E, as we remain conservative on its retail loan growth (64% of group loans), which is also facing competition from other banks in the small and medium enterprise space.
Based on the growth rate of Public Bank's commercial property loans (at 3.0% y-o-y as at Sept 18 versus mid-teen growth in 2013 to 2014) and residential property financing (at 8.6% y-o-y as at September versus low to mid teen growth in 2013 to 2014), this could imply that there is no strong pull factor for new capacity expansion in the near term or due to the supply glut of these properties in the country, it makes more sense for businesses and individuals to rent due to the affordable rates in the market (2% to 3%) versus property financing rate of 4.5% to 4.6%.
In our view, Public Bank remains a "hold" (with a 12-month TP unchanged at RM23.50 based on a 2.1 times FY19E price-to-book value target) as we continue to foresee soft earnings outlook in FY19E-FY20E, projecting a growth rate of 1.2% y-o-y in FY19E and 0.8% y-o-y in FY20E. — Affin Hwang Capital Research, Jan 16