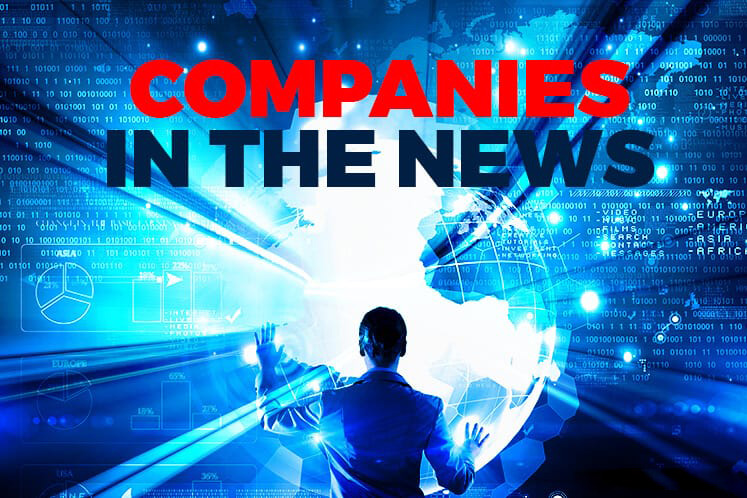 KUALA LUMPUR (March 29): Based on corporate announcements and news flow today, stocks in focus for Monday (April 1) may include the following: Public Bank Bhd, Eco World Development Group Bhd, UDA Holdings Bhd, Tasco Bhd, GD Express Carrier Bhd, AirAsia Group Bhd, TDM Bhd, Lambo Group Bhd, Sunway Bhd, Damansara Realty Bhd and Vertice Bhd.
Public Mutual, Public Bank Bhd's wholly-owned unit trust, has announced a distribution of more than RM178 million for two funds — Public Aggressive Growth Fund and Public Regular Savings Fund — for the financial year ended March 31, 2019 (FY19).
Public Mutual said the distribution for the funds are as follows: 2 sen per unit for Public Aggressive Growth Fund, and 2 sen per unit for Public Regular Savings Fund.
BBCC Development Sdn Bhd, a joint venture between Eco World Development Group Bhd, UDA Holdings Bhd and the Employees Provident Fund, has disputed a claim of late payment made by Zelan Bhd's subsidiary, which involves a principal sum of RM3.34 million.
BBCC Development, the project owner of the multi-billion-ringgit Bukit Bintang City Centre (BBCC) said it has issued its payment response to dispute the payment claim by Zelan and to challenge the validity of the payment claim.
Yesterday, Zelan announced that its unit is claiming the principal sum of RM3.34 million, together with late payment interest and costs, with the full amount to be determined at a later stage.
The Japan Overseas Infrastructure Investment Corp for Transport & Urban Development (JOIN) is investing RM125 million for a 30% stake in Tasco Bhd's wholly-owned unit, Tasco Yusen Gold Cold Sdn Bhd.
Tasco said JOIN's investment is strategic in nature and will allow it to establish a partnership with the Japanese Government fund in the cold chain and convenience retail logistics segments. It could also provide Tasco with greater access to other markets in which JOIN has a presence.
GD Express Carrier Bhd (GDEX) has inked a strategic partnership with RedCargo Logistics, the cargo and logistics platform of AirAsia Group Bhd. The new partnership, which begins from April 1, provides GDEX customers with access to AirAsia's extensive network, allowing goods to be transported and delivered efficiently on more than 5,000 weekly flights across Asia Pacific.
In return, RedCargo Logistics will be provided with opportunities to explore last-mile capabilities as part of the new partnership.
TDM Bhd has appointed Zainal Abidin Shariff as group chief executive officer (CEO) of the plantation and healthcare group effective April 1.
The position has been vacant since Datuk Mohamat Muda, 63, retired on Jan 31. Mohamat was appointed to TDM's board in September 2014 and assumed the role of TDM group CEO on Feb 1 last year.
In the interim, its chief financial officer Amir Mohd Hafiz Amir Khalid was appointed as the officer-in-charge to assume and discharge the duties, roles and responsibilities of the group CEO, which will cease on April 1.
Lambo Group Bhd, formerly known as Accsoft Technology Bhd, has appointed Abdullah Abdul Rahman as independent and non-executive chairman of the group effective immediately. The position was left vacant for three months after Khairul Azwan Harun, 43, resigned on Jan 1 due to other commitments.
Sunway Bhd is acquiring Blacktop Industries Sdn Bhd, which will allow the group's quarry division to penetrate into new markets by wider market coverage and additional capacity.
Blacktop is in the business of production and selling of quarry aggregates and asphalt premix, as well as renting of mobile equipment. It also holds a 50% equity interest in both Blacktop Lanchang Sdn Bhd and Can Technical Services Sdn Bhd, as well as a 49% stake in TKM Sdn Bhd.
Sunway said its wholly-owned subsidiary Sunway Holdings Sdn Bhd has entered into a share sale agreement (SSA) with Datin Seri Lau Lai San, Chu Yuen Leng and Chu Yuen Mun to acquire 1 million shares or a 100% stake in Blacktop Industries Sdn Bhd for RM70.09 million. Lau, Yuen Leng and Yuen Mun hold 40%, 41% and 19%, respectively, of Blacktop.
Damansara Realty Bhd is disposing of a shop-office to one of its indirect major shareholders Datuk Daing A Malek Daing A Rahaman for RM2.64 million cash.
Its wholly-owned subsidiary Damansara Realty (Johor) Sdn Bhd (DRJ) entered into a sale and purchase agreement with Malek for the purpose of the disposal of the property - a 6,750 sq ft three-storey shop-office in Taman Damansara Aliff in Johor Bahru. The initial selling price was at RM3.3 million but was sold at a 20% discount to Malek.
Vertice Bhd and Kumpulan Liziz Sdn Bhd have mutually agreed to terminate a sub-contract for upgrading works on a federal road from Gambang, Pahang, to Segamat, Johor, valued at RM218.48 million.  
Vertice's arrangement with Kumpulan Liziz was mutually terminated as a result of the mutual termination of the project between Kumpulan Liziz, the main sub-contractor for the project, and Mulia Interlink Construction, the main contractor for Jabatan Kerja Raya Malaysia (Malaysian Public Works Department).