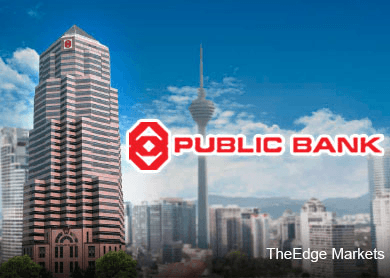 Public Bank Bhd
(July 31, RM19)
Maintain market perform call with a higher target price of RM20. Public Bank's first half of 2015 (1HFY15) net profit of RM2.4 billion (up 14% year-on-year, [y-o-y]) was in line with our and street estimates, making up 50% of both full-year forecasts.
As expected, an interim dividend per share (DPS) of 24 sen was declared (1HFY14: 23 sen), in line with its historical trend.
Assuming a payout ratio of 44%, we expect Public Bank to declare a final DPS of 30 sen in 4QFY15 (FY14: 44%).
Leading indicators for loans growth remains weak, and we are only expecting system loans to expand by 7% to 8% y-o-y this year (2014 up 9.3% y-o-y).
Furthermore, the industry's relatively high loan-to-deposit ratio (LDR) of over 80% makes bank lending more difficult than usual.
As for asset quality, it should remain stable in 2015 as banks continue to seek out new, creditworthy customers.
However, we believe that there will be an upcycle in credit cost given that most of the bad legacy business loans have already been restructured or recovered last year.
On the other hand, net interest margin (NIM) pressure is likely to persist on the back of stiff price-based competition for loans and deposits.
The spike in earnings came mainly from higher net interest income (up 10%), stronger non-interest income (up 15%), and lower provision for bad loans (down 9%).
Non-interest income (up 15%) was robust, thanks to the jump in unit trust income (up 9%), fee income (up 19%), foreign exchange gain (up 21%), and investment income (up 22%).
NIM fell 11 basis points (bps) due to stiff price-based competition in the market, especially for retail deposits.
Loans and deposits both grew 12%. In turn, LDR was relatively unchanged at 88%. Note that its loans growth was ahead of both our estimate and management target of 10%.
Current account and savings account deposits rose 7%, making up 24% of total deposit base (1HFY14: 25%).
Cost-to-income ratio declined 70 bps to 31% as operating expenditure grew at a slower pace (8%) vis-à-vis total income (10%).
Asset quality improved as gross impaired loans and credit charge ratio fell 20 bps and 2 bps, respectively. Furthermore, loan loss coverage stayed above 100%.
Return on equity dipped 3% to 17%, in line with our and management expectations.
Common Equity Tier 1 and total capital ratios expanded 1% to 2%. This can be attributed to the capital raising exercise from last year.
Since Public Bank's 1HFY15 results is in line with expectations, we make no changes to our FY15 and FY16 estimated earnings of RM4.78 billion and RM4.99 billion. — Kenanga Research, July 31
This article first appeared in Digital Edge Daily, on August 3, 2015.