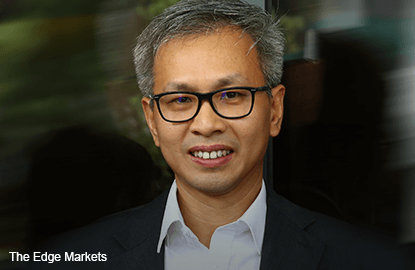 KUALA LUMPUR (July 28): Prime Minister Datuk Seri Najib Razak must confirm or deny if Putrajaya has decided to award the East Coast Rail Link (ECRL) project to China Communications Construction Company (CCCC) for a whopping RM60 billion — without any tender, said opposition lawmaker Tony Pua.
If true, that would mean the 620km ECRL will cost "a monstrous RM96.8 million per kilometre (km) to construct", said Pua in a statement today.
He cited the 329km Ipoh-Padang Besar double-tracking was awarded to the MMC-Gamuda Consortium for RM14.5 billion in 2003, while the 179km Gemas-Johor Bahru link was awarded to China Railway Engineering Corp in December last year for RM7.1 billion. This means that on average, the railway projects cost RM44 million and RM39.8 million per km, respectively.
"That would mean that the ECRL will cost 120% and 143% more than the northern and southern double-tracking projects, respectively," he said, adding the East Coast Economic Region Development Council had previously estimated the cost of the project to be only RM30 billion.
If the ECRL really costs a massively inflated RM60 billion now, and will be awarded without a tender exercise, then "it lends credence to the Sarawak Report documents which detailed how the 'excess' was to bail out the debt-stricken 1MDB", said Pua.
"In effect, the Najib administration is merely [using the] ECRL as an excuse and an outrageous cover-up to mask additional borrowings of RM30 billion in order to repay the billions embezzled from 1MDB. Most tragically, it means that ordinary Malaysians as the Government will finance the entire ECRL project with more crippling debt. We are merely covering up a gigantic hole by digging ourselves an even bigger hole," Pua charged.
Pua was referring to whistleblower website Sarawak Report's exposé two days ago, which had alleged, with new documents, that the Malaysian government was in the midst of finalising a new contract to CCCC for the said sum, in a bid to secretly pay off 1MDB's debts.
Citing the report, he said CCCC, upon the award of the ECRL contract, will, via a nominated 'credit-worthy' company, pay 1MDB, which stands for 1Malaysia Development Bhd, the sum of US$850 million (RM3.4 billion) for the purposes of repaying International Petroleum Investment Co (IPIC)'s advances, and assume the debt of 1MDB subsidiaries that amount to US$4.78 billion (RM19.4 billion), inclusive of interests, which had been guaranteed by IPIC.
Pua also said part of the sum from the inflated cost will go towards acquiring substantial stakes in Low Taek Jho-linked companies, Putrajaya Perdana Bhd and Loh & Loh Corp Bhd, for US$244 million and US$71 million, respectively.
Sarawak Report said all these deals are to be funded by a loan from China to the Malaysian government, which taxpayers will eventually have to pay for in the course of the next seven years.
In return, CCCC will be rewarded with tax breaks for the next 10 years.
"We call upon Datuk Seri Najib Razak to confirm or deny that the award of the contract to CCCC is in the works, and provide transparent and accountable justifications for the award in the absence of any competitive tender exercise," urged Pua.