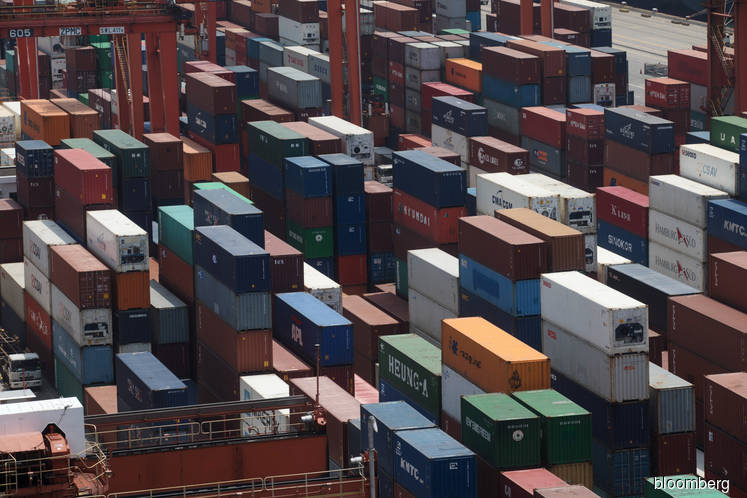 JOHOR BARU (Oct 11): Pelabuhan Tanjung Pelepas Sdn Bhd, operator of the Port of Tanjung Pelepas (PTP) here, is confident of handling 7.1% more containers this year, despite concerns the US-China trade war could affect volumes.
PTP expects to handle 9 million (20-foot equivalent units) TEUs this year, up from 8.4 million TEUs in 2017. In the first nine months of 2018, the port handled 6.6 million TEUs.
Chief executive officer Marco Neelsen said the fourth quarter is traditionally a strong quarter due to the "Christmas trade" where large quantities of containers are transhipped via PTP for transport to Europe.
Meanwhile, Neelsen is of the view that rerouting of cargo as a result of the US trade dispute with China, may actually pose a unique opportunity for PTP as a transhipment port. 
"First of all, I hope that this trade war will come to an end. Nevertheless, as a logistics hub, I see Malaysia benefitting even if some companies have to reroute their freight," he told reporters during a media familiarisation trip to the port today.  
"Without a doubt, I think there will be challenges. But as a trading and logistics country — with the kind of infrastructure that Malaysia currently has — I think PTP could be an interesting alternative," he said.  
"Rerouting could be a positive thing. I don't think that cargo will be rerouted away from Malaysia because of the trade war. I think there is absolutely no signs for that. Rather, I see cargo being rerouted to Malaysia due to certain circumstances," Neelsen added.  
On how the new shipping alliances impact PTP, Neelsen said it is constantly monitoring the development of the shipping industry so as to keep the port relevant with the progress. 
"We are watching the entire industry because shipping lines are only one link in the whole chain. But we see that some shipping lines are starting to acquire forwarding logistic companies. So it seems that their business model will also change. Therefore we need to also position ourselves in terms of how we fit in the chain in the future," he said. 
"Things are evolving much faster than it may have been 20 years ago. It's true, the shipping community has changed a lot," he added.   
In terms of PTP's competition with the Port of Singapore, Neelsen said there are still value propositions that is offered by the port which makes sense for certain shipping lines, with respect to their individual business models. 
In fact, although the two ports are essentially competitors, Neelsen said Singapore is interested to cooperate with PTP to have its clients' warehouses to be set up in PTP, due to the scarcity of land area in Singapore.  
"The idea is for when companies that have to leave Singapore for various reasons — predominantly because of lack of space — they would rather have the companies move to Johor than elsewhere, because it gives an opportunity for the company to still stay in Singapore for their regional headquarters but have their production or manufacturing facilities in Johor," he explained.  
"Therefore I think, to a large extent, it's a complement. The Port of Singapore and PTP can work together and we have seen this, as we already get enquiries from Singaporean companies to set up their warehouses here.
 
"It's an ongoing (process), and we will probably intensify (the cooperation) but at the moment, we are having positive dialogues about this," Neelsen added.