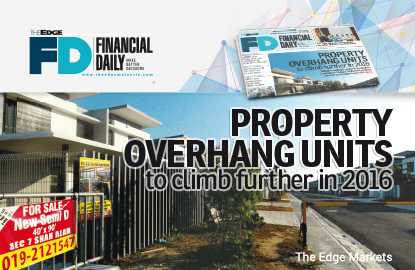 This article first appeared in The Edge Financial Daily, on April 20, 2016.
PUTRAJAYA: Malaysia's property overhang units will continue to increase in 2016, but the quantum would not be severe if developers slow down on launching high-end property projects.
"We foresee that if the market continues to propose a lot of high-end properties, it may cause [a] slow take-up rate, and this may result in the increase of unsold units," Deputy Finance Minister Datuk Chua Tee Yong told reporters in conjunction with the release of the 2015 property market report by the National Property Information Centre (Napic) yesterday.
"As such, based on the data provided and the indication of consumer sentiment, most of the developers have started switching towards affordable houses, which are RM500,000 and below, so we remain positive and we hope that the amount, while it increases, it would not be a significant increase," he added.
According to the 2015 property market report, there were 11,316 overhang residential units worth RM5.9 billion, up by 16.3% in volume and 56% in value, from 9,733 units worth RM3.78 billion in 2014.
The transaction volume in the local property market fell 5.7% to 362,105 transactions in 2015, from 384,060 in 2014, according to the 2015 property market report.
The report by Napic shows that overall property market transaction value had fallen by 8% to RM149.9 billion in 2015, from RM162.9 billion in 2014.
Commenting on blaming the prudent lending policy for the hard-hit local property market, Chua noted that the mortgage loan approval ratio had not been falling drastically last year.
"For residential loan application, between 2011 and 2015, the lowest approval ratio was 47.9% in 2012, while the highest was 52.9% in 2014. For 2015, the approval ratio was 50.2%, still within the range. This shows that approval for residential mortgage loans is based on financial qualification like income of an individual," he explained.
When asked about the property "mismatch" situation in Malaysia, Chua opined that the rising building costs and land prices have added to property prices, which are beyond the affordability of many first-time homebuyers.
He said the government is obliged to look into this gap either by cultivating growth of a citizen's income, or by having schemes to assist.
"Especially, we find out that for most first-time homebuyers, the main problem they have is not just the instalments, but mainly the initial deposits for the property. That is why we come out with the MyDeposit scheme to help first-time homebuyers finance the initial deposits needed for residential properties priced below RM500,000," he said.