This article first appeared in City & Country, The Edge Malaysia Weekly, on August 22, 2022 - August 28, 2022.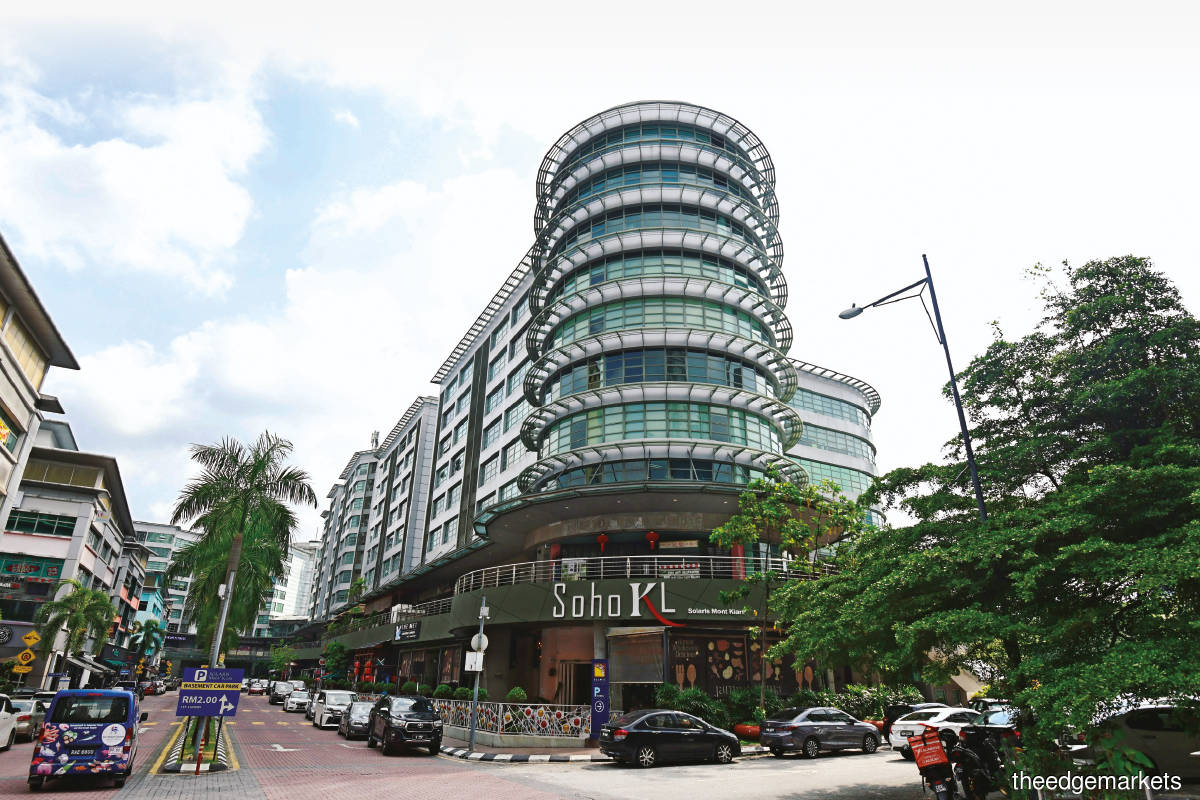 The management corporation (MC) of Solaris Mont'Kiara sees its property manager Henry Butcher Malaysia (Mont Kiara) Sdn Bhd (HBMK) as its partner rather than a typical service provider.
"In 2017, Low (Hon Keong, HBMK's managing director) said that a property manager is like a housewife who makes sure that the household runs well … but now, I think it is no longer applicable because it understates them. I will say we are in the film industry, we always produce decent films, but only when we team up with award-winning directors has it elevated us from being decent to one of the best in town," says Ong Wai Keat, chairman of Solaris Mont'Kiara MC.
"It is the people behind the scenes that make Solaris Mont'Kiara a success — the past and present management, from the JMB (joint management body) to MC to property manager … all of them contribute to it and we recognise the contribution. We are lucky to have MCs that are very committed and with strong teamwork. We operate with a lot of corporate discipline, with many steps of approval."
While the MC for Solaris Mont'Kiara has changed over the years, Ong says the objective to maintain the building in the best interest of everyone and with a single direction — which is what all MCs strive for — helps in property management and maintenance.
Solaris Mont'Kiara is this year's Gold winner in the 10 Years and Above Mixed Development (entire) category. It was the Silver winner for the same category in 2017.
Developed by Sunrise Bhd (now known as UEM Sunrise Bhd) and completed in December 2007, Solaris Mont'Kiara is a commercial development along Jalan Duta Kiara in Mont'Kiara that was developed in two phases. Phase 1 comprises rows of 3- to 5-storey shopoffices while Phase 2 is an L-shaped business hub with three blocks of 8- to 10-floor office suites (274 units), a 2-storey retail podium (72 units) and a 4-storey basement car park with 1,600 parking bays.
HBMK took over the property management of the business hub (Phase 2) in July 2016 after it was appointed by the MC.
Whether it is machinery or aesthetics, one will see a lot of decline for any building above five years, Ong notes. He reckons that upon its appointment, Henry Butcher stabilised the decline curve and put it on a plateau.
Single direction
"That paved the way for us in 2017 to start looking at upgrading works, while maintenance works are still going on … it is quite different now compared to 2017," Ong says. "We repainted the wall to a more contemporary scheme, the signals and signboard have been changed, atrium repainted, and we have a paid toilet. Things you don't see that have been changed include the LED lights as we are moving to solar power lights for the outdoor space. The refuse room and escalators have all been done as well. We have a programme to refine our maintenance work and it allows us to push the decline line slightly up," he says.
Low concurs, noting that while a change of MC is unavoidable, the key thing at Solaris Mont'Kiara is that the new MC follows the directions from the previous MC.
"Yes, there are some amendments in some policies but the big picture for the good of the building is there. For strata developments like this, we cannot afford to keep having changes … consistency is very important. Of course, we cannot please everyone, but as long as we have 80%, then it is alright.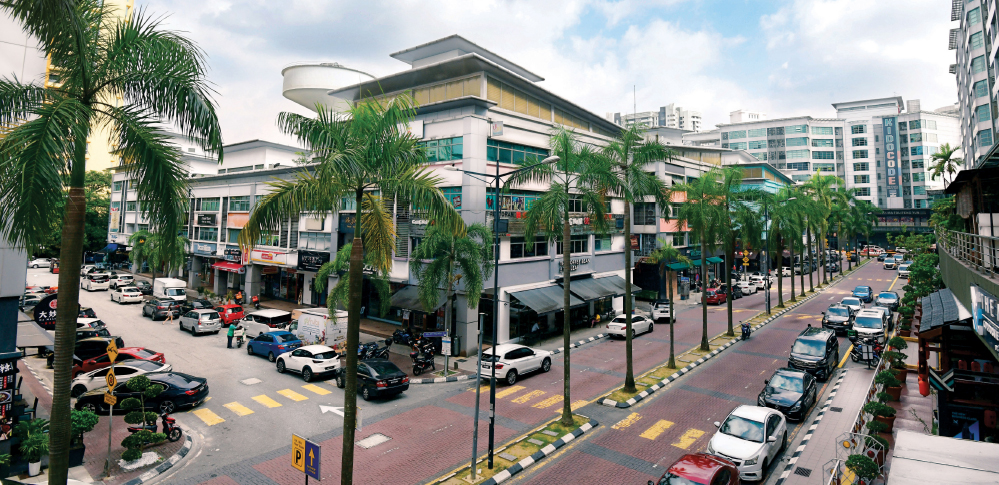 Many drivers choose to park on the street, but Solaris Mont'Kiara actually has a lot of parking bays
in the basement, especially in Basement 2 (Pictures by Patrick Goh/The Edge)
"As a property manager, we want to continue to improve the building and if the policy keeps on changing, it will be a waste of time and effort on our ongoing projects … The MC here has always been on the same page. It is important for strata developments to have a consistent policy throughout."
Even though there are more tenants than owner-occupiers in Solaris Mont'Kiara, the ratio in the MC is the opposite. Low reckons it is a good sign to have an MC comprising owners even when they are not actively using the space.
"The MC's involvement is important, because as a property manager, we only feed them with the right info so they can make good decisions. In all strata developments, what is important is that the MC runs the property management and maintenance as a team and that it is open to ideas," he says.
"Sometimes, we discover some problems or we have some suggestions … for example, we make use of the roundabout [at the North Atrium] and decorate it according to the festivals [being celebrated]. To our surprise, the MC is open to this idea. Secondly, we had complaints that the toilet on the ground floor is unpleasant … A committee member came up with the idea of a [cashless] paid toilet. We did a survey with the tenants and went ahead. To our surprise, the ROI (return of investment) is good," he says.
The expected income from the toilet was RM4,000 to RM5,000 a month, but it is generating RM6,000 to RM7,000.
Ong says it is crucial that for "everything you are involved in, you must be on the ground and once you are familiar with what is on the ground, you set a standard". He attributes HBMK's help with the MC in focusing on one objective in the management and maintenance of Solaris Mont'Kiara.
"We run the MC like a corporation, and all our members come from corporate and professional backgrounds. The MC is like a governing body and the property manager is like the operation side. They are also professional and contribute to the building," he says.
"For the paid toilet, a committee member came up with the idea as his thinking is that all decent and higher-end shopping malls have at least one paid toilet. Malaysians have evolved and hygiene and cleanliness have become a priority. People will pay for cleanliness and safety. We also make sure that we do not overburden people who need this service but there are still other normal toilets. Income aside, it is about the quality of life."
Solaris Mont'Kiara ex-secretary Jayne Koe notes that continuity is also vital in good property management maintenance. For example, the team from HBMK has always been the same people, hence the consistent policies.
Low reckons that communication is important for owners and tenants to understand the actions and policies made in property management and maintenance. This includes fund management, where transparency and accountability are very important.
"Nobody wants their property value to go down and everyone wants their properties to be maintained properly … We need to do our groundwork properly and explain to them the budget, cost and work involved to make sure things are properly maintained," he says.
With proper maintenance in place, Ong foresees more upgrading works at Solaris Mont'Kiara.
Covid-19
During the various Movement Control Orders implemented over the last two years, the management of Solaris Mont'Kiara became more adaptive to change.
"The biggest issue with Covid-19 is the uncertainty … nobody knows what to expect. In the last meeting before the lockdown, the MC gave instructions to HBMK that the safety of all staff was the utmost concern," Ong says.
"I remember at one point, there were two alternate teams to minimise risks. At one time, when there were isolated cases, I mentioned to HBMK to get a third team in place in case there were close contacts among the staff in the management office, and we needed to mobilise another team. Once the management office stops working, the whole building stops operations, and we cannot afford that."
Low notes that due to the pandemic, communications with the owners and tenants have been stepped up, with announcements made through a WhatsApp broadcast list.
The Solaris Mont'Kiara MC is one of a handful in the Klang Valley that gave owners service charge rebates — a one-time 30% discount for a month to assist retailers affected by the pandemic.
The management had some savings due to good building maintenance and a collection rate of 99%, which was used to assist the owners during the pandemic. "It is a good gesture and we are trying to do what we can," Ong says.
Low notes that it is important for any system to be well maintained before upgrading works is done, or they may start breaking down and require more money for replacements.
"It is good that the MC understands the need to maintain the parts because some think that when there is no breakdown, why would you want to replace them now. But if you wait until they break down, then it will involve a higher capex," he says.
This goes back to the issue of fund management mentioned earlier. Healthy management of the common funds is very important because if the MCs have no money, everything stops, Ong says.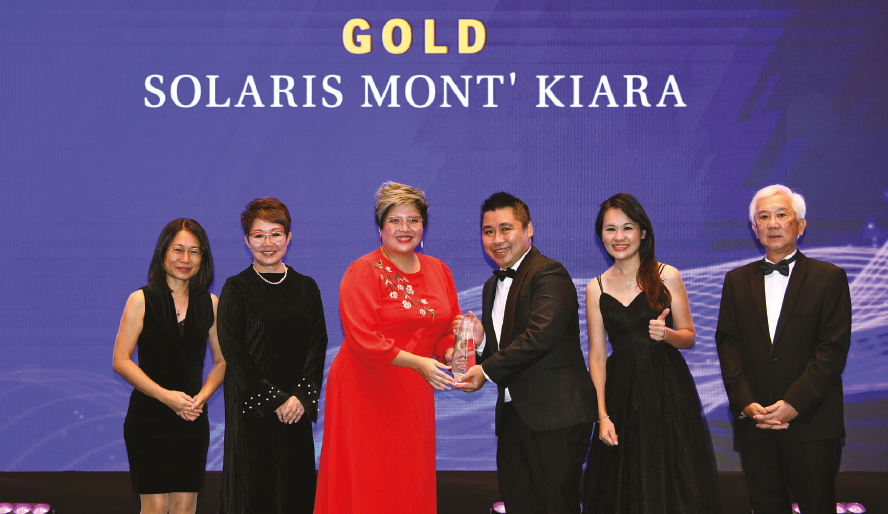 Cyanne Lim and Ong (second and third from right) with (from left) The Edge Malaysia editor-in-chief Kathy Fong, editor emeritus and the awards' chief judge Au Foong Yee, City & Country editor E Jacqui Chan and The Edge Media Group publisher and group CEO Datuk Ho Kay Tat (Pictures by Patrick Goh/The Edge)
"Fund flow is important and we try to generate income from other parts. We maximise the accessory parcels to create income. In general, valet parking also contributes to the common funds. There is more demand for al fresco dining these days and we try to maximise those areas," he says.
He adds that as the MC is run like a corporation, it is strict when it comes to elections, tenders and service providers. For major issues, it will go through tenders.
As the country transitions to the endemic phase, the MC is striving to "get everyone back on track". Upgrading works are still going on to bring traffic and increase comfort so that Solaris Mont'Kiara will attract more people, Ong says.
"We want to make it a hub for people to come over … The idea is that we want to sustain the businesses … In due time, there will be more events coming back, making it a more vibrant place. We can create an environment where this is a landmark for Mont'Kiara, and more people from outside Mont'Kiara will come here," he explains.
"Everything is correlated … the value of property is dependent on the demand for property and it comes from the number of people coming in. We will continue to accelerate our position and attract people from outside."
Ong says cost is a challenge in maintaining the building because of global inflation and the implementation of minimum wages. While he believes that everything will normalise, it will take time.
He hopes not to have to increase service charges.
"Once things have normalised, it will determine our next action plan, whether it is sufficient to move ahead or we need to adjust the service charges. The footfall in Solaris Mont'Kiara is getting better but it has not stabilised yet. We have the day, lunch and dinner crowds. We want to attract crowds throughout the day, especially for the 2pm to 5pm period. It is something we can improve on," he says.
"There are many cars parked by the street outside Solaris Mont'Kiara, and it gives the impression that we don't have enough parking. A lot of people don't know that we have a lot of parking bays in the basement, especially in Basement 2. When the police come and issue summons, then the number of cars on the street is reduced. We try to encourage people to park inside the building. We have approval to install police booths … we will do it soon and hopefully, the traffic will be better."