This article first appeared in City & Country, The Edge Malaysia Weekly, on July 8, 2019 - July 14, 2019.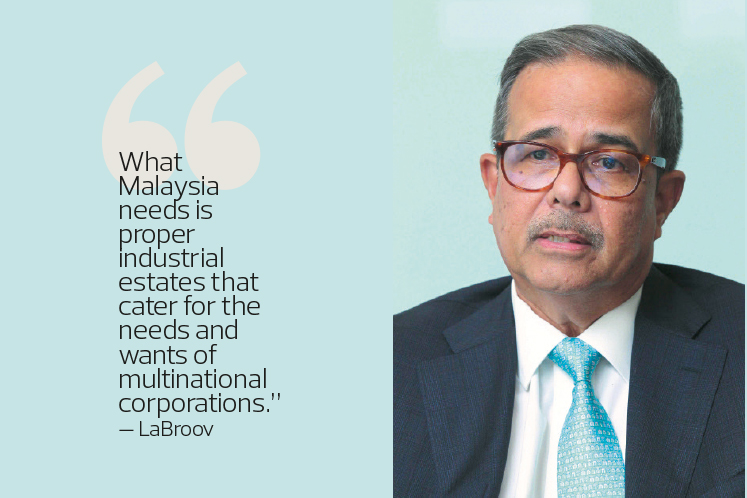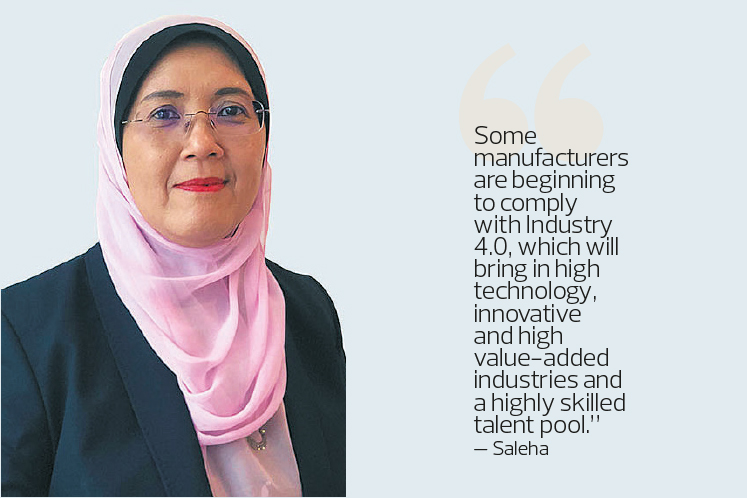 Industry 4.0 has been much talked about, both locally and globally. Some refer to it as the Fourth Industrial Revolution or IR 4.0 but industry players say there are slight differences between IR 4.0 and Industry 4.0 (see "Industry 4.0 versus Fourth Industrial Revolution").
Last October, the Ministry of International Trade and Industry (MITI) launched the National Policy on Industry 4.0 (Industry4WRD) to provide a concerted and comprehensive transformation agenda for the manufacturing sector and its related services.
The policy outlines 13 broad strategies for Malaysia that are expected to transform the landscape of the manufacturing industry over the next decade. There are also four specific goals to guide and measure the country's progress in improving productivity, strengthening innovation capacity and capability, driving the shift to a higher-skilled workforce and expanding the overall contribution of the manufacturing sector to the national economy.
Are we ready?
While Industry4WRD embraces Industry 4.0, it focuses only on the manufacturing sector, says Saleha Yusoff, executive director and regional head for research and consulting at Nawawi Tie Leung Property Consultants Sdn Bhd.
Sweden, Columbia and Turkey are using a similar policy for their agriculture sectors as well, while some European countries are embracing Industry 4.0 in their healthcare sector, she tells City & Country.
Malaysia is currently between the second and third industrial revolution, with the exception of its electrical and electronics, aerospace and automotive sectors that are more advanced in terms of the adoption of Industry 4.0, says Saleha.
"However, there has been a shift whereby some manufacturers are beginning to comply with Industry 4.0, which will bring in high technology, innovative and high value-added industries and a highly skilled talent pool, which will eventually lead to the economic prosperity of the country," she adds.
Alpha REIT Managers Sdn Bhd chairman Datuk Stewart LaBrooy says even before the introduction of Industry 4.0, Malaysia's industrial economic performance had been strong due to the Look East Policy, which brought the first wave of investments.
"The rise of China as the world's factory saw many industries leaving our shores to relocate there. Not all industries were affected but our momentum was greatly handicapped. We now have an opportunity to recover our momentum with the advent of Industry 4.0. It offers us a blank canvas to pursue new industries with high growth. The question is, are we ready? Do we have the necessary infrastructure and people to handle this?" he asks.
While Malaysia is doing well in sectors such as electronics, solar panel, glove-making, food manufacturing, halal products, automotive and aero technology, LaBrooy believes local manufacturers need to repurpose their workforce and attract higher-paying jobs.
"We need a better-equipped industrial estate landscape where all this can happen. We are woefully short of modern industrial estates that can compete with the likes of Vietnam, Thailand and Indonesia," he says.
"I also worry that our manufacturers are taking their time in adapting to Industry 4.0 and could face their Kodak — or Nokia — moment when they suddenly find that their products and processes are no longer needed and a competitor has redefined the product and the industry."
LaBrooy points to the current online marketplace, crowdsourcing platforms and financial technology (Fintech) as well as companies such as Grab, Uber, Airbnb and Amazon as examples of how the traditional ways of doing things has been disrupted.
According to Saleha, the challenges faced by Malaysia include digital infrastructure gaps, cyber security risks and a lack of human capital and a clear, comprehensive policy.
The recently launched Industry4WRD, she says, is addressing these issues by providing funding and outcome-based initiatives; creating digital ecosystems undergirded by efficient infrastructure; upskilling and futureproofing the labour force; and providing adequate regulatory frameworks and access to smart technologies.
Impact of Industry 4.0 on real estate
The property industry is starting to see the impact of Industry 4.0 in terms of the technologies to be used and building specifications. LaBrooy says this will result in energy-efficient buildings that cost less to operate and come with an array of sensors and algorithms to analyse electricity use and optimise operation.
"It will eliminate the need for tags to access certain areas of a building and just use facial recognition instead. Transactions will become frictionless," he adds.
Saleha says she has noticed that manufacturers that have embraced Industry 4.0 are demanding high specifications in their buildings and, in many cases, the buildings are built-to-suit. Meanwhile, multiple-user industrial buildings have high floor loading, higher ceilings, quality furnishings and high electrical loading. Some landlords may also use smart applications to improve customer service, she adds.
"The impact of Industry 4.0 on building features can be seen in warehouses, for example. Some of the older or smaller warehouses are undergoing structural changes in order to cater for the new technologies that logistics companies are adopting," she explains.
Saleha has observed a wide adoption of technologies by landlords in Singapore in order to stay competitive, as warehouses will become obsolete if they are not upgraded or revamped to meet the current industry requirements. These technologies and features include advanced surveillance systems, warehouse management systems, vision technologies and full network connectivity.
Both LaBrooy and Saleha use the logistics and e-commerce industries to illustrate the impact of Industry 4.0.
LaBrooy believes that there will be a revolution in design in the logistics industry through the integration of robots, artificial intelligence (AI) and machine learning, which will eventually lead to the elimination of many jobs related to the sorting and packing of items for delivery. An example of this is the new IKEA regional distribution centre in Westport, Port Klang, he says.
"Also, warehouses will become much larger due to business consolidation as the main players jockey for a slice of the growing e-commerce market. Businesses are looking for warehouses with built-ups of over one million sq ft each."
However, LaBrooy has observed the slow pace of automation in Malaysia and urges third-party logistics providers to start investing in newer technologies as the e-commerce market in developed countries is able to provide same-day delivery versus the two- to three-day delivery seen here.
Saleha says there are large industrial properties in Singapore, known as integrated logistics hubs, which are capable of multiple functions, enabled by the Internet of Things technologies.
One example is the Yang Kee Integrated Logistics Hub @ Tuas South Link by logistics company Yang Kee Logistics Pte Ltd. According to the company's website, the hub has a total gross floor area of 66,000 sq m, supported by customisable warehouse space, air-conditioned offices, a yard as well as food and beverage options. It is the first warehouse to be awarded the Green Mark Platinum award by the Building & Construction Authority.
The S$150 million (RM457.6 million) project is reported to be the world's first framed multi-storey automated container depot. The groundbreaking ceremony took place in March 2017 and the project is designed to have smart technologies and more efficient workflows to address challenges — such as heavy congestion — and productivity issues by redefining depot operations. One of its technologies is an automated crane hoisting system.
Are we building it right?
LaBrooy says while information on the supply of properties that cater for Industry 4.0 is up to date, there is a lack of information on demand. As data from the National Property Information Centre (Napic) is six months late, there is no real-time data available and hence, most of the interpretation of the data is flawed, he remarks.
"No one really knows what to build as we have no big data to guide decisions … As a result, developers tend to build what they think will sell but not what the industry wants. Thus, we see a huge imbalance in the supply-and-demand situation, which has led to unoccupied semi-detached industrial lots.
"What Malaysia needs is proper industrial estates that cater for the needs and wants of multinational corporations. Most of the time, they need customised products and they want to lease the buildings instead of owning them."
LaBrooy says the state governments have long neglected the development of industrial estates, preferring residential projects instead. But they have failed to realise that a concerted effort is needed to attract new high-tech industries to the country, which will provide the kind of employment opportunities that will lift Malaysia out of the low- and middle-income trap, he adds.
Saleha believes demand for typical terraced factories will only come from very small industry players because even small and medium enterprises (SMEs) will embrace new technologies to remain competitive.
"SMEs account for about 97% of the business establishments in Malaysia, so it might not be feasible to build a huge number of terraced factories as 'smart factories' would be more in demand as the industry evolves. There will also be more demand for built-to-suit factories and warehouses," she says.
"Other than building features, strong internet connectivity and speed are key. As most of the industrial zones are located away from the city centre, the government needs to look into improving the IT infrastructure to support and to leverage this industrial revolution."
In Malaysia, Saleha cites three properties as examples of those that cater for the needs of Industry 4.0 players. The first is Area Logistics @ Ampang, a property under regional real estate private equity and advisory firm AREA Advisors Pte Ltd, of which LaBrooy is the chairman.
The logistics park offers large floor areas ranging from 300,000 to 400,000 sq ft, with floor loading of 30 kilonewton per square metre (kN psm) — compared with traditional floor loading of 4.2 kN psm — and floor to floor height of 13.5m (versus traditional floor to floor height of 4m), she says.
The second is Mapletree Shah Alam Logistics Park, which offers a gross floor area of 60,905 sq m and net lettable area of 60,158 sq m. The floor loading is 25 to 30 kN psm while floor to floor height is 10m.
The third is UMW High Value Manufacturing Park in Serendah. Located on 861 acres of land, it incorporates high-tech innovations and advanced manufacturing. Each precinct has a single, controlled ingress and egress point to increase security.
"It also offers the built-to-suit concept with holistic solutions from planning to design, authority approvals, construction and project management," says Saleha.
She points out that Malaysia has a competitive advantage as it is located "between the East and the West", making it one of the most prominent container terminals in the world. Industry 4.0 will help transform the conventional ports here into "smart ports" that are more efficient, she adds.
While automation in ports will result in some jobs being cut, it will allow for more high-skilled, knowledge-based employments, remarks Saleha.
"An increase in efficiency will attract a higher volume of business to the ports of Malaysia. Also, with Industry 4.0, alternative and renewable energy is expected to be used in doing business. With that, the use of fossil fuels — which are costly and running out — will be reduced. This will generate a more cost-efficient and cleaner port industry in Malaysia," she says.
Meanwhile, LaBrooy sees potential real estate investments in data centres, research centres, universities and new logistic facilities to replace the older facilities. He acknowledges that there is a need for more sophisticated infrastructure, besides attracting "the best and brightest" in a bid to position Malaysia as a great centre for innovation in Industry 4.0.
"Our ports need to be modernised and automated to be as efficient as the best in the world. We need new industrial estates to be developed with modern infrastructure and our airport cargo component must be upgraded to cope with a much higher throughput of volume. We also need the fastest and least expensive internet speeds in Asia," he says.
From its first — and now heading towards its fourth — industrial master plan, Malaysia has been looking to keep pace with global industrial developments for its economic growth. Hence, local manufacturers need to be able to respond quickly and start their transformation journey.