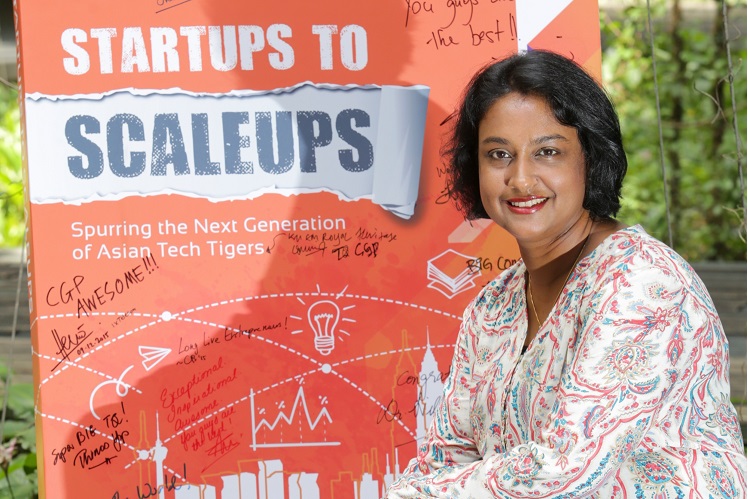 Despite the Movement Control Order (MCO) and the disruption it has engendered, Proficeo Consultants Sdn Bhd announced that it has selected 60 out of 173 applicants for its 2020 Intake 1 Cohort of the Coach and Grow Programme (CGP).
It said in a press statement that almost 60% of the selection process was conducted via online pitching sessions. This was because the selection process had been interrupted by the MCO.
CGP is a specialised, structured coaching programme focused on nurturing start-ups and growth stage companies to get them on the path of product-market fit, sustainable revenue generation and scale. The programme is focused on business fundamentals — providing "show-how" techniques from successful entrepreneurs, investors and corporate professionals who join the programme as coaches in order to Pay-It-Forward to the ecosystem. 
This time around, participants come from diverse technology and industry verticals such as fintech, healthtech, proptech, mediatech, digital services and e-commerce, Renuka Sena, Proficeo co-founder and CEO, tells Enterprise.
Proficeo is the CGP programme manager. The programme is administered by Cradle Fund Sdn Bhd and has always worked closely with ecosystem partners like Malaysia Digital Economy Corporation (MDEC), Malaysia Global Innovation & Creativity Centre (MaGIC), SME Corporation Malaysia, Unit Peneraju Agenda Bumiputera (Teraju), Malaysian Business Angels Network (MBAN) and crowdfunding platforms such as PitchIn and ATA Plus.
Renuka says the programme has grown and evolved over these last nine years, but its fundamentals remain true to the time it was first introduced.
"When we first started the CGP, we were mooting a long-term coaching programme. At that time, there were so many programmes offered by every agency, usually two- to three-day programmes," she says.
These programmes would cover a specific topic — HR (human resources), marketing or finance — and employees who went for this training would return to the office with a folder full of information they would then have to try and apply.
"Content was given and taught but how did someone translate that into some kind of actionable plan to grow their business?" she asks.
This criticism extended to MBA programmes. "Those programmes teach you about business in general. You learn about case studies; but that is very different from applying that knowledge or creating actionable plans for your business."
This is because each start-up is very different. "There are infinite combinations of problems that they may all face. Because you have different founders with different backgrounds and qualifications and they are all solving different problems in different industries at different stages of the business."
What was needed was a long-term coaching programme. "CGP came together to answer a lot of those gaps. Instead of a one-size-fits-all programme, we decided that each entrepreneur that came through our doors would get customised support. We would get a dedicated coach to actually sit and work with the companies, give them tips and know-how about what to do."
Renuka points out that it really helps to have one person to talk to about the key things you need. "Say you executed your action plan and had problems doing that. How would you work that out? With CGP, we provide 'show-how' which is different from 'know-how' and more useful."
She says any one-size-fits-all type of training or education doesn't fit within an entrepreneur's lifecycle because at each stage, their challenges differ. "An entrepreneur grows from idea to early commercialisation, from early commercialisation to growth and then from growth to going global.  At each one of these stages of growth, they face different challenges."
Renuka illustrates this with an example. "Say you think there is a problem in the current way people are utilising phones; maybe the cameras are not great, the phone size is too big and the apps are constantly changing and you decide that the best way to solve this is a phone that remains constant but where you can customise everything about it, like a Dell laptop.
"So the entrepreneur decides to build it because he thinks that if he is having the problem, then everyone else has this problem too. But then, he goes out into the market and finds that others are fine with their present phones," she says.
A coach would have intervened before the product was developed. "A coach would say, before you start developing, why don't you go out and talk to people about what they really want with this product. This is called product fit and it's an early stage problem."
When it comes to early commercialisation, the type of problem evolves from "does the market need this?" to "who are my best customers for this?" "Her problem now is finding that elusive perfect target market where the product sells even before you have done any marketing."
An MBA programme, on the other hand, will teach you things like the financial metrics you need to track or the kind of marketing strategies you can use. "Those are very generic business-type subjects but it doesn't apply to an entrepreneur who wants to move from one stage of their business to another."
With CGP, she says, as soon as an entrepreneur comes in, they assess what stage of business the entrepreneur is in, the gaps they need to fix as they go through their company lifecycle, whether they have customers and if so, are they the right type of customers and whether their pricing is right. "So we find that this entrepreneur is stuck at this particular area and we identify which coach can help her over this hurdle."
It also decided to change the way the training game was played in Malaysia. "When we first started CGP, the generic KPIs (key performance indicators) for training or capability programmes run by the government used to be how many sessions you hold and how many people attended these sessions. It was more of a headcount thing. And those who attended were given feedback forms.
"We decided to change the paradigm and set ourselves different metrics. If an entrepreneur came to us making RM50,000 a year, our goal was that he must increase that revenue target by 50% within 12 months," she says.
Over time, they added other metrics. "For example, if the entrepreneur wants to commence exports, the metrics we would use is increasing the percentage of your revenue that exports account for."
One metric Proficeo did not set was how much funds or investments each company raised. "We were very clear from day one that was not going to be an objective or a metric that we tracked."
Why? "Our objective with CGP is to create a sustainable and scalable company. When you do that, you can attract that investment. But if you build your entire programme on chasing money and raising funds, you wouldn't know how to properly use the money once you get it."
The CGP programme has been running for nine years and is into its fifth season (each programme straddles two years). Renuka says the founders have learnt a lot since its inception. "We learnt how to better assess gaps, match entrepreneurs with coaches and select good coaches. We also learnt how to track better.
"There were a lot of things we didn't track in year one such as month-on-month growth or how the company was increasing employment. There were a lot of things that changed along the way with the programme but the primary foundation or the tenets by which the programme was designed did not change," she says.
And although it was not an objective of the programme to raise funds, at the halfway point, it would let the companies vie for a coveted spot in a sub-programme that comes with CGP. "The top 20 out of the 100 are selected for an investment-readiness programme. We made it a competitive element, as in, we will teach you all these things, you show us that you can grow and that you are ready to raise funds. And the top 20 will be given additional support to help you prepare for a fund-raising exercise."
To date, some 1,657 entrepreneurs from 469 companies have gone through the programme including EasyParcel, iPay88, AOne, Signature Market and JomParking. 
There are still 40 places left for CGP Intake 2, and start-ups interested in participating must complete and submit their application forms through the Cradle website at www.cradle.com.my.