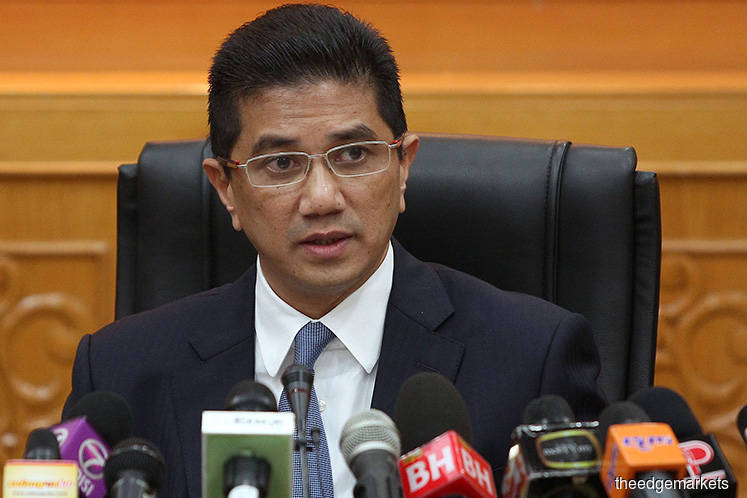 KUALA LUMPUR (Aug 16): Privatisation of the RM110 billion Kuala Lumpur-Singapore High Speed Rail (HSR) project is not among the options presented to the Singapore government, said Economic Affairs Minister Datuk Seri Azmin Ali.
"What I did was to explain the current economic situation and condition prevailing in Malaysia," Azmin said with regards to his meeting last week with Singapore's Transport Minister and Coordinating Minister for Infrastructure Khaw Boon Wan.
"Our priority is to reduce the government's expenditure, not increase our borrowings. The (Singapore) transport minister expressed appreciation over our predicament (which is) to cancel the project or defer it. Privatisation is not an offer," Azmin told reporters at the Parliament lobby today.
Azmin is expected to meet Khaw again after the Cabinet meeting in Putrajaya tomorrow afternoon.
"I'm happy the minister took note of our predicament back home but certainly he needs to explain and discuss in their cabinet before they come back for further discussions," he said.
The Attorney-General's Chambers had directed Putrajaya to review the HSR agreement signed with Singapore on Dec 13, 2016, which contains clauses to cancel the project.
Singapore reportedly spent more than S$250 million (RM743 million) on the project, and has previously noted that there would be a penalty if the project is cancelled.
"That was also discussed and the minister expressed their concern about what they have spent in the last few months.
"We also spent some money (and) we have formed this joint committee to look into the development of HSR," he said.
Azmin has previously said there is a formula for compensation if the project is terminated but the actual quantum has to be determined by both parties.