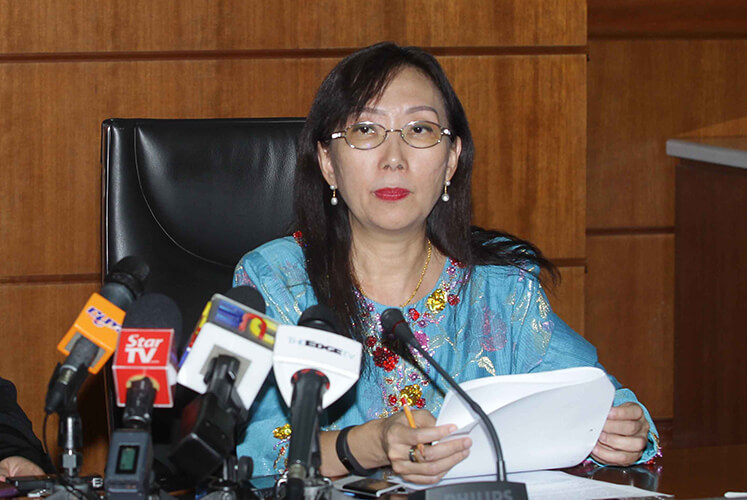 KUALA LUMPUR (Aug 7): Primary Industries Minister Teresa Kok came out in defence of newly appointed Malaysian Palm Oil Board (MPOB) chairman Tan Sri Mohd Bakke Salleh, describing him is a "man of integrity who can bring the palm oil industry to greater heights".
She was responding to remarks made by former senator Datuk Ezam Mohd Nor, who is the chairman of non-governmental organisation Hisbah Centre for Reform, who had criticised Mohd Bakke's appointment, saying it was a "wrong decision" by the government  given that the latter was former chairman of troubled strategic investment firm 1Malaysia Development Bhd (1MDB).
Malaysiakini quoted Ezam as saying that maintaining Bakke in existing government-linked companies pending a comprehensive investigation on 1MDB may be acceptable, but making a new appointment into a government agency was "wrong and completely unacceptable".
"While it is true that Tan Sri Mohd Bakke was the chairman of 1MDB, he had quit from 1MDB due to improprieties in the company where controversial money transfers were kept out of the knowledge of the board of directors," said Kok in a statement today.
"He openly expressed utter disgust against the dealings of 1MDB
when testifying during the Parliament's Public Accounts Committee hearings in 2016 as reported in the media," she noted.
"I have full faith in Tan Sri Mohd Bakke's ability to steer the MPOB in the right direction as the government increases its efforts to counter the anti-palm oil campaign against our commodity, as well as improve our palm oil industry's performance. I am confident he will carry out his new role in MPOB with full commitment and dedication," she added.
Kok went on to say that the current executive deputy chairman and managing director at Sime Darby Plantation Bhd's contribution is also acknowledged by industry players.
Yesterday, MPOB had named Bakke as its chairman for a two-year term, effective July 31, replacing Datuk Seri Ahmad Hamzah whose term began from Sept 1, 2016 and was to end on Aug 31, 2018.