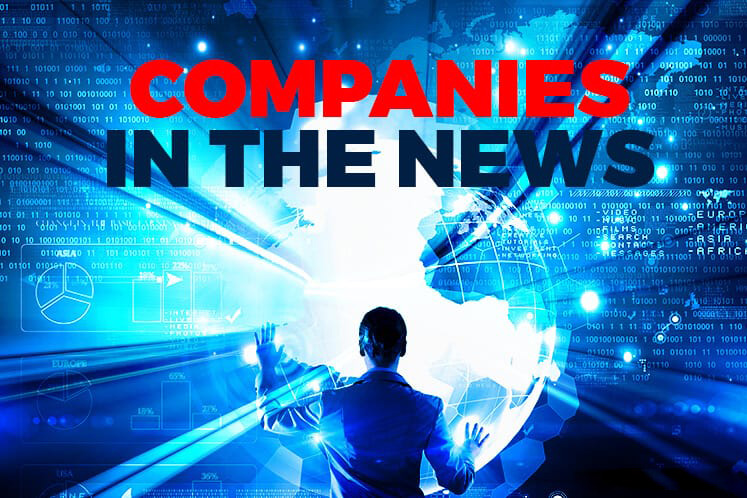 KUALA LUMPUR (Sept 6): Based on corporate announcements and news flow today, companies that may be in focus tomorrow (Sept 7) may include the following: Priceworth International Bhd, TFP Solutions Bhd, Tenaga Nasional Bhd, FGV Holdings Bhd, Alam Maritim Resources Bhd, MMC Corp Bhd, iDimension Consolidated Bhd, Eduspec Holdings Bhd, RCE Capital Bhd and EA Holdings Bhd.
Priceworth International Bhd, which was late in releasing its financial figures, announced that its net profit for the fourth quarter ended June 30, 2018 grew 16% year-on-year to RM3.54 million from RM3.06 million.
Earnings per share, however, fell to 0.34 sen from 0.39 sen.  Quarterly revenue dropped 27% to RM42.99 million from RM59.2 million previously, due to a decrease in production volume.
For the full year, net profit almost tripled to RM13.84 million from RM4.7 million previously, while revenue rose 2% to RM173.37 million from RM170.17 million a year ago.
Loss-making TFP Solutions Bhd has proposed to undertake a reduction of its issued share capital, which will give rise to a credit of RM17.5 million, to reduce its accumulated losses and enhance its credibility with customers, suppliers and investors.
As at Dec 31, 2017, TFP's accumulated losses stood at RM16.04 million.
The business solution provider has 97.65 million outstanding five-year warrants expiring on Feb 16, 2019, which can be exercised into 97.65 million new TFP shares at an exercise price of 10 sen each.
Assuming none of the existing warrants is exercised, the proposed share capital reduction will result in the reduction of its issued share capital to RM3 million comprising 205.06 million shares, and RM14.13 million comprising 302.71 million shares if the warrants are exercised.
Tenaga Nasional Bhd (TNB) will start a pilot project in Jasin, Melaka, this month to assess the technical, safety and commercial viability aspects of using its electrical infrastructure for the government's National Connectivity Plan (NCP).
TNB said the NCP will allow faster, cheaper and wider Internet accessibility.
TNB will leverage on the outcome of the pilot project for a decision on the commercial viability for TNB to embark on a possible larger scale NCP participation nationwide.
FGV Holdings Bhd has appointed former Bursa Malaysia Bhd chief executive officer Datuk Yusli Mohamed Yusoff and Datin Hoi Lai Ping to its board.
At the same time, FGV has re-designated Datuk Yahaya Abdul Jabar as an independent non-executive director, from senior independent non-executive director.
Loss-making Alam Maritim Resources Bhd said it has completed its debt restructuring exercise, after it and its lenders agreed to vary the terms of and restructure the existing facilities, which will then improve the group's financial position.
This follows the inking of bilateral agreements between the group and its lenders on Aug 30.
Under the group's proposed restructuring scheme, Alam Maritim's debt has been restructured to a repayment term ranging from a one-year to a seven-year tenure facility.
Profit charged will be as at the last accepted rate of the existing facilities, subject to a maximum cap at 5%, whichever is lower; and in respect of idling vessels, the restructured facilities will be settled from the sale proceeds of the respective charged vessels, it added.
Penang Port Sdn Bhd (PPSB), an indirect wholly-owned subsidiary of MMC Corp Bhd, has acquired a 60% stake in Swettenham Pier Cruise Terminal Sdn Bhd (SPCTSB) for RM6 cash, while the remaining 40% is held by RCL Development Holdings (Penang) Sdn Bhd, an indirect wholly-owned unit of Royal Caribbean Cruises Ltd.
MMC said SPCTSB was incorporated on July 17 to develop and operate the Swettenham Pier Cruise Terminal in Penang.
iDimension Consolidated Bhd's wholly-owned unit has been sued by online software player Online E-Club Management Sdn Bhd for alleged breach of distributorship agreement.
The matter had been fixed for case management on Sept 18, the software developer.
While Online E-Club is seeking a declaration that it had lawfully terminated the distributorship agreement, iDemension does not foresee the legal action to have any material financial and operational impact on the group.
Eduspec Holdings Bhd has proposed to raise up to RM6.92 million via private placement to third party investors to be identified later, which will be used for working capital and to repay bank borrowings.
As of Aug 24, Eduspec's total bank borrowings stood at RM31.98 million.
Eduspec said the proposed private placement will involve the issuance of up to 138.45 million new shares, representing not more than 10% of its issued shares and the placement shares will be priced at not more than 10% discount to the five-day volume weighted average market price of Eduspec shares.
General loan financing services provider RCE Capital Bhd is benchmarking its loan growth this year against that set by other banks, which the banks' average loan growth is at about 5%.
Last year, the group recorded loan growth of 8% for financial year 2018.
RCE Capital's chief executive officer Loh Kam Chuin said average loan size per application is increasing per year. As at its first quarter ended June 30, 2018 1QFY19, the average loan size stood at RM18,000 per application.
Should the momentum continue, he is positive the group would do well for the full year.
Loss-making EA Holdings Bhd is likely to see a turnaround in the financial year ending March 31, 2019, helped by a profit guarantee from its packaged-food unit Sunland Volonte Agency Sdn Bhd.
Chief executive officer Mohammad Sobri Saad said EA will continue to tender for more projects moving forward, while implementing some cost-cutting measures, mainly by cutting down its workforce.
He noted that salary is EA's biggest cost component in its cost structure, at about 70% to 80%.