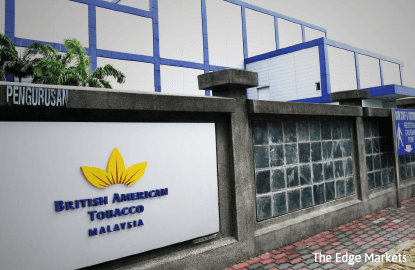 This article first appeared in The Edge Malaysia Weekly, on November 9 - November 15, 2015.
BRITISH American Tobacco (M) Bhd has raised the prices of its cigarettes again. This, says the company in a press release, is because the excise duty on cigarettes was increased by more than 40% from Nov 3. 
The price hike ranges between 23% and 26%. A 20-stick pack of Dunhill cigarettes now costs RM17 compared with RM13.80 before while BAT's value-for-money brands like Pall Mall and Peter Stuyvesant are now priced at RM15.50 compared with RM12.30 previously. 
The Nov 4 announcement sent BAT's share price down by almost 2% to RM59.62 on that day while five analysts immediately downgraded the heavyweight stock, one to "neutral" and four to "sell". Currently, there are 10 "sell", six "hold" and one "buy" recommendations on BAT, according to Bloomberg data. 
CIMB Research says in a note that it is difficult to predict by how much sales will decline because the industry has never seen such a steep hike in excise duty before. This could weigh on investor sentiment for at least a year, it adds. 
"We advise investors to switch from tobacco companies to brewers, whose dividend yields are safer. BAT's dividend yield in FY2016 to FY2017 is now below 5% compared with the brewers' over 6%. The brewers exhibit clearer earnings visibility," says the research house, which has a "reduce" call on the stock and a lower target price of RM55.40. 
Most analysts are concerned that the cigarette manufacturer's sales will suffer, although they believe the impact on profit margins will be minimal. 
The excise duty on cigarettes was hiked in 2013 (by 14%) and 2014 (by 12%) but BAT (valuation: 1.50; fundamental: 1.35) managed to keep its net profit margin intact at about 18% by raising its selling prices. 
Nevertheless, AmResearch says in a report that it does not expect BAT's margins and net profit to expand significantly after the latest round of tax hikes. But it opines that the 23% to 26% hike is sufficient to counter any potential contraction in total cigarette sales. 
"This is in view of the Anti-Profiteering Act [currently in force] and a breakdown of the price increase, which shows that the excise duty-related share of the total price hike is 79%. This is higher than the 42% in 2014 and 47% in 2013 but lower than the 90% in 2010 and 70% in 2009. The ratio of price increase to excise increase has also normalised to 1.3 times from 2.5 times previously," AmResearch adds. 
While shrinking profit margins may not be a concern for the cigarette makers, analysts are in agreement about BAT potentially losing sales to the illegal cigarette market due to the sharp upward revision of its selling prices. 
Affin Hwang Research opines that smokers might shift not only towards the illegal market but also e-cigarettes. According to statistics from BAT, the illegal cigarette market accounts for about 33.7% of the tobacco industry despite the government's efforts to clamp down on it in recent times. 
MIDF Research, meanwhile, says historical trends show that a drop in sales due to a price hike is usually followed by a rebound after two to three months. But it warns that things could prove difficult for BAT this time around, given the potential threat from vaping, which is gaining in popularity, while illegal cigarettes continue to be widely available. 
"In view of the massive rise in cigarette prices, there is a strong likelihood that some smokers might switch to a cheaper brand or illicit cigarettes or shift to vaping, which is now seen as cheaper than smoking conventional cigarettes."
The research house has revised BAT's earnings for FY2015 and FY2016 downwards by 4% and 5.1%. 
In its third quarter ended Sept 30, BAT's revenue declined 4% from a year ago to RM1.16 billion while net profit rose 6.4% to RM256.1 million.
The company announced that as at Sept 30, domestic sales had contracted 10% from a year ago. However, this is an industry-wide issue. Statistics show that the total industry volume of legal cigarettes has been shrinking over the last three years. From 13.57 billion sticks in 2012, volume had dropped to 12.18 billion sticks as at the end of 2014. 
Interestingly, BAT's share price rose steadily despite the excise duty hikes in the last two years. It climbed from RM54 in early 2013 to a new peak of RM70 in December last year. Some attributed the upward trend to the quantitative easing in the US that resulted in ample liquidity flowing into Asian markets searching for good yields, and BAT was one such choice. 
With the latest gargantuan rise in excise duty, BAT's shareholders may wonder if the cigarette manufacturer can sustain its generous dividend payments.