This article first appeared in The Edge Malaysia Weekly, on May 6, 2019 - May 12, 2019.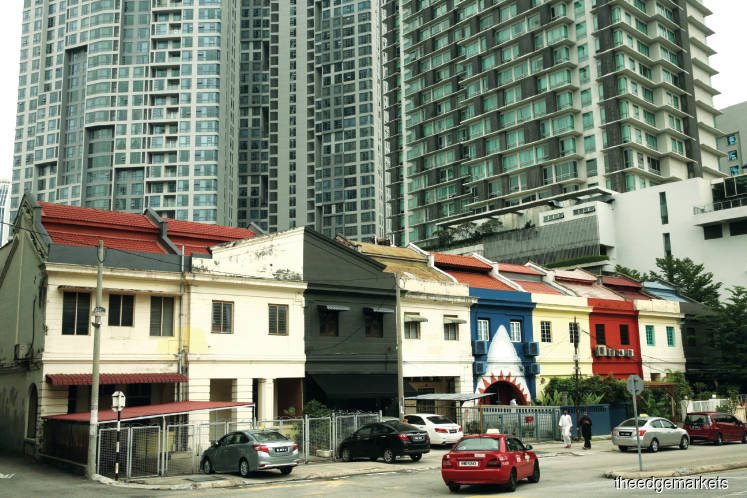 Kuala Lumpur's history begins in the middle of the 19th century with the rise of the tin mining industry and later plantations. Its name famously means muddy confluence, referring to its position where the Klang and Gombak rivers meet.
On Feb 1, 1972, Kuala Lumpur was officially granted city status and on the same date in 1974, it became the country's first Federal Territory.
From its beginnings as a tin-mining settlement, the capital has grown into a vibrant metropolis with older landmarks juxtaposed with modern skyscrapers.
The older prominent landmarks include Merdeka Square, the Sultan Abdul Samad Building, Royal Selangor Club and Masjid Jamek, as well as the Oriental Building (formerly known as Gian Singh Building) and 2 Hang Kasturi (formerly OCBC Bank).
These historic structures, together with buildings such as the ultra-modern Petronas Twin Towers, KL Tower and Pavilion Kuala Lumpur, form the colourful fabric of Kuala Lumpur.
Strolling around the older part of the capital, one can still find the old shophouses that date back to the time Malaya was a British colony. Some are vacant and run down, but many have been given a new lease on life with modern businesses taking up the space.
Apart from the Kuala Lumpur city centre, property consultants say that areas that still have prewar shophouse include Pudu, Jalan Tuanku Abdul Rahman, Jalan Ipoh, Lebuh Ampang and Jalan Besar Ampang.
AREA Management Sdn Bhd senior adviser
Kumar Tharmalingam tells City & Country that these shops were built to serve the population living within a 3km radius.
"They were selling groceries, canned food and items for everyday use … maybe there was a barber shop, as well as restaurants and kopitiams. In most of the units, the families running the businesses on the ground floor lived upstairs," he says.
The beginning
According to the National Archives, Kuala Lumpur began to expand as a trading centre in the tin-mining days around 1857. It became an administrative centre in 1880, when the capital of Selangor moved from Klang.
Different areas of Kuala Lumpur began to develop, and 2-storey shophouses — made of wood and atap — were built, along with some 2-storey residential units.
Kuala Lumpur survived various calamities, such as the Selangor Civil War, disease and epidemics, flooding and fire and it has been rebuilt several times.
After several fires and severe storm damage in the early 1880s, in 1884, the then British Resident of Selangor, Frank Swettenham, required that all buildings be constructed of brick and tile.
The city's growth is intertwined with the country's history — from the Japanese occupation, the Malayan Emergency and the celebration of Merdeka to the development of modern Kuala Lumpur.
Many of the families who used to occupy the shophouses and residential units left the city for the new Tamans in the suburbs to get away from the crowding in the city and to build bigger, better and more modern homes.
The Control of Rent Act 1966 — which was designed to regulate and control the rental of privately-owned buildings built on or before Jan 31, 1948 due to the shortage of housing during the post-war period — had restricted the prospects for some of these pre-war buildings.
High maintenance
Even though the Act was repealed in 1997, rental rates were low and maintenance costs were high. After almost a century, the original owners of some of these buildings have died.
Kumar notes that, by now, most shophouses are owned by the third or fourth generation descendants of the original owners.
"An example would be Selangor Pewter, which started its business in Jalan Pudu. The family managed their business of making pewter on the ground floor while they lived on the upper floor. They still own the building after more than 80 years," he says.
"Other owners have converted their shophouses to trading offices, warehouses and restaurants. Some of them have ownership issues and some of the owners may not be living in the country."
He adds that professional firms have also started taking up spaces in these pre-war shops.
While some of the descendants of the original owners are living abroad and many of the buildings were left vacant and not maintained, some have been revived or redeveloped.
VPC Alliance Sdn Bhd managing director James Wong says that under the planning guidelines of Dewan Bandaraya Kuala Lumpur's Conservation Unit, the façades of buildings that have been declared conservation units must be maintained.
"New buildings with higher density can be built behind the façade. The purpose is to retain the identity and character of the pre-war shop houses."
BackHome KL, in Jalan Tun H S Lee, is run by former TV producer Ng Ping Ho. He gave five adjoining pre-war shoplots owned by his family a facelift and created a budget hostel that opened its doors in 2009.
"I know the area very well, even though I don't live there, because my family's office was there and I would always come to visit my grandparents and father after school [at St John's Institution]," he recalls.
"Back then, we were renting them out at a very low rate but a lot of money went into maintaining them. I love these old shops, and I could see it would be a good idea to renovate them and to transform them into a clean, well-run hostel. We started working on the project in 2006 or 2007. At that time, the area was very industrial … there were shops selling gas and food products."
Later, in 2012, Ng opened LOKL Coffee Co within BackHome KL.
Over the years, he has seen a rejuvenation of the area and a shift in business focus, even within Chinatown itself. He reckons that the area is cleaner after the efforts of Think City Sdn Bhd and more hotels and cafés are coming up there.
Think City, a wholly-owned subsidiary of Khazanah Nasional Bhd, is a community-focused urban regeneration organisation.
VPC's Wong points out that there are obstacles to the rejuvenation of pre-war shophouses. Some of them are in such poor repair that renovation and restoration would be costly.
Many are family owned, he says, and the properties are still being used for the traditional family businesses, such as sundry shops, coffee shops and gift shops.
"For this group of owners, there is no motivation to upgrade and extensively renovate their shophouses. Some of them fell under the Rent Control Act 1966 and … even with the repeal of the Act, the rents are still not at prevailing market rental rates," he says.
"Another issue is that most of these pre-war shophouses are individually owned and it is rare for one owner to own a few shophouses in a row. Hence, it is difficult to purchase a few units and redevelop them."
And, not to forget, that some of these pre-war buildings are gazetted as heritage buildings. With the gazettement, Wong explains that there are limitations on redeveloping them.
He observes that some of the pre-war shop­offices in tourist areas and near public transport, such as Kuala Lumpur City Centre and Chinatown, have been transformed into cafés or art galleries.
"One of the attractions of these shophouses is that they carry the old memories of the early years of Kuala Lumpur during the British period."
While the National Heritage Buildings Act 2005 is designed to preserve and conserve heritage buildings, there is no regulation that encourages the rejuvenation of old properties. Kumar says that individual owners have to apply to upgrade, improve or rebuild their properties on a case-by-case basis.
"However, if the local council were to acquire a row of these properties, they could be converted into upscale restaurants and apartments for city dwellers. This was done in Singapore. In this way, the rejuvenation of the city centre will bring back life and bustle with tourist potential."
Mike Fong runs Sarang Vacation Homes and Sarang Cookery in several 2-storey pre-war terraced houses in Jalan Galloway, Jalan Sin Chew Kee and Jalan Hang Isap. Growing up there, Fong started his business some 20 years ago.
"I grew up in the area before it was developed into what it is now. So I have an emotional attachment. These houses were built in the 1920s, and the area is changing more slowly than other areas of Kuala Lumpur because it is not on the main road. Not many people know about it — it is a hidden jewel being kept like this for a long time," he says.
"We like this area because it is quiet, even though it is within the city centre … but it is now no longer as quiet as it used to be. These are residential units that can be used as commercial. The residents are a mix of Malaysians and foreigners."
Valuations
On average, the lot size for the pre-war shophouses is 20ft by 80ft, Kumar says, and ground floor units are renting for RM4,000 to RM6,000, depending on the location and condition of the building. Selling prices range from RM800,000 to RM1.5 million.
Wong notes that the transacted prices of the shophouses in Jalan Besar Ampang, where the architecture dates back to the colonial period, range from RM838,000 to RM2.4 million, based on data from 2016 to 2018.
"They are 2 to 4½-storey shops, with lot sizes ranging from 2,368 to 2,395 sq ft. Asking rents are about RM8,000 for the ground floor, RM6,000 for the first floor and RM4,000 for the second floor," he says.
He adds that many of the pre-war shops in Jalan Tuanku Abdul Rahman have been redeveloped or renovated, with lot sizes from 1,500 to 2,400 sq ft. A notable landmark is the Coliseum Café, which was founded in 1921 and was a major hangout and dining venue for British planters and colonial officials.
"[The buildings] are mostly occupied by financial institutions, budget and boutique hotels, fashion outlets, goldsmiths, pharmacies and wholesale carpet dealers. The 2 to 3-storey shophouses transacted at RM8.1 million to RM21 million in 2017," he says.
Challenges
Apart from the high renovation and refurbishment costs, the old design of the shophouses poses some challenges. According to Wong, with their high ceilings and open air wells at the back, using split unit air conditioners would result in high electricity costs.
"These shopoffices may require special building materials and specific methods that incur additional cost as well. In addition, they are in locations where there is not enough parking and there is traffic congestion," he says.
But he does have several suggestions, including a fund set up by the government to assist the owners in renovating and upgrading their buildings. "We could also promote more tourism products in these areas, such as encouraging the development of art galleries, mini museums, handicraft centres, food courts and open-air entertainment areas."