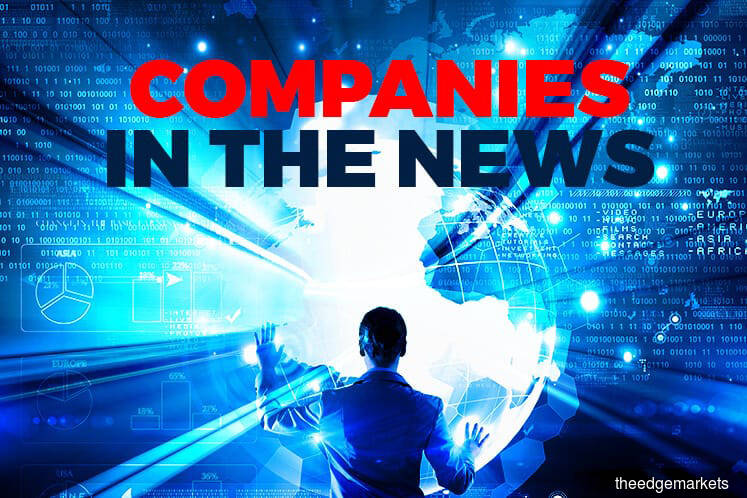 KUALA LUMPUR (Nov 15): Based on corporate announcements and news flow today, companies that may be in focus on Monday (Nov 18) may include: Press Metal Aluminium Holdings Bhd, UWC Bhd, Willowglen MSC Bhd, PIE Industrial Bhd, Sunway Construction Group Bhd (SunCon), IOI Corp Bhd, GDB Holdings Bhd and IHH Healthcare Bhd.
Press Metal Aluminium Holdings Bhd has inked an agreement to take up a 25% stake in PT Bintan Alumina Indonesia (PT BAI) for US$80.23 million (RM333.36 million).  
PT BAI, which is building a million-tonne alumina refinery plant in Indonesia's Bintan island, with plans for a second phase, will provide Press Metal with a long-term supply of alumina via the purchase of not less than 50% of alumina produced before completion of the project, and up to 1.5 million-tonnes upon completion of the project. 
UWC Bhd has announced a one-for-two bonus issue. The entitlement date for the bonus issue of 183.4 million shares will be decided later.
The group also reported a net profit of RM11.22 million for its first quarter ended Oct 31, 2019 (1QFY20), while revenue totalled RM46.91 million. It declares a final dividend of three sen per share for the financial year ended July 31, 2019 (FY19), which will be paid on Jan 30, 2020.
Willowglen MSC Bhd's net profit for the third quarter ended Sept 30, 2019 (3QFY19) expanded 30.6% to RM3.24 million from RM2.48 million last year, on higher profit margins. Quarterly revenue dropped 6.36% to RM29.11 million, from RM31.09 million.
For the nine month period (9MFY19), the group's net profit jumped 50.29% to RM11.1 million from RM7.39 million last year, while revenue declined nearly 11% to RM87.07 million from RM97.81 million.
PIE Industrial Bhd's net profit surged 78.78% to RM17.48 million in its third-quarter ended Sept 30, 2019 (3QFY19) from RM9.76 million last year, due to lower administrative and distribution expenses, higher gain from foreign currency exchange transaction and higher income from other investments. Quarterly revenue dropped 4.55% to RM166.48 million, from RM174.42 million.
For the cumulative nine-month period (9MFY19), net profit grew 20.86% at RM28.13 million from RM23.28 million last year, while revenue climbed 8.11% to RM498.72 million from RM461.31 million.
A Klang-based property developer PNSB Acmar Sdn Bhd – a unit of Bandar Baru Klang township developer Acmar Group – has filed a RM711.77 million lawsuit against Prasarana Malaysia Bhd and Sunway Construction Group Bhd (SunCon), claiming the LRT3 project construction works have encroached into its development site.
IOI Corp Bhd's wholly-owned subsidiary Oleander Capital Resources Pte Ltd is buying a 28% stake each in PT Sawit Nabati Agro (SNA) and PT Berkat Agro Sawitindo (BAS) from Singapore-listed Bumitama Agri Ltd for IDR701 million (approximately US$49,070/RM203,798).
IOI Corp owns a 32.03% stake in Bumitama as at March 11, 2019, according to Bumitama's latest annual report. 
GDB Holdings Bhd has secured a contract worth RM67.9 million to undertake construction works as the main contractor for the Hap Seng Star Mercedes-Benz 3S (sales, service and spare parts) Autohaus at Setia Alam, Selangor.
India's Supreme Court refused to remove a barrier to the takeover of embattled hospital chain Fortis Healthcare Ltd by Malaysian operator IHH Healthcare Bhd, which is already Fortis' largest shareholder with a 31% stake.
The court held Fortis' founders — Malvinder Singh and Shivinder Singh — guilty of contempt of court and said it could start similar proceedings against the company, according to a judgment Friday.
This effectively halts IHH's open offer to Fortis shareholders, that would have brought its holdings in India's second largest hospital company to above 50%.