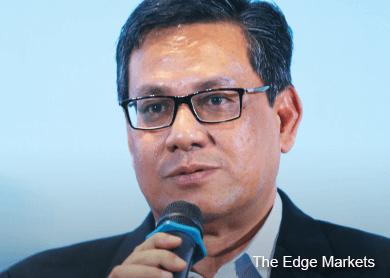 KUALA LUMPUR (July 23): LRT operator Prasarana Malaysia Bhd has sent a strongly worded letter and reminder to their manufacturer — Canada based Bombardier, and Knorr Brake Company, over the faulty brake incident which affected their operations yesterday.
Its group managing director Datuk Azmi Abdul Aziz told a press conference today that there were two other separate but similar incidents, prior to yesterday's failure, leading to a total of four brake failures.
"I've been quite frustrated with them (Bombardier), because we've informed them of this issue earlier this year. Prasarana will give a notice and strong reminder to the manufacturers to take fast and accurate steps to ensure that this won't happen again.
"I will see them later today to discuss on this issue and get to the root cause of this problem, so we can minimise it completely.
"What happened yesterday was a braking mechanism failure. In layman's terms: the brake pad gripped the disc and did not release it. Heat was generated due to friction and with the addition of the braking fluid, you will get a lot of smoke.
"There was no fire," confirmed Azmi.
He pointed out that Rapid Rail managed to evacuate all passengers in less than five minutes and that the Kelana Jaya Line has fail-safe mechanisms in place.
"If it weren't for the location, the public would never have realised what took place," said Azmi.
When asked whether or not Prasarana will terminate Bombardier's contract due to their tardy responses over such a critical issue, Azmi said that such discussions will come later, as they are focussed on addressing the problems right now.
He also said the two trains only need to have some of their parts replaced and will be running again, after they have tested the trains' safety.
Regarding the slightly tardy services reported by commuters earlier this morning, Azmi explained it was mainly due to their upgrading works and not due to yesterday's incident.
"We are facing glitches here and there, because we are upgrading our signalling system for the LRT extensions. So our trains are moving a bit slower than usual today," he said.
Touching on Prasarana's diligence in servicing, auditing and maintaining their fleet of trains, Azmi said safety and security auditing is done weekly, the brakes are serviced bi-weekly and the trains themselves are serviced and maintained once every five weeks.
"Looking at the sequence, the last time those two trains were serviced and checked was about two weeks ago," he said.