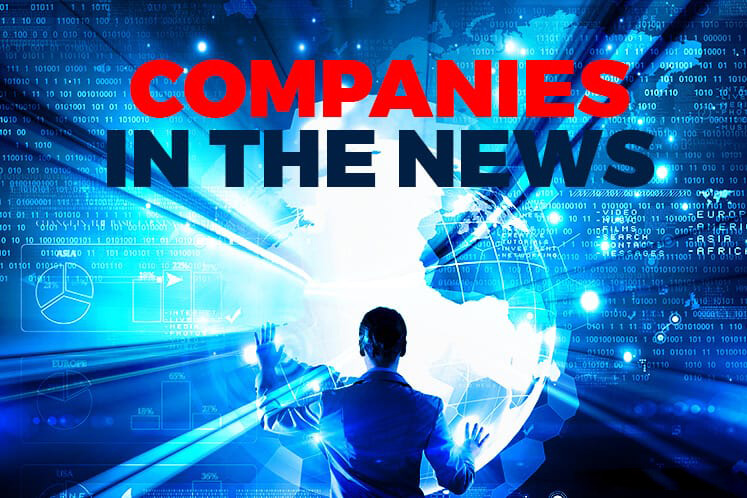 KUALA LUMPUR (Sept 4): Based on corporate announcements and news flow today, stocks in focus for Thursday (Sept 5) may include the following: PPB Group Bhd, UEM Edgenta Bhd, KKB Engineering Bhd, CIMB Group Holdings Bhd, Petra Energy Bhd and Ahmad Zaki Resources Bhd.
PPB Group Bhd confirmed today it is not in talks with FGV Holdings Bhd following FGV's announcement in July this year that it was exploring strategic alliances in the sugar refinery industry via subsidiary MSM Malaysia Holdings Bhd.
PPB managing director Lim Soon Huat said: "FGV has said that they are looking for strategic investors or partners, but I can confirm that PPB is not in discussion with FGV."
UEM Edgenta Bhd said it is banking on its healthcare support business to drive growth as the group is eyeing new tenders in Singapore amid the government's move to re-cluster healthcare facilities.
UEM Edgenta managing director and chief executive officer Datuk Azmir Merican said the Singaporean Health Ministry's exercise will open up opportunities for the group, adding on to the RM540.06 million worth of contracts it secured in the republic so far.
Besides Singapore, the group said its healthcare support operations in Malaysia, Taiwan and India will also contribute to growth. It is also eyeing Indonesia as a potential market to expand its healthcare services.
KKB Engineering Bhd has won two contracts worth a total of RM29 million for the supply of pipes, fittings and steel products.
The group announced it has inked a nine-month agreement with Sinohydro Corp (M) Sdn Bhd for the supply of pipes and fittings.
KKB also received an additional purchase order for the annual supply and delivery of steel products from Syarikat SESCO Bhd which would last about four months.
CIMB Group Holdings Bhd said a glitch affecting the credit cards of CIMB Bank and CIMB Islamic Bank has been resolved.
The group said CIMB Bank and CIMB Islamic Bank had experienced technical issues, which in turn affected online credit card transactions.
It added that its core banking system and customer data remain intact. Customers are still able to perform banking transactions via CIMB Clicks, CIMB BizChannel and Self Service Terminals.
Petra Energy Bhd's unit has bagged a hook-up, commissioning and topside major maintenance services contract from Petronas Carigali Sdn Bhd in Sabah and Sarawak.
The group announced that its wholly-owned Petra Resources Sdn Bhd had received the Letter of Award for the job from the exploration unit of Petroliam Nasional Bhd (Petronas) on Aug 19, and that the contract is to last 15 months from Aug 16 this year, to be completed on Nov 15, next year.
A wholly-owned unit of Ahmad Zaki Resources Bhd (AZRB) has lodged with the Securities Commission Malaysia an RM535 million Sukuk Murabahah Facility, which is secured against a list of securities, including a guarantee from AZRB.
The group said its wholly-owned subsidiary AZRB Capital Sdn Bhd had lodged the facility, whose tenure is 12 years from the date of issuance.
The proceeds raised from the issuance will be advanced to AZRB for Shariah-compliant general working capital requirements and corporate purposes of the group.