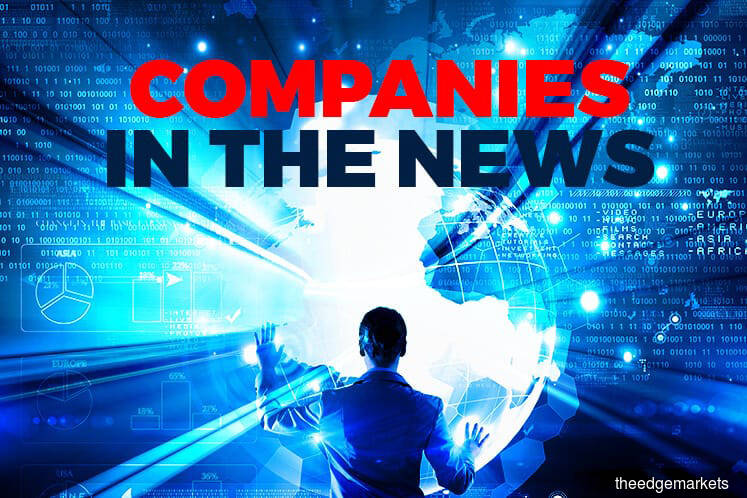 KUALA LUMPUR (Nov 23): Based on corporate announcements and news flow today, stocks in focus on Friday (Nov 24) may include: PPB, Genting Malaysia, FGV, Axiata, AirAsia X, Dialog, Bumi Armada, KPJ, Petron, Lion Industries, Kossan, MBSB, Heitech Padu, Ta Win and Masteel.
PPB Group Bhd reported a marginal increase of 0.13% in its net profit for the third quarter ended Sept 30, 2017 (3QFY17) at RM381.97 million compared with RM381.45 million in the same quarter a year ago despite recording higher revenue.
Quarterly revenue rose 9.7% year-on-year (y-o-y) to RM1.08 billion from RM983.72 million, as all major business segments recorded higher revenue during the quarter.
Genting Malaysia Bhd's net profit dropped 65.2% y-o-y to RM193.37 million in the third quarter ended Sept 30, 2017 (3QFY17) from RM555.73 million mainly due to lower adjusted earnings before interest, tax, depreciation and amortisation from the leisure and hospitality business in Malaysia.
The decline in net profit was also because the previous year had booked a reversal of previously recognised impairment losses of RM49.2 million from the UK operations and the recognition of a one-off gain of RM43.6 million from the disposal of leasehold land in Malaysia.
Felda Global Ventures Holdings Bhd (FGV) reported a net profit of RM38.77 million in the third quarter ended Sept 30, 2017 (3QFY17) versus a net loss of RM73.61 million a year earlier, on lower cost of sales.
Quarterly revenue fell to RM4.15 billion from RM4.19 billion last year. It declared a dividend of five sen a share for FY17.
Axiata Group Bhd said its third quarter net profit fell 7% to RM238.53 million from RM256.56 million a year earlier, on higher minority interest.
Revenue rose on growth in the mobile telecommunication network provider's Malaysia and Indonesia operating units.
Its revenue rose to RM6.2 billion in the third quarter ended Sept 30, 2017 (3QFY17) from RM5.46 billion.
Having recorded positive bottom line in the last six consecutive quarters, AirAsia X Bhd slipped into the red again in the third quarter ended Sept 30, 2017 (3QFY17) due to higher operating expenses.
It posted a net loss of RM43.3 million in 3QFY17 compared with a net profit of RM11.03 million a year ago. Operating expenses jumped 25.1% to RM1.17 billion in 3QFY17 from RM934.13 million.
The long-haul low-cost affiliate of AirAsia Bhd recorded a loss per share of one sen for the quarter under review, versus earnings per share of 0.3 sen in 3QFY16.
Quarterly revenue grew 14.5% to RM1.12 billion in 3QFY17 from RM982.4 million in 3QFY16.
Dialog Group Bhd is looking toward another record year for its financial year ending June 30, 2018 (FY18) after registering its highest profit after tax (PAT) of RM373 million in FY17 and strong first quarter ended Sept 30, 2017 (1QFY18).
According to the group's executive chairman Tan Sri Dr Ngau Boon Keat, the management is confident of maintaining its double-digit growth in FY18, as two thirds of the sectors the group is in are expecting to do well.
Offshore oilfield services provider Bumi Armada Bhd posted a net profit of RM123.73 million for third quarter ended Sept 30, 2017 (3QFY17) compared with a net loss of RM96.71 million a year ago, thanks to higher contribution from its floating production storage and offloading (FPSO) system and floating storage unit businesses.
Revenue grew 69.9% to RM641.39 million from RM377.51 million in 3QFY16, Bumi Armada said.
KPJ Healthcare Bhd's net profit fell 6% to RM30.56 million in the third quarter ended Sept 30, 2017 (3QFY17) from RM32.5 million a year ago, dragged by the Indonesia segment's lower earnings before interest, taxes, depreciation, and amortisation (Ebitda) and negative Ebitda in the Australia segment.
Quarterly revenue, however, rose 4.7% to RM803.2 million from RM767.04 million on higher contribution from the Malaysia and Indonesia segments, which saw an increase in the number of inpatients and outpatients respectively.
Petron Malaysia Refining & Marketing Bhd's net profit in the third quarter ended Sept 30, 2017 (3QFY17) more than doubled to RM106.07 million or 39.3 sen per share from RM46.79 million or 17.3 sen per share a year ago, mainly on higher revenue.
Petron said revenue improved 40.4% y-o-y to RM2.56 billion in 3QFY17 from RM1.82 billion, mainly due to higher oil prices. Total sales volume hit nine million barrels, up 15% from the 7.8 million barrels sold last year.
Lion Industries Corp Bhd posted a net profit of RM27.79 million in its first quarter ended Sept 30, 2017 (1QFY18) against a net loss of RM2.52 million a year ago, due to an improved performance in its steel division.
The company, controlled by Tan Sri William Cheng Heng Jem, saw its revenue for 1QFY18 grew 24% to RM637.31 million from RM514.17 million in the previous year, on higher revenue registered for its steel and building materials division.
The higher revenue from its steel division was due to the favourable market condition following the imposition of safeguard duties and the reduced steel export by China.
Kossan Rubber Industries Bhd reported a 34% y-o-y rise in third-quarter net profit on higher volume of gloves sold, efficiency gains in the manufacturing process, as well as effective cost controls.
Net profit rose to RM45.68 million in the three months ended Sept 30, 2017 (3QFY17) from RM34.02 million a year ago, despite higher raw material costs during the quarter under review.
Quarterly revenue also came in 18.1% higher at RM489.18 million from RM414.04 million in 3QFY16.
Malaysia Building Society Bhd (MBSB), which is 65.6%-controlled by the Employees Provident Fund, saw its net profit surge 73.9% to RM100.74 million in the third quarter ended Sept 30, 2017 (3QFY17) from RM57.93 million a year ago, on lower allowance for impairment losses on financing/loans and advances, as well as a lower cost of funds.
Quarterly revenue, however, slipped 1.6% to RM816.87 million from RM830.25 million.
For the nine-month period ended Sept 30, 2017 (9MFY17), MBSB reported an 88.2% jump in net profit to RM293.14 million from RM155.77 million a year ago, while revenue fell marginally to RM2.44 billion from RM2.45 billion.
Heitech Padu Bhd has bagged a RM33.3 million contract from the Companies Commission of Malaysia (SSM) for the supply, rental, implementation and maintenance of security infrastructure.
The contract period is from Nov 20 to Aug 21, 2021, Heitech Padu said.
The group said the contract would have a positive effect on its earnings per share for the year ending Dec 31, 2017 (FY17). But it won't have any material effect on its dividend policy, gearing, share capital and substantial shareholdings.
Less than a month after emerging as the single largest shareholder in Ta Win Holdings Bhd, Datuk Yeo Boon Leong — who is also the executive chairman and largest shareholder of Asia Poly Holdings Bhd — has been appointed non-executive chairman of Ta Win.
Yeo replaces founder and outgoing chairman Chen Hsi-Tao, 78, who has been redesignated as non-executive deputy chairman.
Yeo, 51, has been steadily increasing his stake in the company after emerging as a substantial shareholder via private vehicle Pioneer Conglomerate Sdn Bhd on Oct 6.
He now has 24% interest in Ta Win via Pioneer Conglomerate and an additional 7.7% via Tenggara Capital Sdn Bhd, of which he is a director and shareholder.
Malaysia Steel Works (KL) Bhd's (Masteel) net profit for the third quarter surged by more than 30 times to RM38.67 million from RM1.24 million a year ago, thanks to higher selling prices of steel bar and increased sales volume.
The sharp rise in earnings was also due to improving market conditions and robust demand from the domestic construction industry, said the group.
Revenue for the three months ended Sept 30, 2017 grew 45.7% to RM401.45 million from RM275.45 million a year ago.
Masteel also proposed to issue up to 106.81 million bonus shares to its shareholders, on the basis of one bonus share for every three existing shares held (one-for-three) on an entitlement date to be fixed.