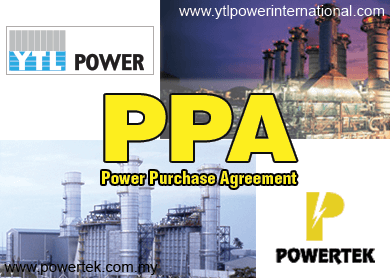 BOTH YTL Power International Bhd and Powertek Bhd could be awarded a power purchase agreement (PPA) extension in the Energy Commission's (EC) recent bidding exercise that will help ease the anticipated power supply shortage in 2018.
According to industry sources, bids by both YTL Power (fundamental: 1.2; valuation: 2.4) and Powertek, which is wholly owned by 1Malaysia Development Bhd's energy unit, Edra Global Energy Bhd, were evaluated as the cheapest, albeit based on different criteria.
YTL Power had submitted a bid for its 780mw combined cycle gas turbine (CCGT) plant in Paka, Terengganu, that expires in September. Meanwhile, Powertek is bidding to renew its 434mw open cycle peaking plant in Teluk Gong, Malacca, which expires in January 2016.
Other bidders for the extension includes the recently listed Malakoff Corp Bhd and Tenaga Nasional Bhd (fundamental: 1.3; valuation: 1.8), which also submitted peaking plants.
This will be a nice boost for both companies — YTL Power has not been able to secure any new power projects in the country, while Edra Global is planning to go for listing. However, given the close scrutiny of 1MDB, handing out two extensions when the original tender only called for one could put the EC in the spotlight.
It doesn't help matters that several transparency issues have been raised with regard to this tender.
To recap, the EC this year announced that it would be conducting an open bidding exercise to extend expiring PPAs to address a power shortage, stemming from the delay in several power projects, including 1MDB's Project 3B — a 2,000mw coal-fired power plant that was originally due to be completed in November 2018.
It is understood that the initial tender criteria assumed a load factor in the region of 20%. In other words, only 20% of the plant's availability would be utilised. Based on this criterion, bidders would adjust their tariffs accordingly.
On this basis, YTL Power's Paka plant was able to submit the lowest bid - even lower than the previous round of PPA extensions done by the EC.
However, it is difficult to evaluate peaking plants on this basis, 20% load factor, because they serve a different purpose.
In a peaking open-cycle plant, natural gas is used to fire a turbine — much like a jet engine bolted to the ground — that is linked to a generator to convert the kinetic energy into electricity. The hot exhaust gasses are allowed to escape.
On the other hand, a combined cycle plant captures the hot gasses in a heat exchanger that is used to create high pressure steam. The steam is then channelled into a steam turbine that is used to generate more electricity.
Hence, CCGT plants are able to extract more electricity out of the fuel, making it about 10% to 15% more efficient.
The advantage of peaking plants is that they are cheaper to build but are only fired for a few hours each day when electricity demand spikes. Hence, peaking plants command a higher tariff to cover the cost of being kept on standby.
For the purpose of this tender exercise however, the capital cost of both plants would have been paid off. Hence, the plants would mainly be competing on efficiency.
It is understood that the EC also used a load factor substantially lower than 20% to evaluate the bids, and on that basis found Powertek's bid to be the cheapest.
Hence, using two different criteria, industry sources say that the EC is considering awarding the extension to both bidders.
The EC declined to comment. However, extending additional plants, even if it is a peaking plant, would give Tenaga more breathing room heading into the 2018 power supply crunch.
The EC's decision is expected to draw flak. Changing the evaluation criteria could be seen as moving the goal posts to support debt-ridden 1MDB. On the other hand, the extension of the Powertek plant is probably too small relative to the stable of Edra's power assets, to make much difference to the latter's listing prospects.
At the same time, questions about the transparency of the exercise are also being raised, particularly on an alleged departure from standard procedure during the bidding exercise.
According to several industry executives, the EC chose not to have a public bid opening for the PPA extension exercise.
"Normally, when there is an open bidding exercise, there is a bid opening. This is for transparency. On the bid submission date, everyone gathers in a room and the EC opens the bids in front of them and announces the tariffs. This is to ensure the bids are not tampered with. This time however, everyone was told to leave because there would not be a bid opening," says one industry executive involved in the exercise.
When asked about the incident, the EC did not respond.
"If the EC wants to extend two PPAs, there is nothing wrong with it. But they must be transparent. They should have disclosed the evaluation criteria to the public from day one. They can then change the evaluation criteria, but they should announce it as well and give the rationale," the industry executive points out.
Looking back, Tenaga was at one point proposing to plant up an additional 1,000mw of CCGT power on a fast-track basis to ensure there is no severe power shortage in 2018. However, there is no longer enough time for such an exercise. Nonetheless, if that is an indication of the potential shortfall in power generation, the extension of additional plants isn't surprising.
However, a peaking plant may not be ideal because it would be very expensive to fire for prolonged periods during an emergency. The question is, just how bad will the shortage be?
It doesn't help that the handover of Project 3B from 1MDB to Tenaga still hasn't been completed. In the meantime, construction on site has ground to a halt as contractors aren't being paid, exacerbating costs and delays.
While the EC has been tight-lipped on the matter, hopefully, the decision on PPA extensions will be a cost-effective stop gap measure for the shortage, since the Malaysian public will be the ones to foot the bill.
---
Note: The Edge Research's fundamental score reflects a company's profitability and balance sheet strength, calculated based on historical numbers. The valuation score determines if a stock is attractively valued or not, also based on historical numbers. A score of 3 suggests strong fundamentals and attractive valuations. Visit www.theedgemarkets.com for more details on a company's financial dashboard.
This article first appeared in The Edge Malaysia Weekly, on May 25 - 31, 2015.