This article first appeared in The Edge Malaysia Weekly, on May 28, 2018 - June 03, 2018.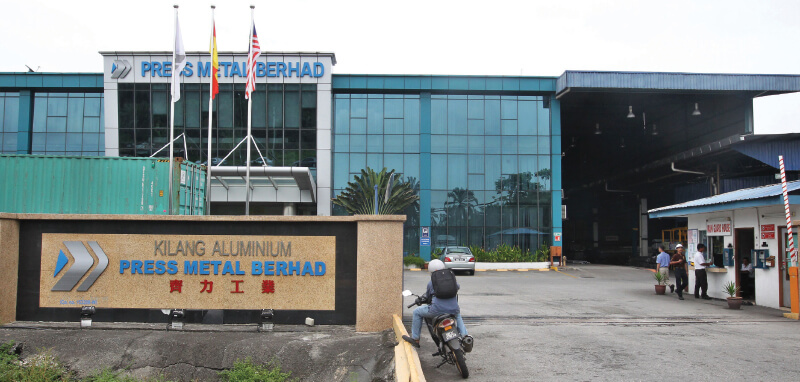 Press Metal's smelting capacity of 760,000 tonnes annually and extrusion capacity of 160,000 tonnes a year is the largest in Southeast Asia. Photo by Patrick Goh
WITH both its aluminium smelting plants in Samalaju operating at full capacity, conditions look ripe for Press Metal Aluminium Holdings Bhd to expand further.
However, power — a key prerequisite for a third smelting plant in Samalaju — remains a challenge to secure.
Several sources familiar with the matter tell The Edge that Press Metal is facing vigorous competition to obtain more power supply from state utility company Sarawak Energy Bhd (SEB).
It is understood that at present, demand for power from heavy industries exceeds available supply if proposed new investments are considered.  But the 1,285mw Baleh dam being built by the SEB and targeted for commissioning in 2025 is expected to bridge the gap.
On the SEB side, observers note that among others, it also needs to strike a balance between facilitating new entries into Samalaju with the needs of existing players such as Press Metal.
At present, Press Metal already accounts for 1,200mw or about a fifth of current consumption.
SEB told The Edge in an interview last year that if the need arises, it could expand existing power plants or even go for gas-fired power plants which have a shorter lead time compared with hydropower dams.
However, a source familiar with Press Metal's thinking tells The Edge that the management is in no hurry to look into the possibility of a third smelting plant in Samalaju.
Samalaju Industrial Park is a key growth area under the Sarawak Corridor of Renewable Energy (SCORE) project aimed at attracting investments for energy-intensive industries, leveraging on cheap hydropower energy in the state.
Press Metal's group CEO Tan Sri Paul Koon Poh Keong could not be reached for comment as he is travelling.
Fund managers The Edge spoke to feel that aside from power, Press Metal is well poised for a third smelting plant in Samalaju.
For starters, about half of its 500-acre land in Samalaju remains unutilised.
The other half houses the first and second phases of its smelting plant. Each plant consumes 500mw per day with an annual smelting capacity of 320,000 tonnes.
Previous news reports say the second phase in Samalaju had hit full capacity back in 2016 after commencing commercial operations in 2015.
Press Metal's other smelting plant in Sarawak is located in Mukah. It has an annual capacity of 120,000 tonnes and consumes 200mw daily.
Overall, Press Metal's smelting capacity comes to 760,000 tonnes annually with an extrusion capacity of 160,000 tonnes a year — the largest in Southeast Asia.
"Obviously, they need to [expand]. It is just whether they can get a power purchase agreement (PPA) because gearing-wise, they can definitely take it up," one fund manager opines.
The fund manager adds that with available power, Press Metal may be able to complete a third plant — depending on the scale — within a 12-month period.
As at March 31, Press Metal's unaudited numbers indicate that its net gearing is approximately 0.72 times, according to back-of-the-envelope calculations.
That is lower than the 0.96 times as at Dec 31, 2017, based on audited figures in its latest annual report.
It is worth noting that in October 2017, Press Metal issued a five-year US$400 million bond aimed at refinancing borrowings and freeing up cash flow.
The US dollar bond issuance was the first by a Malaysian issuer in over a decade and was oversubscribed by 9.5 times. The interest rate was fixed at 4.8% per annum.
The strong response indicates Press Metal is unlikely to face difficulties tapping the capital markets if it finds the opportunity to set up a third smelting plant in Samalaju.
Expanding downstream
As the possibility of a third plant remains unclear,  Press Metal has been eyeing other avenues of expansion.
In February, group CEO Koon said the group aimed to increase the mix of its value-added products from approximately 30% of total production to 50% by the end of 2018.
Its main value-added products are alloy wheel ingots, aluminium billets and aluminium wire rods that, according to analysts, command wider margins as downstream products.
The company has also completed a new conveyor belt that transports alumina directly from the Samalaju Port to its own silos, which is more efficient than using trucks as was done previously.
Citing management guidance, Kenanga Research noted in a May 25 report that the conveyor belt should yield savings of between US$8 and US$10 per tonne.
"With Press Metal's port throughput of circa two million tonnes per year, this should result in cost savings of RM16 million to RM20 million annually directly benefiting the bottom line from 2Q18 onwards."
In the first quarter ended March 31, 2018, Press Metal reported a net profit of RM150.48 million, up 1.6% year on year, while revenue grew 9.9% to RM2.13 billion.
The company declared a 1.5 sen dividend per share.
In a statement accompanying the results, Koon said that the first-quarter numbers would have been stronger but for higher raw material prices and a weakening US dollar.
"Our management is closely monitoring the changing market landscape and has control measures in place to respond to price volatilities on both the aluminium and raw material fronts.
"Such external shocks have proven the resilience of aluminium prices which could benefit producers like us," he added.
Of six analysts tracking the counter, two have "buy" calls and the other four a "hold', while the consensus target price is RM5.08. Press Metal closed at RM4.59 last Friday.
Looking ahead, UOB Kay Hian says 2QFY2018 could see Press Metal hit by higher alumina prices as some of its alumina requirement remains unhedged.
The research house noted in a May 25 client note that the US sanctions last month on Russian alumina producer, United Company Rusal, had driven aluminium and alumina prices to year-to-date peaks of US$2,600 per tonne and US$650 per tonne respectively.
Rusal accounts for 6% of the global output of alumina, from which aluminium is extracted via smelting.
That said, the weaker ringgit in the current quarter compared to 1QFY2018 will help mitigate the impact, the research house adds.
In FY2017, Press Metal recorded a 23% y-o-y revenue surge to RM8.18 billion while net profit grew 22.7% to RM593.4 million.
UOH Kay Hian, which has a "hold" rating on the stock, expects revenue to hit RM9.15 billion this year. The consensus net profit estimate for FY2018 is RM771 million.
"Potential key re-rating catalysts include higher aluminium prices if raw materials costs are contained, and expansion at its Samalaju plant depending on the availability of power from SEB," says UOB Kay Hian.
Save by subscribing to us for your print and/or digital copy.
P/S: The Edge is also available on Apple's AppStore and Androids' Google Play.