This article first appeared in Personal Wealth, The Edge Malaysia Weekly, on July 23, 2018 - July 29, 2018.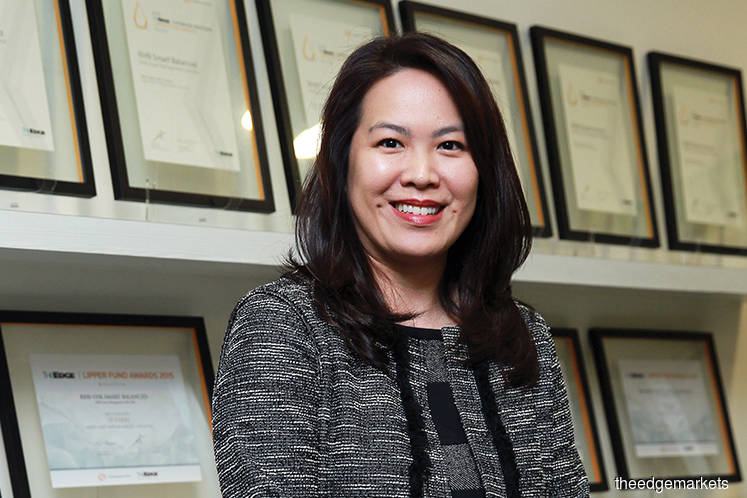 Japanese equities are looking attractive because of positive macroeconomic developments, corporate governance reforms, high cash holdings and appealing valuations, says RHB Asset Management Sdn Bhd managing director Eliza Ong.
"On a macro level, the Japanese economy has entered a new upward trend after the 20-year correction phase ended. Such positive macroeconomic development creates the best opportunity for investors to gain from investment in Japanese stocks on a medium to long-term basis," she adds.
Over the longer term, Ong expects the ongoing Japanese corporate reforms to be a major driver of the country's equity market. "We think corporate reforms could be the most important driver of Japanese equity performance, given the potential to improve company fundamentals and shareholder returns, and in turn boost investor confidence. Progress has been uneven. But over time, reforms could lead to better managed, more profitable and more shareholder-friendly companies," she says.
"Japanese companies are particularly well placed for improved returns on equity, which have been depressed in recent years due to Japan's history of holding some of the highest cash balances, lowest payout ratios and lowest operating margins relative to their developed peers globally."
When compared with other developed markets, Japanese stocks are still relatively cheaper. Ong says that despite the strong earnings growth, Japan is the only developed equity market in the world where valuations fell between Dec 31, 2014, and March 31 this year. "We think valuations still reflect potential risks, including scepticism over whether 'Abenomics' is really working. We believe that earnings growth and price-earnings ratio rerating in Japan will deliver our fund's performance."
She is referring to the RHB Entrepreneur Fund, which has more than 84% of its holdings in Japan (according to its June 2018 fact sheet). According to Lipper data as at July 9, the fund saw a return of -4.06% over three months, -4.49% over six months, 6.67% over one year and 18.74% over three years.
According to the fund fact sheet, the RHB Entrepreneur Fund - first launched on October 14, 2014 - is meant for investors who wish to participate in opportunities in Japan and other Asian economies and are willing to accept high-risk investments to achieve capital growth over the long term. To this end, the fund holds between 70% and 98% of its net asset value (NAV) in companies listed in Japan and other Asian markets. Between 2% and 5% of its NAV can be held in liquid assets such as money market instruments and deposits.
Despite the volatility around the world, the fund outperformed its benchmark, the Tokyo Stock Price Index (Topix). "On a one-year basis (May 2017 to May 2018), the fund delivered 13.5% against the benchmark's 9.79%," says Ong.
The fund holds fewer than 30 stocks and its top holdings are mainly Japanese counters. It is a concentrated portfolio and the weightings in the fund's top holdings are nearly equal. As a result, the fund's performance over the years has come from an aggregate basis rather than the top five holdings. "Our top five holdings (OBIC Co Ltd, Shinoken Group Co Ltd, MCJ Co Ltd, Tosho Co Ltd and Yaoko Co Ltd) have done well over the years," says Ong.
Family businesses the way to go
Ong says the fund house decided to launch the RHB Entrepreneur Fund as it believes that family-owned companies or those whose founders still hold substantial shareholding are resilient and can weather the different market cycles. "Back-testing undertaken by the fund house revealed that founder-backed companies tended to outperform non-founder companies during economic downturns," she adds.
These CEOs have been found to avoid quarterly earnings guidance. Instead, they emphasise long-term value creation for their companies. "Founder-operated companies are motivated to utilise their above average management skills and strategic business relationships to generate higher returns [for investors] over the longer term. For these founders, the business means everything to them, particularly if they had built it from scratch," Ong explains.
These companies often enjoy strategic flexibility to choose capital structures that enhance returns and manage risks, she says. "Generally, they are willing to take on risks to invest in their business, including employing leverage as appropriate. Furthermore, they are not afraid to take a contrarian view and typically maintain liquid balance sheets to take advantage of economically uncertain times and pursue investment opportunities when others are unwilling to do so."
These findings, coupled with the positive outlook on Japan, convinced RHB Asset Management to launch the fund, which mainly focuses on entrepreneur-backed Japanese companies. "In our selection criteria, companies with more than a 5% stake held by founders or families are deemed as having entrepreneurial characteristics. By having significant equity interest in the companies, the founders will ensure that the business or investment decisions are profitable in the long run," says Ong.
"We also look at other characteristics such as long employment periods among key managers, low executive turnover, family involvement, corporate governance and entrepreneurial spirit."
Ong says the stocks are picked using a bottom-up approach and that the fund is industry-agnostic. "We pick stocks based on sustainable mid to long-term earnings and valuations. This would preferably come through company-specific growth drivers, as opposed to just betting on the cyclical recovery or macroeconomic tailwinds, such as a weaker yen. The stocks in our portfolio tend to be consumer-driven ones that are less affected by currency [fluctuations] and instead, benefit from the recovering domestic demand."
The fund house's focus on key management personnel, valuations and sustainable business models have contributed to the fund's performance. "We believe that entrepreneur-led companies with the right management are able to create value over the long term. There may be some disappointments in the quarterly results along the way, but we tend to ignore short-term news and focus on their business model and ability to grow the business," says Ong.
Abenomics reviving the Japanese economy
Japanese Prime Minister Shinzo Abe's "three arrows" economic policy, more popularly known as "Abenomics", revolves around a three-pronged economic management approach – monetary stimulus, fiscal stimulus and structural reforms. RHB Asset Management Sdn Bhd managing director Eliza Ong says these strategies are gradually making the country's stock market an attractive proposition once again, with corporate profits steadily rising since Abe was returned to power.
"One of the main reasons for this [recovery] is that the government has pushed the Bank of Japan to adopt a 2% inflation target, which prompted the latter to engage in more radical monetary easing policies. The consequent fall of the yen against the US dollar has pushed up equities, thereby boosting consumer sentiment and generating wealth effects for private consumption. These developments have also boosted corporate sentiment, with positive implications for the economy," she adds.
Ong expects domestic demand in Japan to continue expanding on the back of increased personal consumption. Meanwhile, overseas demand for Japanese products and services is expected to maintain steady growth, backed by the recovery in the global economy.
"However, downside risk remains for overseas demand, due to increased geopolitical risk as well as fears that China's economy may slow down. Meanwhile, we are cautious about a possible slowdown in the US economy accompanying the Federal Reserve's tight money policy," she says.
On the home front, Ong welcomes Prime Minister Tun Dr Mahathir Mohamad's move to reignite the Look East policy. "We view this positively for the economy, especially with possible new tax incentives for foreign investments. This would encourage increased trade across the region and possibly, create new opportunities for companies," she says.
"Foreign investments could lead to an increase in the transfer of knowledge, which could benefit both countries. Furthermore, increased cooperation between countries such as Japan and Malaysia could be a stepping stone to more collaborations."