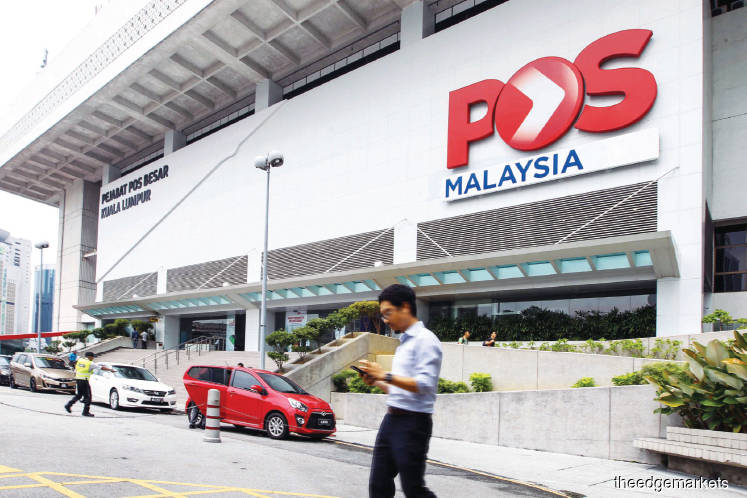 KUALA LUMPUR (Nov 25): Pos Malaysia Bhd has reported its fifth consecutive loss-making quarter, with net loss expanding to RM29.34 million from RM16.58 million last year, which brings it an accumulated loss of RM215.16 million since July last year.
Pos Group chief executive officer Syed Najib Syed Md Noor said the latest losses incurred in the three months ended Sept 30, 2019 was due to the continued decline in its mail volume, besides increasing costs in serving the Universal Service Obligation (USO) to accommodate the increasing growth of addresses nationwide.
"The change in the global postal landscape has urged us to seek for an urgent Postal tariff regulation review from the Government, which is expected to materialise by early 2020," he said in a statement filed with the stock exchange.
Pos Malaysia, which has recently changed its financial year-end to Dec 31, said revenue in the quarter under review fell 6.6% year-on-year to RM550 million from RM588.73 million. It blamed the drop on lower postal services revenue, due to the continuous structural decline in traditional mail volume — largely due to electronic substitution — while its courier services also saw lower volume from walk-in customers.
It also handled lower tonnage of aviation cargo, and registered lower revenue at its printing and insertion business, as well as at its logistics segment, due to the completion of the Refinery and Petrochemical Integrated Development (RAPID) project in Pengerang.
Only its international business — which includes direct entry and transhipment — saw improved revenue during the quarter, thanks to a pricing revision.
Pos Malaysia said its business outlook going forward remains challenging, due to persistent key structural issues within postal services.
"Overall, although the group is optimistic about its businesses, one of the group's key revenue generator, namely postal services business, remain challenging due to the recent developments in Universal Postal Union (UPU), adoption of technologies and regulations.
"Firm steps are being taken to address these issues but the outcome of these steps will only be evident in the medium term," it said.
Syed Najib, meanwhile, shared that Pos Malaysia is investing in its digital transformation journey including an expansion of its capabilities to serve the growing e-commerce market. "The recent 9/9 online sale saw Pos Malaysia hitting 800,000 parcels, a new record for the national courier," he said.
The group is also looking into niche segments within its logistics business, such as those specialising in transporting chemicals and liquidated gas.
It is also discussing with targeted airlines to expand their operations to Malaysia, besides establishing joint ventures through strategic partnerships with global industry players to leverage on their global network for enhanced revenue and profitability.
Shares of Pos Malaysia settled five sen or 3.27% lower today at RM1.48, bringing a market capitalisation of RM1.16 billion.