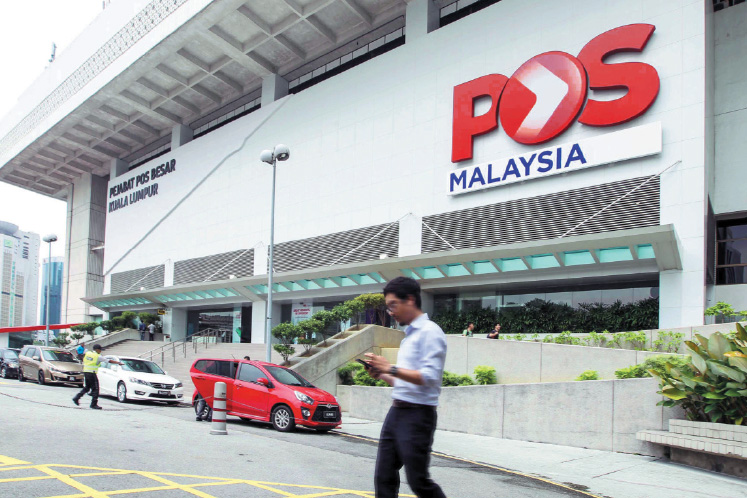 KUALA LUMPUR (Jan 29): Shares in Pos Malaysia Bhd rose as much as 10% in early trade this morning after the national courier said it will raise postage rates for registered mail, commercial mail and small parcels below 2kg, effective Feb 1.
At 9.05am, Pos Malaysia rose 11 sen to RM1.55, valuing it at RM1.21 billion. The stock had earlier risen to a high of RM1.60.
The postal group said the new rates were the result of rising operational costs and the increase in the international rate structure by the Universal Postal Union (UPU).
Stamp rates for commercial mail will increase by 70 sen, which is more than double, to RM1.30. The price of commercial private letterboxes will increase by RM150 to RM200 a year.
The postage of commercial registered mail will increase by 90 sen to RM3.10, while non-commercial registered mail will leap 20 sen to RM2.40.
Meanwhile, Hong Leong IB Research upgraded Pos Malaysia to "Hold" at RM1.44 with a higher target price of RM1.55 (from RM1.25) after Pos Malaysia announced the increase in postage hike to RM1.30 from 60 sen per standard 20g mail effective on Feb 1.
In a note today, the research house said it was positive on the news of the postage hike in the near team, as Pos Malaysia is able to generate additional estimated revenue of circa RM250 million on a full year basis (circa RM230 million for FY20).
"Following the news, we now expect profit of RM77.3 million on FY20 earnings from a loss of RM25.4 million as we take into account higher revenue generated from postal services in tandem with higher cost possibility.
"Upgrade to Hold (from Sell) with a higher target price of RM1.55 (from RM1.25) based on 0.7x FY12/20 BVPS of RM2.22 (at -1.25 S.D. below its 3-year historical P/B of 1.46x)," it said.
Read also:
Pos Malaysia more than doubles rates for commercial mail