This article first appeared in The Edge Financial Daily, on April 2, 2018.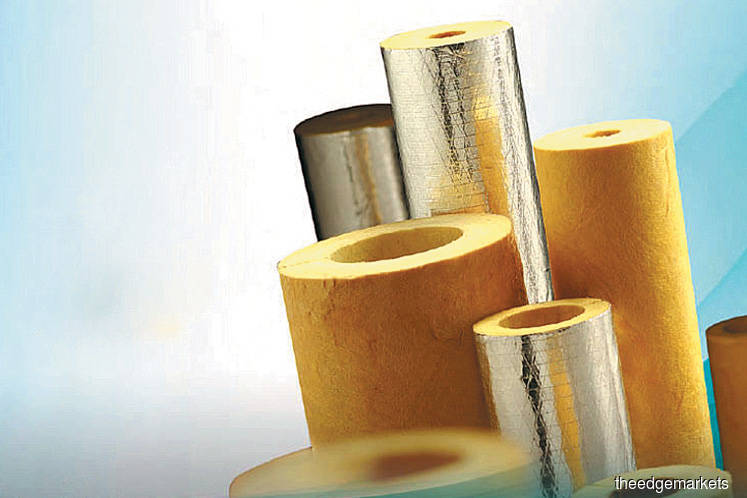 KUALA LUMPUR: Glass mineral wool insulation manufacturer Poly Glass Fibre (M) Bhd plans to increase export sales to new markets such as South Korea to counter stagnant demand at home and in Southeast Asia.
Its executive chairman Fong Wern Sheng said lower manufacturing costs in Malaysia gives the group a competitive edge in North Asia's developed markets of Japan and South Korea.
"We are already selling our products in Japan but Korea is a new market to us and we are still in discussion stage. Other than these two markets, we don't think we can competitively ship to other places there.
"Freight rate to Korea is not expensive, about US$200 to US$300 (RM772 to RM1,158) per container.
"To Japan it's about US$500. In comparison, the shipping cost to Australia is about US$1,100," he observed in an interview last week with The Edge Financial Daily at the group's Seberang Perai plant in Penang.
Fong said the Malaysian market accounts for about 40% of group sales, and export markets the remaining 60%, primarily to Australia, Japan, New Zealand and Southeast Asia.
According to Poly Glass Fibre's 2017 annual report, a third of group revenue came from Oceania, 44% from Malaysia, 21% from Asia (excluding Malaysia) and the remaining 2% from other countries.
Fong plans to step up the deployment of resources to bump up its Australian presence with the aim of increasing Poly Glass Fibre's market share there of some 5%.
"We prefer to sell in places where our quality is appreciated. You won't see any Chinese product in Australia — we don't have to compete with them.
"There are two manufacturers in Australia, but they have been there for about 60 years so technology and quality wise, we are better. Plus their labour cost is higher, that is why they prefer our product," he maintained.
For the nine months to end Nov 30 last year (9MFY18), the company posted a net profit of RM3.33 million, 50% higher than the RM2.22 million in the previous corresponding period. Over the same period, it made a revenue of RM42.74 million, about 14% more than for 9MFY17.
Fong attributed the improved performance to better sales in the Australian market, but foresees the group's 4QFY18 result to be "pretty bad."
He explained that November to February is the off-peak period in the industry, but because of Malaysia's impending general election, the sector has gone "very quiet".
Although Poly Glass Fibre hopes its Southeast Asia sales can be maintained in the near term, it anticipates a drop. But Fong believes the company can do more in its export markets to offset the slower market in Southeast Asia.
"Demand in Southeast Asia is there, just that the price may be lower. But the recent anti-pollution drive in China is something advantageous to us because supply from China dropped and we see prices coming up again."
In Southeast Asia, Fong said there are only three manufacturers of glass mineral wool insulation and Poly Glass Fibre is the only one in Malaysia. "The other two are based in Thailand and they mainly serve their home market, which is big enough. One of them even focuses specifically on the automotive segment," he said.
In 2016, Poly Glass Fibre spent RM20 million to build a new production line and an 80,000 sq ft warehouse. This expanded its production capacity to 24,000 metric tonnes (MT) per year from 16,000 MT.
"We are currently using about 65% of our capacity. Ideally we hope to reach 90%, but it would take two to three years to build up orders for our new line. So in the next one or two years, we don't think we will do much in terms of expansion."
On the group's 1,300-acre leasehold land in Tanjong Malim, Perak, Fong said the company is waiting for the right time to develop the plot, the net book value of which is RM133.4 million according to its 2017 annual report.
The plot is located adjacent to the 4,000-acre Proton City, which could prove strategic to Poly Glass Fibre should the Geely-Proton partnership succeed.
"With Geely (Zhejiang Geely Holding Group) in the picture, hopefully things will be different. We have kept the land for 20 years, and Proton Holdings' plant is so nicely built and futuristic, but the sad thing is Proton didn't work out before this.
"But now as you know Proton is going to shut down its Shah Alam plant and move to Tanjong Malim in the next few years so we are waiting for the right opportunity.
"The land is clean (of debt), so we don't have to service any bank interest, and we have holding power. This is a hidden gem in the group, but it is all about timing."
Although the group has received various proposals to develop the land, the valuation were not attractive, Fong says.
"Of course we can sell for a profit, but what is the point? We have already kept it for 20 years. What is a few more years? So we turned down a lot of proposals, but we think there will be a lot more activities after the general election."
Poly Glass Fibre closed two sen or 3.88% lower to 49 sen on Friday, giving it a market capitalisation of RM79.19 million.