This article first appeared in The Edge Malaysia Weekly, on August 5, 2019 - August 11, 2019.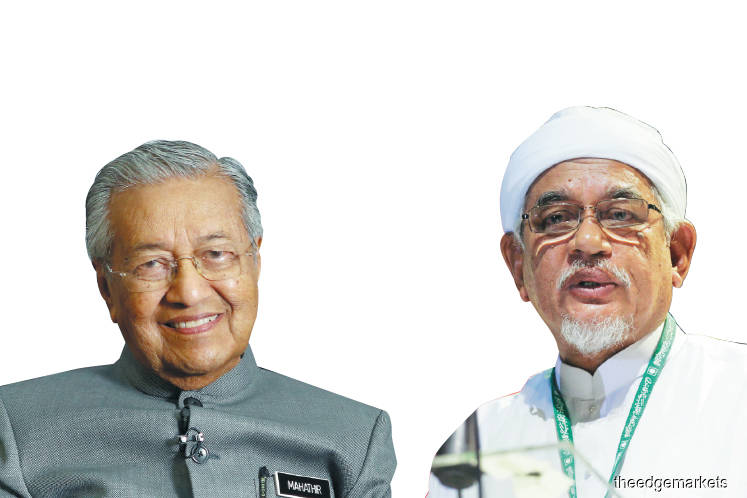 What is Abdul Hadi's game in supporting Mahathir? Photo by Reuters
SO the prime minister has confirmed that a group of opposition politicians met him recently. According to The Star, opposition representatives met Tun Dr Mahathir Mohamad to urge him to stay as prime minister for the full term, saying that "nobody should take over the helm of the country midway through".
It is said that those who attended the meeting were Gabungan Parti Sarawak chief whip Datuk Fadilah Yusof, former Umno vice-president Datuk Seri Hishammuddin Hussein, PAS vice-president Datuk Seri Dr Samsuri Ahmad Mokhtar and PAS secretary-general Datuk Takiyuddin Hassan.
Why would they pledge support for a political foe, a more-than-formidable one at that? Could it be for the love of the country? Or love of Mahathir perhaps? For the sake of their own political survival? Or out of fear of Datuk Seri Anwar Ibrahim, who has been designated as Mahathir's successor?
Could it be all of the above, or none of them? Take your pick. But saying that it is all about politics does not count. That is a given.
By the way, Economic Affairs Minister Datuk Seri Azmin Ali, who is also PKR deputy-president, was believed to be among the attendees, further fuelling speculation that it is about the premiership after Mahathir steps down.
Mahathir did not want to confirm if Azmin was indeed present at the meeting but he reiterated that he would keep his promise to step aside for Anwar.
Nonetheless, Mahathir downplayed the meeting, saying that many people come to see him all the time and he, too, has met many people.
Malaysiakini quoted the prime minister as saying, "As you know, Abdul Hadi Awang says he supports me all the time. Nothing new."
The PAS president, however, was not present at this latest meeting. And speaking of Abdul Hadi and his so-called support for Mahathir, just what is his game?
His latest show of support was made on July 27, when he said his party would work with Umno so that Mahathir remains PM for a full term.
I sought the views of Datuk Seri Ahmad Zahid Hamidi and Datuk Seri Mohamad Hasan on Hadi's remarks, in particular, about PAS working with Umno to ensure that Mahathir serves his full term. The Umno president and his deputy did not respond.
Long-time PAS watcher and political writer Mohamad Sayuti Omar agrees with the notion that PAS and Hadi are trying to drive a wedge between Mahathir and Anwar, acting as, in Malay, a batu api or instigator. Incidentally, in saying that he supports Mahathir, the PAS president said he was not on the same page as Azmin.
It is an open secret that Hadi has had a distinct dislike, to put it mildly, for Anwar since their days in Abim (Muslim Youth Movement of Malaysia).
But as Sayuti sees it, PAS could also be nurturing a theory that an Anwar-led Pakatan Harapan government would be stronger than the current set-up. Thus, he says, PAS, especially Hadi, would want Mahathir to continue as PM as to them, Pakatan Harapan under Mahathir would be an easier target come GE15.
"If that is the thinking, then it is politically smart of PAS, and especially, of Hadi," Sayuti adds.
But that would be a strange thought to have because many people within and outside the political fraternity feel if there is a strong leader who can put PAS in its place, that would be Mahathir, Anwar's Islamic credentials notwithstanding.
It is widely known that Mahathir sees Islam differently from PAS. In a word, he has never agreed with PAS' version of Islam and has never been shy to speak his mind about it.
But Islam is close to the hearts of Malay Muslims. A Muslim leader who is seen as not Islamic risks losing support. PAS and Umno know this all too well and are focusing on this big time now to win the community's support (read votes). Thus, we are increasingly hearing the "I am more Islamic than you" rhetoric.
That is not lost on Mahathir. In the past, he has spoken many times on Islamic moderation and tolerance as opposed to the perceived hardline stance and extremism of PAS.
During his official visit to Turkey recently, Mahathir lamented that the academic dominance achieved by the Muslim world was lost after its scholars rejected the pursuit of secular knowledge.
Yes, that was for an international audience — his words were meant for Muslims the world over. But from a domestic standpoint, that can be seen as Mahathir's renewed effort to make the country's Malay Muslims modern and progressive, hence rejecting the other side's brand of Islam.
In short, reject the "talibanised" PAS and, by extension, Umno.
Mahathir also announced a tripartite pact between Malaysia, Turkey and Pakistan to lead the renaissance of the Muslim world, which The Malay Mail Online said ought to make Saudi Arabia and Iran "shake in their boots".
Never mind Saudi Arabia and Iran and their boots, the point is that it is aimed at making Muslims, including those in Malaysia, proud.
Already, there are reports hailing Mahathir, Turkey's Recep Tayyip Erdogan and Pakistan's Imran Khan as the right set to lead a Muslim renaissance.
Veteran journalist Zin Mahmud posted on Facebook: "Wishful thinking. The masses refuse to be revived. They do not recognise these three great leaders. They want religious persons to lead them."
By the masses, he was referring in particular to Malay Muslims in the country. But knowing Zin, I sense sarcasm in his remarks.
What would it mean to PAS that Mahathir is one of the leaders to lead a Muslim revival? Where would it leave a theological PAS and its partner, Umno?
Perhaps PAS and Hadi will come to regret supporting Mahathir to continue as PM. But then, Anwar's views and thoughts on Islam are quite close to Mahathir's.
That being the case, it does not matter if it is Mahathir or Anwar who leads Pakatan Harapan come GE15. PAS and Umno will not be happy with either of them.
However, they can hope that Zin was not being sarcastic about the masses refusing to be revived.
Mohsin Abdullah is a contributing editor at The Edge. He has covered politics for more than four decades.