This article first appeared in The Edge Malaysia Weekly, on March 25, 2019 - March 31, 2019.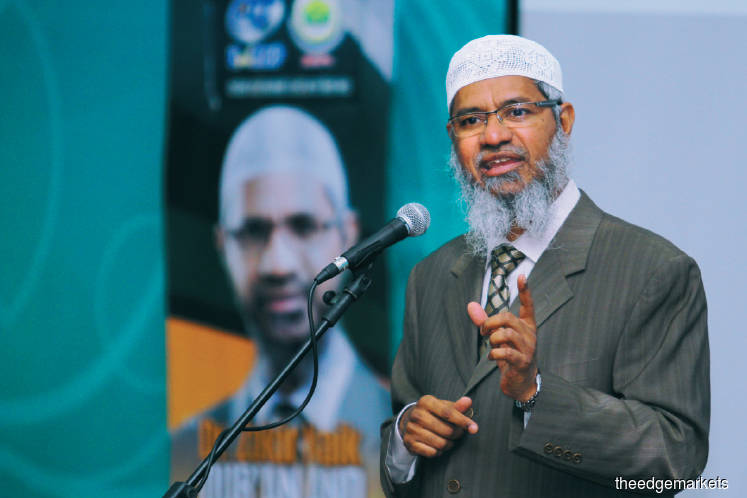 The government should thoroughly investigate the allegations against Zakir, says an expert on political Islam
QUITE a number of Malay Muslims in this country of ours have much respect for controversial preacher Zakir Naik. Hence, should the government turn its back on him or send him back to India — which has a government led by Hindu nationalists — they will see that as a religious man being knowingly delivered to his persecutors by a Malay Muslim-led government.
To Zakir's sympathisers, he is seen as being successful in getting non-Muslims, in particular Hindus, to convert to Islam. They say that is why the authorities in India, being Hindu, have an axe to grind with him.
But to many non-Muslims, Zakir is divisive and a preacher of hate, someone who is fond of putting down other religions. To them, Zakir, who is wanted by India on a range of criminal charges, must be deported. And obviously, they do not want the government to have anything to do with the preacher.
Non-Muslims are agitated that Zakir was given permanent residence status. First, we should note that his PR status was awarded under the administration of Datuk Seri Najib Razak.
While the current government can revoke it, not only has Zakir retained his PR status, but the government is also seen as being friendly with him.
And recently, Minister in Charge of Islamic Affairs Datuk Seri Mujahid Yusof met the preacher at his office. A picture of the two hugging each other went viral. Mujahid was reported to have said that what Zakir is doing with regard to dakwah is "inspiring".
Mujahid, who had been doing and saying the right things until now and was accepted by non-Muslims, found himself fiercely criticised by the same people who had sung his praises previously.
It seems that all of the minister's good work, which incidentally had incurred the wrath of many a Malay Muslim, became undone in one moment. It's ironic, sad even.
Mujahid, a former PAS leader who is now with Amanah, has always been the target of PAS, which has labelled him a liberal — too soft and too compromising about Islam for their liking.
Beyond  Mujahid's case specifically, the government, generally speaking, is caught between a rock and a hard place.
So, where do we go from here?
I took the issue to Prof Dr Ahmad Fauzi Abdul Hamid, an expert on political Islam.
Recall that when the previous government did not allow Turkish writer Mustafa Akyol to speak in public on Islam in the country a few years ago, citing his "lack of Islamic credentials", Ahmad Fauzi questioned that decision, drawing a parallel with Zakir.
Ahmad Fauzi had asked then whether the authorities were being fair in requiring speakers on Islam to have the necessary credentials.
He was quoted as saying, "You may disagree with Akyol but if you want to apply the credentials rule, then apply it on the preacher Zakir Naik as well."
"Has Zakir Naik applied for credentials? Has anyone questioned whether he has credentials or not? Not only do we not question that, we even grant him permanent residence status," Ahmad Fauzi said.
The questions are still relevant. Have they been asked and answered since then?
Before we look at the way forward, Ahmad Fauzi says the concern of Malay Muslims that Zakir may risk being persecuted should he return to India ought to be addressed.
According to him, the human rights situation in India must be considered, what with the violence against Muslims in India and so-called cow vigilantes aggravating the situation.
He observes that it is not only Muslims who are the victims, but Christians as well. The violence, he points out, is carried out mostly by Hindu nationalists and not Hindus per se.
As far as Zakir is concerned, he says, the government needs to set up a special task force to conduct a thorough investigation.
The task force or high-level committee should comprise academics, the relevant authorities and representatives of law enforcement agencies, and it must look into every aspect of the case. Nothing is small enough to be disregarded.
It must study whether the preacher's brand of dakwah is suitable for a multiracial country like Malaysia. In fact, some people have attempted to tackle this issue.
Most importantly, says Ahmad Fauzi, the task force should get to the bottom of the allegations against Zakir. "We must know if the things attributed to him — like the accusation of links to terrorism and of being pro-Osama bin Ladin — are true or not," he says.
Only when all the questions have been answered can the government plan the next course of action.
True. Only then can the Zakir Naik issue, which is driving many Muslims and non-Muslims in this country apart, be resolved — to some extent, at least.
All those questions must be answered. But that is only the first of many steps that must be taken to mend inter-faith relations in this country.
Save by subscribing to us for your print and/or digital copy.
P/S: The Edge is also available on Apple's AppStore and Androids' Google Play.