This article first appeared in The Edge Malaysia Weekly, on October 7, 2019 - October 13, 2019.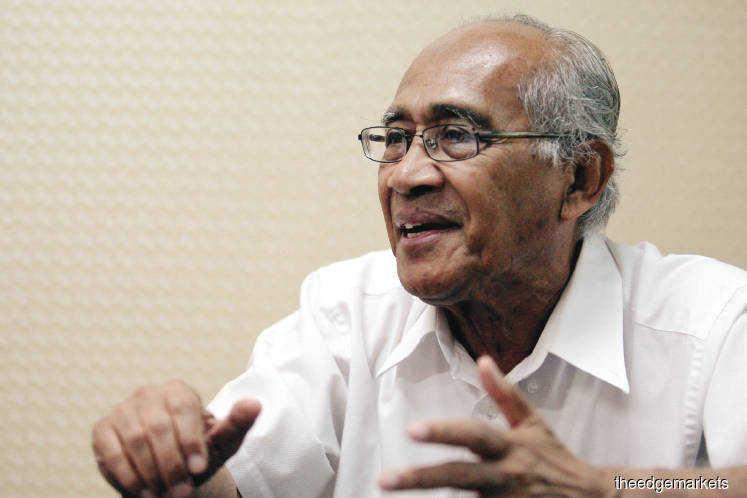 Observers say Syed Husin is concerned that PH may not have enough time to prepare for the next general election. Photo by Suhaimi Yusuf/The Edge
TUN Dr Mahathir Mohamad would have his reasons for not making public a definite date for handing over the premiership to Datuk Seri Anwar Ibrahim. So, what he  has been saying on the topic up till now stands.
Yet, I agree with a political observer who says recent strong words from PKR founder Syed Husin Ali "reflects growing frustration in PKR about Mahathir's ambigious statements on the handover".
That's true although, admittedly, there are people in PKR itself who are in no hurry to see the handover take place.
Let's just single out two big takeaways from Syed Husin's outburst.
Takeaway No 1 was his "angry query", as pointed out by journalist Terence Netto, over the "seeming unwillingness of senior leaders of Pakatan Harapan component parties to hold Mahathir to the letter, if not the spirit, of the ruling alliance's GE14 promises".
In a nutshell, Syed Husin is asking if PH leaders, brave and full of fighting spirit in the past, can now no longer stand up to the prime minister.
But Amanah president Mohamad Sabu has been quoted a couple of times before this as saying that he and his compatriots have never been apologetic at Cabinet or PH meetings in presenting their forthright views before Mahathir. There are people who can vouch for that.
In short, he says, they are no "yes men" who nod their heads in agreement with whatever it is that the prime minister says.
And even Mahathir has said that Cabinet or PH presidential council meetings are taking hours as people tend to talk, argue and give their views.
As Netto wrote in Malaysiakini, "Apparently, meetings of the BN, which Mahathir headed during the 22 years of his premiership, used to be a breeze whereas he said he was finding the Harapan ones a test of his powers of concentration because attendees were willing to speak up when impelled".
Apart from vocal attendees, can that be taken to also mean that Mahathir has changed for the better and is more tolerant than during his BN days? We have people who can vouch for that too.
That being the case, can we conclude that PH leaders have made their stand loud and clear in front of Mahathir on issues such as  election promises, reforms and of course, the PM succession plan?
Can we say that all PH leaders have told Mahathir directly when they think the handover should be done, and he has listened and taken note?
Which brings me to takeaway No 2, which is Syed Husin saying "a late handover will kill Harapan in GE15".
The same political observer says that as a seasoned politician, Syed Husin's harsh words reflect a "genuine concern Anwar may not have enough time to prepare for GE15".
"The election challenges are daunting — keeping the economy on track, establishing a cabinet that inspires public confidence and checking the support for the PAS-Umno alliance and its brand of Islam which is spooking non-Malays," says the observer.
The euphoria over the Mahathir-led government has evaporated, he says, although that is not entirely his doing. But as he sees it, the more important thing now is to resolve the leadership uncertainty shrouding the country.
The observer feels that Anwar must be given a suitable time span and space to ring in the changes he sees as vital for PH to retain power. And with the next election due in 2023, he says "it is only fair" to give the Parti Keadilian Rakyat president at least three years to stamp his mark on the country before asking the rakyat to give him and PH a fresh mandate.
"This is the point Syed Husin was making, albeit with tangible frustration on the current state of PH and the country," says the political observer.
To Datuk A Kadir Jasin, the PM's special media adviser, Syed Husin is a politician he respects for his idealism, commitment and sacrifices. But the veteran journalist opines that Syed Husin "is not a political strategist, what more an election expert".
While Kadir agrees that Syed Husin has the right to voice his views, he says, "I think Dr Mahathir and Anwar know each other better".
Mohsin Abdullah is a contributing editor at The Edge. He has covered politics for more than four decades.