This article first appeared in The Edge Malaysia Weekly, on April 22, 2019 - April 28, 2019.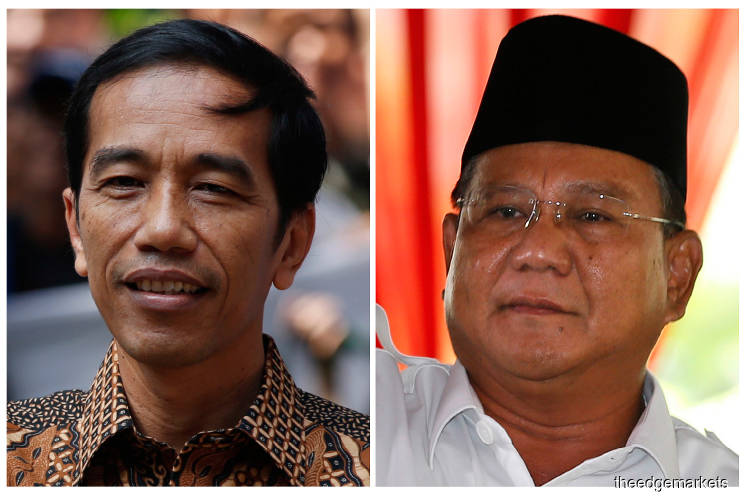 Photo by Reuters
GOOD Friday, a holy day for Christians the world over, is a public holiday in Indonesia, which has the largest Muslim population in the world. So, too, with other non-Muslim occasions.
Indonesia has never called itself an Islamic nation despite its large number of Muslims — preferring instead to be known as a moderate and tolerant Muslim-majority nation. And most Indonesians hold dearly to the Pancasila — the official and foundational philosophy of the Indonesian state. Its five pillars include "social justice for all Indonesians".
Granted, there have been religious tensions over the years that resulted in violence in certain parts of this sprawling nation. Still, Indonesia has managed to quell these troubles and stick to its Pancasila.
But, of late, religion has crept in as a factor in politics. We have seen the fall of former Jakarta governor Basuki Tjahaja Purnama, popularly known as Ahok, following charges of blasphemy. And in the run-up to the just concluded Indonesian presidential election, incumbent Joko Widodo, or Jokowi, found himself subjected to all sorts of allegations — including being not Islamic and worse still, anti-Islam as well as being too close to China and the Chinese. Incidentally, Basuki was a close ally of Jokowi and is Chinese.
The allegations were made by Jokowi's opponents linked to Prabowo Subianto — who is making a bid for presidency. He comes from Gerindra, a party seen to be nationalist and aiming to topple Jokowi. A military man turned politician, Prabowo succeeded in getting the support of the ulama, mostly hardliners with a strict interpretation of Islam.
This is yet another case of nationalists forging an electoral pact with Islamists to battle opponents. Indonesian journalist Riza Nasser tells me Islamist groups have always been used for politics — going back to the days of General Suharto bringing down then president Soekarno in 1965. The battle cry was: Stop the atheist Communist Party of Indonesia.
Back to present day Indonesia, in the final stretch ahead of the April 17 election, Jokowi found his strong lead in opinion polls chipped away by his opponent. Prabowo appeared to have gained momentum with his Islamic rhetoric. Malaysian research outfit Ilham Centre sent a team to study the election from Banda Aceh right up to Surabaya. CEO Azlan Zainal says his study, conducted days before the election, showed that in Sumatra, generally, people supported Prabowo.
I take that to mean the strategy of portraying Prabowo as a defender of Islam worked. And unofficial results following the election showed him winning big in Sumatra. Observers in Jakarta say Jokowi was obviously feeling the effects of "slander, lies, hoaxes and fake news" feeding the anti-Islam allegations.
Surprisingly, Prabowo appeared to have made inroads among the young, who had strongly supported Jokowi in the last election in 2014 when he also faced Prabowo. How could this have happened in a country that has always been associated with moderate Islam?
Observers say this time it appeared that Prabowo had benefited from the rising piety among some young Indonesian Muslims — who see the defence of Islam as hijrah or religious migration. Riza agrees, saying that even a number of popular artists have undergone a migration in their stance.
The term is often used to refer to born-again Muslims — people who undergo a spiritual transformation, leaving behind a secular, hedonistic or even a so-called sinful lifestyle to make Islam a larger part of their life.
Do we have such groups of Muslims, young or old, in Malaysia? Yes, we do. We have seen men all of a sudden sporting goatees and skull caps, and women discarding skirts and dyed hair for abaya and hijab (robes and veil).
Personally, I see no problem in this. In fact, I have always respected them for wanting to be more Islamic and close to Allah. The only concern is that there are in their midst those who tend to overdo things, interpreting a lot of things as haram and everybody else as anti-Islam.
In Malaysia, we have seen a "marriage" between nationalist Umno and Islamist PAS. As in Indonesia, a case of nationalists using Islamists perhaps?
At their events, echoes of "Allahu Akbar" or "God is great" reverberate, led not by PAS but by Umno leaders, very much like Prabowo at his rallies with his ulama allies.
And like Prabowo and Co in Indonesia with their attacks on Jokowi, the Ummo-PAS pact are alleging that Pakatan Harapan is not Islamic enough, not strong enough to defend Islam, even anti-Islam, and too friendly, or rather subservient to, the Chinese of DAP, who they allege are anti-Islam and anti-Malay.
If there is something that does not feature prominently in Indonesia, it is "bangsa" (race), as there the emphasis is on religion. In Malaysia, add religion to race and royalty. The opposition has made the three "Rs" — religion (Islam), race (Malay) and royalty (Malay rulers) — their political strategy.
And truth be told, as I have written many times in previous articles, a good number of Muslims, young and old, born again or otherwise, are pretty much taken up by such matters, believing that Islam, Malays and the raja-raja are under threat.
The Umno-PAS pact with the three "Rs" ploy has got the success they yearn for, at least in the last three by-elections.
In Indonesia, where did fanning religious sentiments take Prabowo? Well, he did not get to be president. Although the official result will only be announced weeks or months from now, a quick count of the votes shows that Jokowi has won the election.
As I write this, Prabowo is disputing the quick counts and is even adamant that it is he who actually won. We will just have to wait for the official announcement. In the meantime, I hope nothing untoward happens.
But based on the quick count by several pollsters, Jokowi and running mate Maaruf Amin got 54% to 56% of the votes while the Prabowo-Sandiaga Uno partnership obtained 44% to 46%.
Political analyst Kevin O'Rouke told Reuters that while Jokowi's re-election is now clear, his victory "was not resounding". To the analyst, Jokowi failed to attain the psychological 60% level "that seemed within reach" while Prabowo "performed better than expected".
That, to me, is a sign that playing on religious sentiments worked for Prabowo despite Indonesia's openness and tolerance all these years.
A day or two before election day, Jokowi called on Indonesians to head for the polling stations in droves, and they did. Indonesians living overseas turned up in big numbers at their embassies to vote. In Indonesia, some 80% came out to vote or as they say "nyoblos".
I spoke to several voters in Jakarta, who said they turned up at the polling stations because they were concerned that Prabowo could win if they did not vote. And they voted, they tell me, to uphold the values of the Pancasila and prevent Indonesia from becoming hardline and intolerant. Well, they succeeded.
At least for now, the number of people who rejected the use of religion as political bait outnumbered the people who believed the rhetoric.
In Malaysia, we have a good share among us who reject extremism. The challenge is to ensure that the number continues to grow because religion will always be exploited for political purposes. And, sadly, there will always be people who fall for it, as seen so many times before.
Mohsin Abdullah is a contributing editor at The Edge. He has covered politics for more than four decades.