This article first appeared in The Edge Malaysia Weekly, on February 4, 2019 - February 10, 2019.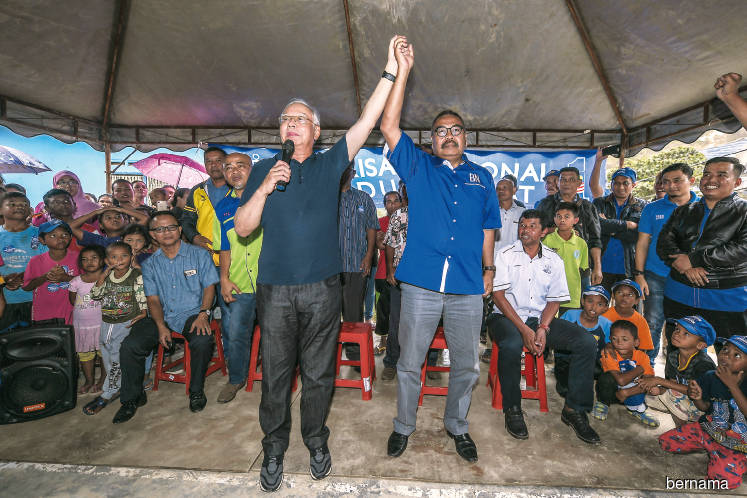 Najib stumping for Ramli in the Cameron Highlands by-election. It was a calculated risk that paid off for BN.
WHAT if Barisan Nasional had lost the Cameron Highlands by-election? Would it have blamed Datuk Seri Najib Razak? I think it would have.
His tainted image would have been seen as the factor that led to a loss when BN was supposed to win. The former prime minister would be accused of hijacking the BN campaign from the Umno leaders who had worked hard from the start.
After all, Najib made his presence felt only midway through the campaign period. And as soon as he arrived and set up camp in the highlands, almost immediately Datuk Seri Mohamad Hasan, the Umno deputy president functioning as party president, faded into the background. So, too, did his team.
Hogging the limelight instead were Najib, Pahang Menteri Besar Datuk Seri Wan Rosdy Wan Ismail and company.
Mohamad, or Tok Mat as he is known in Umno, is said to be the one responsible for suggesting the idea of picking Ramli Mohd Nor, an Orang Asli, as the BN candidate. That was a brilliant move hailed even by foes. And taking Ramli into BN via direct membership was like putting the final jewel in the crown.
I agree Mohamad must have had help or feedback from members of his team in coming up with the idea. But it cannot be denied that he was the prime mover in the campaign planning and responsible for the entire BN/Umno election machinery.
So, by muscling him out, Najib stood to incur the wrath of his own party members had BN lost.
Then, questions would be asked as to how come Najib was allowed to feature rather prominently in Cameron Highlands.
I think Najib, the seasoned politician that he is, understood the situation and knew the consequences he would face if BN were to lose. But he took the risk anyway as politicians do. A calculated risk perhaps, and he won.
In my opinion, Najib went Cameron Highlands to campaign because BN stood to win it. It was not that BN won because Najib went there.
Several political analysts agree with this view, including Dr Oh Ei Sun, who had worked for Najib some years ago.
Najib had read the situation well. Sensing a favourable scenario, he came and worked his magic.
The BN win was big and Najib can, if he wants, take credit for it. But he did not, at least not openly. Instead, Najib cleverly termed the victory as a win for the rakyat.
And, to be fair, it was Mohamad, not Najib, who was on stage celebrating with Ramli when the results were announced. Najib had stayed away and followed proceedings from afar — making comments via Twitter.
The next big question is, what now?
For Umno, we know the answer already. The party is in high spirits as the much-needed win is a like a new lease of life. The Umno-Pas pact, which worked very well in Cameron Highlands, is set to be stepped up.
But what of Najib?
Campaigning in Cameron Highlands, DAP veteran Lim Kit Siang had predicted that Najib would use a BN win to make his political comeback. Was Lim serious in saying that? Or was it a tactic to scare off voters from supporting BN, considering Najib's kleptocratic image? Needless to say, the tactic, if indeed it was one, did not work, judging from the outcome of the by-election.
Nonetheless, will Najib start making his moves in Umno now for  fresh start? But he has vowed that he would not want to be party president once again. Nor would he want to be opposition leader. That was some months ago. Since then, he is seen to be in the driving seat. Or should I say riding seat, taking into account his branding as a working-class motorcycle rider.
Wielding enough respect in the party and within the current leadership, he can retake the Umno top spot if he wants. But he will not. He is far too experienced and smart to be pushing his weight and rocking the boat, at least for now.
It is not easy to forecast Najib's next move, but to Oh, "he would want to remain relevant and visible until the political tide turns".
Oh, who is a former political secretary to Najib, did not specify what he meant by the turning of the tide. My guess is Oh is talking about the possibility of Najib wanting to play a major role or to have a big say should Umno MPs want to defect or are lured to leave. It is said that he still "controls up to half of the current Umno MPs".
Many observers say Najib is trying to create a positive public opinion of himself before his court cases begin in April. One analyst says Najib is trying to rebuild his credibility and reputation now, but "once his court case starts, he may have to focus on it".
The final question for now is: Can Najib focus on his court cases and political moves at the same time?
Mohsin Abdullah is contributing editor at The Edge. He has covered politics for over four decades.
Save by subscribing to us for your print and/or digital copy.
P/S: The Edge is also available on Apple's AppStore and Androids' Google Play.