This article first appeared in The Edge Malaysia Weekly, on November 25, 2019 - December 01, 2019.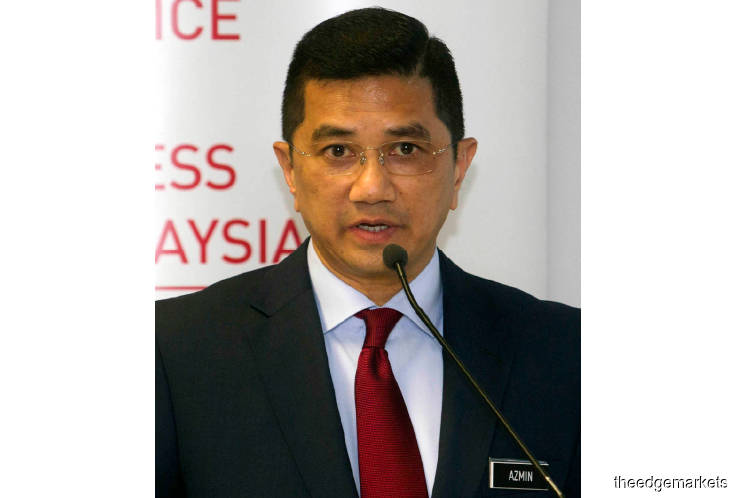 MANY a political observer tells me there are enough grounds for PKR president Datuk Seri Anwar Ibrahim to take action against his deputy, Datuk Seri Azmin Ali. For not attending important high-level party meetings over a long period, without any valid reasons as the party sees it, for example. What more the recent so-called secret meeting with enemies of not only PKR but Pakatan Harapan as well (see accompanying article). And there are other examples that are public knowledge.
But Anwar has taken no action except to ask a number of times for an explanation from Azmin, who has not responded.  As a result, Azmin was called "kurang ajar" by some people.
Now, calls within the Anwar camp are getting louder for the boss to take action but, chances are, he won't for now.
PKR youth secretary Ahmad Syukri Che Ab Razab was quoted by the media as saying that Azmin will continue to create issues until the party is forced to sack him — thus, he and his faction will be perceived as heroes, axed for "telling the truth".
The general belief, at least among pro-Anwar folk, is that Azmin is provoking Anwar to kick him out of the party, which would make him look like a political victim, a martyr even, thus freeing him and his people to join another PH party or form a coalition with Umno man Datuk Seri Hishammuddin Hussein and Co. They expect Team Azmin to include the Baru Bian faction from Sarawak to give it a national outlook.
However, Anwar is not about to fall for it — "seeing through all that and not playing into Azmin's strategy".
To Nik Nazmi Nik Ahmad, the PKR central leadership council member aligned to the party president, Azmin "is destroying his credibility in the process. There is no need for Anwar to take the bait when he is in a position of strength vis-à-vis Azmin".
Observers say that by not taking action against him, Anwar is making the situation "very frustrating" for Azmin.
Political writer Zainal Epi, in an article for Malay Mail Online, says, "Azmin seems to be caught in a circle of fire he created; rapid changes in the political scene may just cause him to be 'burnt' instead of elevating his political position".
Zakaria Abdul Hamid, a member of the PKR central leadership council loyal to Azmin, says, however, that the question of provocation or emigrating to another party does not arise. Azmin, he says, is deputy president of the party, voted in by a majority of party members, and has helped build the party over the past 20 years.
"The party is not owned by any individual. Everybody made sacrifices in building the party and paid a heavy price for that. Therefore, it is unfair if any top leaders practise favouritism, sideline or forget the huge contributions of party activists to the Keadilan cause since 1998," says Zakaria.
He did not mention Anwar specifically but said "every party member loves the party and wants to see it [remain] stable in order to look into the interests of the rakyat in the best possible manner".
Ilham Centre head of research Dr Yusri Ibrahim believes Azmin's strategy is to stop Tun Dr Mahathir Mohamad from handing over the premiership to Anwar as "Azmin feels he would be finished if Anwar becomes PM".
Thus, according to Yusri, Azmin wants to challenge Anwar for the PKR presidency in the 2021 party election and hopes the succession plan between Mahathir and Anwar does not take place before that.
"Should he defeat Anwar, then the question of Anwar replacing Mahathir is no more an issue as Azmin stands a good a chance of being the replacement," says Yusri.
However, if Mahathir hands over the PM's post to Anwar before the PKR election in 2021 as promised, "I do not expect that the Azmin-Anwar conflict will end. If Anwar becomes PM, I feel Azmin and his supporters will leave PKR en bloc — either to join existing parties in government or join the opposition block or even form a new party".
Yusri says the Anwar–Azmin crisis will have its effect not only on PKR but on PH itself as the party has the most seats in parliament. A split could create an opportunity for the opposition to take over Putrajaya.
"If Anwar and Azmin sincerely want to stop their feud, they must set aside personal interests and go back to the discussion table and make the reform agenda for Malaysia their top priority," says Yusri.
Zakaria is optimistic "the president will soften his stand and accept the views of all for the sake of the party's survival". Anwar and Azmin, he predicts, "will make peace".
But to Yusri, based on the situation as it stands today, that is a very complicated matter, with PKR at risk of splitting up.