This article first appeared in The Edge Malaysia Weekly, on January 6, 2020 - January 12, 2020.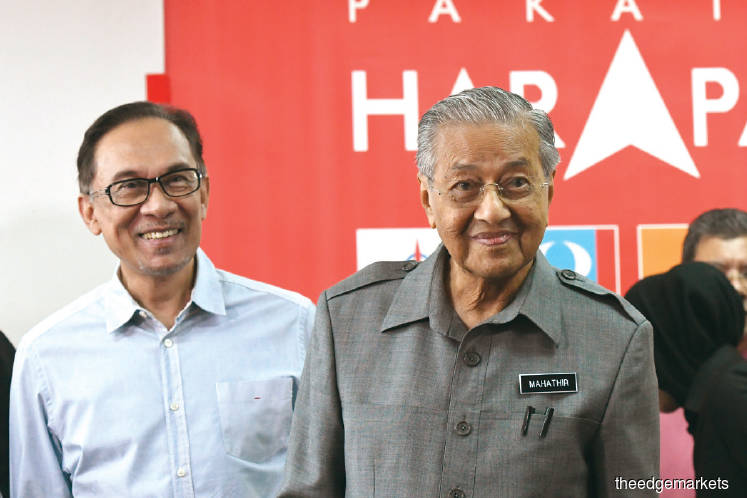 UMNO supreme council member Datuk Lokman Adam is talking about a plot within Umno to merge the party with Tun Dr Mahathir Mohamad's Parti Pribumi Bersatu Malaysia, or Bersatu.
Talk about an Umno exodus to Bersatu or Bersatu taking over Umno and other intrigues has been circulating since last year. It cropped up almost immediately after Pakatan Harapan's victory in the 14th general election in 2018, but none of it has come true. In that sense, what Lokman is saying now is nothing new.
What is new is his mention of a time frame or deadline. He has told the media that the merger is likely to take place a short five months from now, in May this year. Now, that has excited a lot of people.
Lokman got all riled up after party disciplinary board proceedings against former Umno vice-president Datuk Hishammuddin Hussein did not take place, although the board had issued a show cause letter asking him to present himself before it on Dec 26.
The Sembrong MP is accused of plotting to get Umno MPs to join Bersatu. Speculation intensified when 20 Umno MPs led by Hishammuddin held a meeting with PKR deputy president Datuk Seri Azmin Ali at the latter's residence in November last year.
Azmin and Hishammuddin are said to be involved in a plan to support Mahathir and prevent Datuk Seri Anwar Ibrahim from taking over as prime minister, although the succession plan was agreed to by the PH presidential council before GE14. Hishammuddin has denied the allegation.
Nonetheless, the Umno disciplinary board, headed by former attorney general Tan Sri Mohamed Apandi Ali, deemed it proper to haul up Hishammuddin. Hence, the Boxing Day hearing date.
When that did not take place as scheduled, Lokman accused Umno president Datuk Seri Ahmad Zahid Hamidi of intervention; in other words, halting the proceedings.
Now, why would Zahid do that, assuming that Lokman's accusation is true? As many a political observer would say, Zahid and Hishammuddin are not on the best of terms despite the smiles, handshakes and hugging in public. Their ties soured when Zahid took over the party presidency in the Umno election in 2018. But then it is no big secret that the rivalry between the two goes back to when they were both vice-presidents.
Against such a backdrop, wouldn't it be in the best interests of the Umno president if Hishammuddin faced the disciplinary board? So, why stop the proceedings?
Political blogger Shahbudin Husin, who is a keen Umno watcher, takes Lokman's allegations to mean that "Zahid is giving Hishammuddin space to continue pursuing the latter's agenda of forming a backdoor government, which would present him with the possibility of getting back a government post and being freed from the court charges he is facing now".
But Ilham Centre head of research Dr Yusri Ibrahim has a different and very interesting theory. As he sees it, Umno now has three warlords: Hishammuddin, Zahid and former president Datuk Seri Najib Razak. This is common knowledge.
Quite a number of political analysts and writers (including yours truly) think Hishammuddin does not have mass appeal but Yusri sees the Umno man as influential with strong grassroots support and the backing of Umno MPs.
Therefore, according to Yusri, "to put Hishammuddin before disciplinary board proceedings would invite a reaction from him, which would be harmful to Umno. And if he is found guilty, that would only hasten the process of Hishammuddin and his supporters, including the MPs on his side, leaving Umno and joining Pakatan Harapan components, particularly Bersatu".
If that were to happen, says Yusri, Umno, which is now showing signs of revival, will be weakened again and "Zahid, being the president, will not allow that to happen".
Thus, adds Yusri, he is not surprised at Lokman's accusations that Zahid prevented the proceedings, which the disciplinary board seemed bent on conducting, from taking place. Apparently, Apandi resigned in protest, although Umno HQ has denied it. Still, he is reported to be determined to do so.
If Yusri is right about what is going on, that would mean Zahid is saving the enemy for a bigger cause. Could it be for the sake of the party?
Anyway, Lokman, who Yusri says is the current "ayam sabung" or fighting cock of Umno, could have received information about the so-called Zahid intervention from people within the party who are unhappy with the Umno president.
Here is what boggles the mind. Lokman is a well-known Najib loyalist, although he has, in the past, defended Zahid as well. But he is also a severe critic of Hishammuddin, who incidentally is Najib's cousin.
"Yes, we know Lokman is Najib's man. But Najib and Zahid are together. So, why does Lokman keep attacking Zahid? Is it because Najib and Zahid are now having issues?" asks a political observer. That is politics, I suppose.
This compelling story is set to continue. The question is, what will happen in May or the months leading up to it? How I wish I had a crystal ball!
Mohsin Abdullah is a contributing editor at The Edge. He has covered politics for more than four decades.