This article first appeared in The Edge Malaysia Weekly, on April 1, 2019 - April 07, 2019.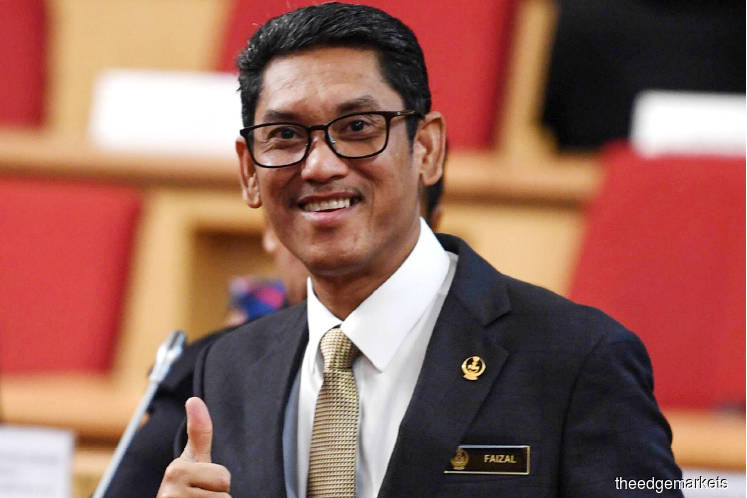 Bernama
FOLLOWING last week's article on the so-called Perak menteri besar crisis, a source tells me of a formula said to have been drawn up by certain quarters within the state Parti Pribumi Bersatu Malaysia chapter, which they believe can be used to choose a new menteri besar should the need arise.
The formula, or option as some political observers call it, is designed with the intention of ensuring that the menteri besar's post remains with Bersatu.
But first, a quick recap. Menteri Besar Datuk Seri Ahmad Faizal Azumu is the sole Bersatu member to have won a Perak state assembly seat in last year's general election, which saw Pakatan Harapan taking control of the state.
Ahmad Faizal is the assemblyman for Chenderiang as well as the member of parliament for Tambun. Despite Bersatu winning only one seat in the state assembly, the party was awarded the menteri besar's post. The party now has an additional seat after Sungai Manik assemblyman Datuk Zainol Fadzi Paharudin crossed over from Umno.
Ahmad Faizal is said to be embroiled in controversies because of his style of running the state and behaviour, which are often criticised by PH allies and even within his own party.
Hence, the proposal of an interesting formula. A long-time political observer calls it revolutionary because it involves asking an assemblyman from DAP to cross over or make some sort of a switch to Bersatu. That way, Bersatu gets to keep the menteri besar's post.
But can it be done?
Firstly, PH has an agreement of sorts not to accept as members people from each other's parties.
Secondly, as the observer opines, Umno and PAS will go to town with the race and religion rhetoric, claiming that they were right all along in accusing PH of being controlled by DAP. Never mind if the DAP man is Malay and Muslim.
Thirdly, will DAP be agreeable to it, taking into account the party's strong stand on not accepting members from other component parties? Not to mention giving Umno and PAS the bullets to fire away.
Come to think of it, why DAP? Obviously, the formula is about choosing a state assemblyman from the party with the most number of seats in the state assembly as it is the usual practice (even when Barisan Nasional was the government). Not to mention logical.
And in Perak, DAP has always had the numbers. But, remember the 12th general election back in 2008? The then Pakatan Rakyat took control of Perak with DAP winning the most number of seats. But the menteri besar's post was not given to the party as it did not have a Malay assemblyman whereas the Perak constitution stipulates that the menteri besar must be a Malay and Muslim. Therefore, the post was given to Datuk Seri Mohammad Nizar Jamaluddin, who was then with PAS, as the party was at the time part of Pakatan Rakyat.
Now, we have a PH government in Perak and DAP has the most number of seats at 18, followed by Amanah (six), PKR (four) and Bersatu (two).
Well, now DAP does have a Malay Muslim state assemblyman — Dr Abdul Aziz Bari, who is an expert on the monarchy and constitution. He is the assemblyman for Tebing Tinggi and state exco member for education, environment, green technology and information.
So, based on the option being floated, Aziz ought to be named menteri besar, replacing Ahmad Faizal, provided he goes over to Bersatu. As said earlier, the people who had come up with the option would want Bersatu to keep the menteri besar's post. As the party does not have anybody else save the newly converted Zainol, they are casting the net beyond the Bersatu fold.
This is assuming that PH opts to remove the current menteri besar, as clamoured for by certain factions within Bersatu and probably PH itself.
It is not known if the "formula cum option" has been brought to the attention of Bersatu's leadership or DAP's or even PH's.
Obviously, it is not easy to give the menteri besar's post to a representative from DAP via such a formula, logical or otherwise.
Another observer puts it this way: "Perhaps it is time for PH to defend DAP or succumb to the Umno-PAS race politics and be stifled by what Umno-PAS will say. If this continues, it is fair to say that DAP cannot dream of leading any state other than Penang, no matter how many capable Malay leaders it has."
But first things first, as far as Perak is concerned. Up till now, the PH leadership has not indicated that Ahmad Faizal will be replaced.
And Prime Minister Tun Dr Mahathir Mohamad has dismissed BN's claim that he had endorsed a move to replace the menteri besar.
But as said in last week's article, that has not stopped speculation of all kinds.