This article first appeared in The Edge Malaysia Weekly, on April 29, 2019 - May 05, 2019.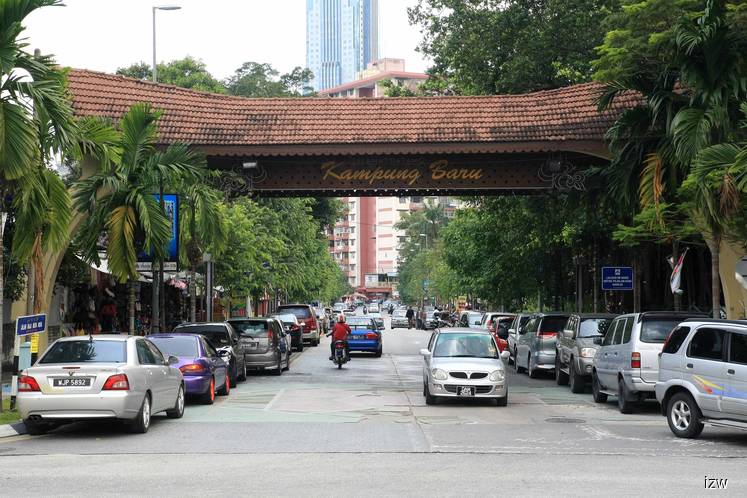 THE government's inquiry into the possibility of buying out all landowners in Kampung Baru is a way forward to redevelop the enclave of Malay reserve land in the heart of Kuala Lumpur. Naturally, there are problems.
Ideas, proposals and plans for the area had previously been mooted during the premierships of Tun Abdullah Ahmad Badawi and Datuk Seri Najib Razak. However, they had raised more questions than answers, and their administrations did not know what to do about them. So, it was no surprise that the plans never took off.
Let's do a quick recap. In 2009, Abdullah launched what was named the Puncak Baru project. The RM500 million scheme entailed the construction of a condominium, an office tower and shoplots on a 1.5ha tract owned by Kuala Lumpur City Hall. The massive project was conceived to kick-start the long-delayed Kampung Baru redevelopment plan.
However, four days after launching the project, Abdullah stepped down as prime minister and Puncak Baru was quickly forgotten.
In 2011, Najib announced an allocation of RM20 million from 1Malaysia Development Bhd to redevelop and upgrade the historical Kampung Baru mosque, saying "this would be the focal point for the entire Kampung Baru facelift".
But many residents even then felt that the mosque project was not suitable to be the development catalyst and the RM20 million was way too little to galvanise a massive project.
The mosque was, nevertheless, demolished the following year and in its place now stands the new Masjid Jamek Kampung Baru. I used to joke with the imams that the mosque ought to be called Masjid Jamek 1MDB.They laughed, but I don't know if they found the joke hilarious or were being polite as I, too, was born and bred in Kampung Baru.
The new mosque may be standing proudly but a redevelopment catalyst it is surely not. The doubting residents were right.
In 2015, Najib came to Kampung Baru to the very same spot where Abdullah stood when launching Puncak Baru and unveiled yet another project.
This one was called Legasi Kampung Baru, also involving the construction of a condominium, office tower and shoplots. It was to be developed by UDA Holdings Bhd with a gross development value of RM529 million.
The question then was, will the project put the Kampung Baru redevelopment plan in motion, finally? Like Abdullah, Najib, too, did not go into specifics when he launched Legasi Kampung Baru.
Back then, residents told me that they saw Legasi Kampung Baru as a standalone project similar to other apartment and condominium projects undertaken by the private sector.
Legasi Kampung Baru is nearing completion, but the mammoth redevelopment it was supposed to bring about did not materialise. That is to say if that was its actual objective. Once again, the residents were proved right. It is a standalone.
Now we have Federal Territories Minister Khalid Abdul Samad saying that the Pakatan Harapan government is looking to buy out all the landowners to finally develop the Malay enclave.
The buyout as Khalid sees it would ensure organised and thorough redevelopment and avoid only pockets of Kampung Baru being redeveloped as would be the case should landowners deal directly with developers.
Naturally, residents I spoke to are excited and are looking forward to the buyout plan.
One of them is Faridah Rashid, an old friend born and bred in Kampung Baru, as were her mother and siblings. They still live in the traditional Malay house where she was born.
"I have seen development all around me, and then suddenly, this kampung of mine began to look like a slum area amid all the skyscrapers surrounding Kampung Baru," says Faridah.
As such, she says, this latest initiative by the government "is a step in the right direction".
But there are problems, as Faridah admits. Multiple ownership of plots and land titles with too many claimants is just one of the long-standing issues.
Khalid is being realistic, albeit stating the obvious — that Putrajaya must first resolve the issue of funding. The government is exploring the option of giving landowners cash and in-kind payouts in the form of apartments, for instance.
However, should residents opt for cash only, then it may need RM6 billion to RM10 billion to see the project through — by Khalid's estimate.
He says the government is looking into several options for the funding — such as DBKL issuing municipality bonds or sukuk. Or a special purpose vehicle that would take out a loan guaranteed by DBKL to finance the buyout.
To economist Dr Muhammad Irwan Ariffin, the idea of the government purchasing Kampung Baru land is doable "even when it involves a high cost as this is a better option for a proper development, rather than leaving it to each landowner to deal with private developers separately".
He believes that Kampung Baru's strategic location can ensure that the government will succeed in raising the money required. However, his advice is for the government to borrow domestically.
The government, says Irwan, "must not repeat the mistakes of the previous Barisan Nasional administration". It should do a proper and transparent cost and benefit analysis, make it public, especially the figure it wants to pay landowners, "which must be justified since later every taxpayer is responsible to pay the price".
Taxpayers funding the buyout is a big issue among detractors of the plan. Another misgiving is the cost of the buyout. Many online commentators are bewildered "that while the government is telling the rakyat that the country has got a trillion-ringgit debt problem, yet it wants to spend such a huge sum".
There are many more complaints, but the bottom line for the critics is, "develop by all means, but don't use tax money".
There is also a racial twist to that argument: Tax money from Malaysians of all races is to be used to buy Malay reserve land, that is, to pay landowners who are Malays. That is the underlying message. I can appreciate such "feelings of being cheated".
An online commentator opines that if taxpayers are paying for the buyout, "then it should be resold to the highest bidder so the government can recoup the expenditure".
Another critic says the very notion of Malay reserve land is that it can only be sold to a Malay — hence, which developer, he asks, will want to participate when the buyers are only Malays?
But a redeveloped Kampung Baru will remain a Malay reserve area, according to Khalid. That is what the residents are adamant about also.
To change its status will, as correctly pointed out by an online commentator, "see Khalid lambasted by the opposition harping on race, religion and even royalty".
If I may add, many Malays, in particular Kampung Baru residents, would change their views — from a "buyout" to a "sellout" of the Malay community. Such an accusation, needless to say, would be bad for the government.
The redevelopment of Kampung Baru will be no easy feat. What is the saying about the road to heaven being a hell of a ride? I think Khalid knows this as well.
Mohsin Abdullah is contributing editor at The Edge. He has covered politics for the past four decades.