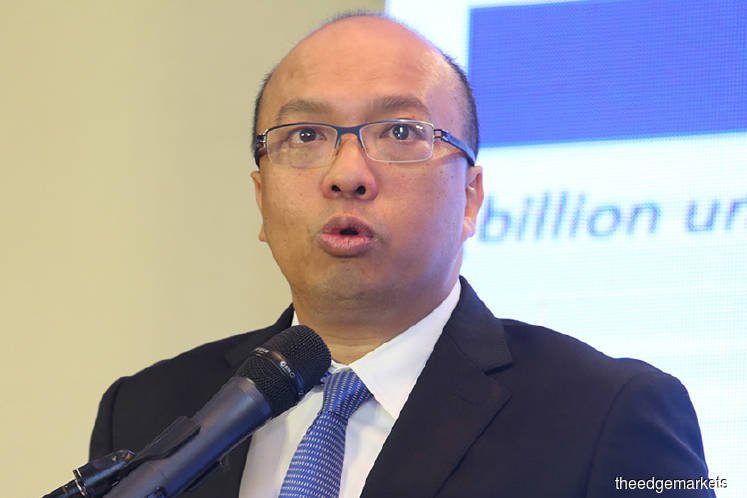 KUALA LUMPUR (Aug 27): Permodalan Nasional Bhd (PNB), Malaysia's largest fund manager by asset value, may be set for its fourth major leadership change in just over three years in the coming weeks.
theedgemarkets.com understands that its president cum group chief executive, Datuk Abdul Rahman Ahmad, will leave upon the expiry of his three-year contract by the end of next month. He assumed the post on Oct 1, 2016.
He will be succeeded by Jalil Rasheed, investment director at Invesco Asset Management Singapore Ltd.
Sources say Abdul Rahman may take the chairman role at Sime Darby Bhd, where PNB has a majority stake of 51.1%, though whether it will be an executive role remains unclear. Other major shareholders at Sime Darby include pensions fund Employees Provident Fund with 10% and Retirement Fund Incorporated or KWAP with 7.06%.
theedgemarkets.com has not been able to contact Abdul Rahman for comment on the matter.
The departure of Abdul Rahman may precede more changes at the top of PNB. Market talk has it that its chief financial officer Datuk Mohd Nizam Zainordin is weighing retirement, while chief strategy officer Datin Paduka Kartini Abdul Manaf's contract is currently on a six-month extension up to the end of this year following its expiry in June this year.
Abdul Rahman's looming departure would be the latest in a string of leadership changes in recent times at PNB, whose asset under management (AUM) had surged past the RM300 billion mark for the first time earlier this year. As at May, its AUM stood at RM301.4 billion.
He had joined the fund manager two months after PNB had appointed Tan Sri Abdul Wahid Omar in August 2016 as its first new chairman in two decades. Abdul Rahman's predecessor in the CEO seat also held office for approximately two decades.
Abdul Wahid and Abdul Rahman had drawn up PNB's six-year transformation plan called STRIVE-15, which began in 2017. The plan aims to uplift PNB into becoming a world-class investment house by whipping investee companies into better shape and boosting returns for its 14.1 million unitholders nationwide.
Abdul Wahid left approximately in end-June 2018, almost two months after the 14th general elections last year. Following Abdul Wahid's departure, ex-central bank governor Tan Sri Zeti Aziz was appointed to helm PNB's board as chairman.
Zeti told The Edge Weekly in a March 2019 interview that among her immediate focuses will be to review the progress of STRIVE-15, which will run until 2022.
"It's a good time to review it because it is at the mid-point. Secondly, the environment has changed significantly in terms of digitalisation, in terms of the uncertainty in the world now," Zeti told The Edge Weekly then. "So, with this environment change, the execution of many of the strategies in that framework has yet to be carried out significantly because you don't want to be disruptive. So, it has to be a gradual adjustment."
See also: Cover Story: PNB on the cusp of change