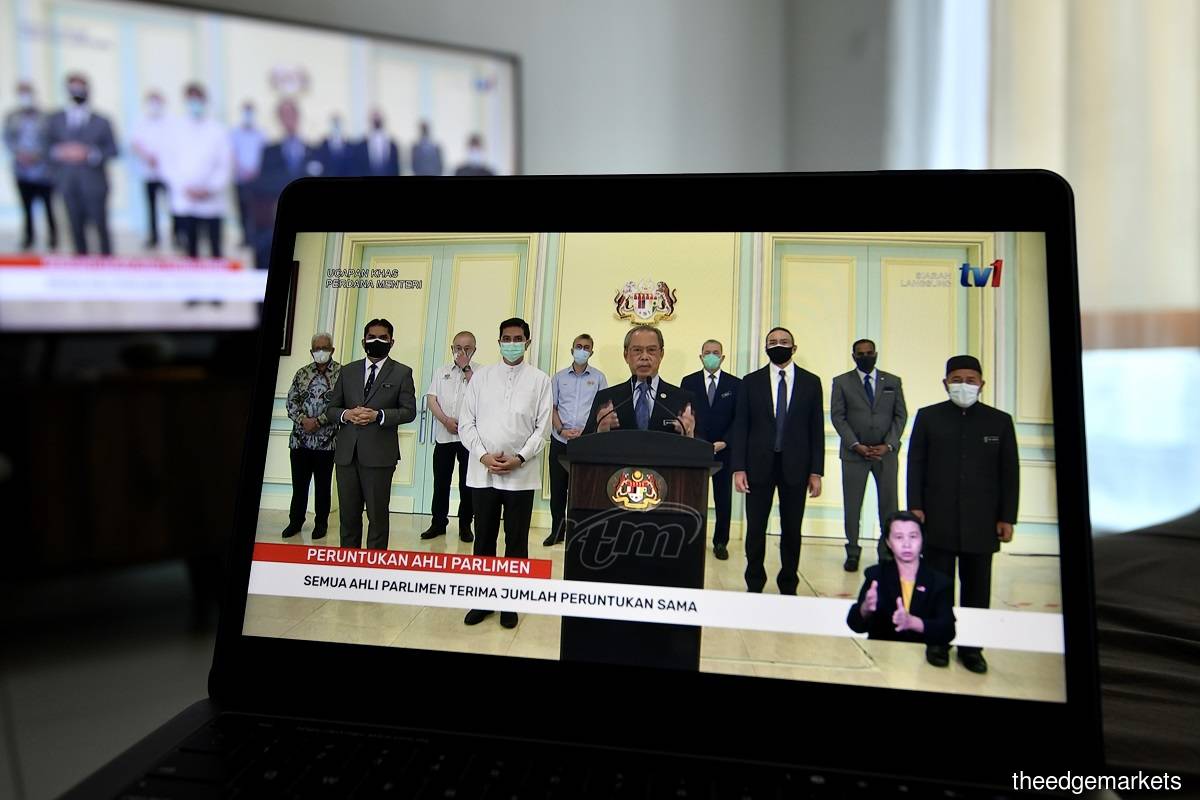 KUALA LUMPUR (Aug 13): Prime Minister Tan Sri Muhyiddin Yassin is seeking bipartisan support from rival members of parliament (MPs) with promises of significant reforms, including limiting the prime minister's tenure to two terms, to solve the ongoing Malaysian political crisis.
In a nationally televised address today, Muhyiddin said he will be negotiating with leaders from parties outside the Perikatan Nasional coalition to garner their support for the motion of confidence vote on the prime minister in the upcoming parliament session.
"This will enable the current government to continue to manage the pandemic until it is time for elections to be held to restore the mandate to the people. This motion of confidence vote can only be passed with bipartisan support in the Dewan Rakyat," he said, adding that he promises to hold the next general election no later than July 2022.
Below are Muhyiddin's proposals — many of which have been called for by the opposition, such as the Anti-Party Hopping Bill and Undi 18 implementation:
• All MPs will receive the same annual allocation regardless of political party. For opposition MPs, the allocation for this year will be made on a pro rata basis according to the number of months remaining in the year.
• The government will table a proposal to parliament to raise the Covid-19 fund ceiling by RM45 billion, from the RM65 billion approved last year, to RM110 billion.
• Cash assistance of RM10 billion will be allocated to 11 million recipients in the second half of 2021.
• If there is a majority of two-thirds bipartisan support, the government will table a constitutional amendment bill to limit the term of office of the prime minister to two terms only and an Anti-Party Hopping Bill.
• As part of parliamentary reforms, chairmanship of parliamentary committees will be equally split between the government and opposition.
• The government has agreed to implement Undi18 without waiting for the implementation of automatic voter registration, which will take time.
• To recognise the role of the opposition bloc, which has nearly equal number of representation in parliament, the opposition leader will be given remuneration and privileges equivalent to that of a senior minister.
During his speech, Muhyiddin also claimed that up to this point, no other MPs have been able to prove that they command a majority support in parliament.
As such, he said even if he were to resign, a new prime minister could not be appointed according to the constitution.
"When the prime minister cannot be appointed, then the Cabinet cannot be appointed and a new government cannot be formed.
"What will happen to our country if the political crisis continues and a new government cannot be formed immediately? Which government will ensure the vaccination programme runs smoothly and on schedule?" Muhyiddin asked.
Read also:
PM: 'I have the responsibility not to let the kleptocrats back in power'