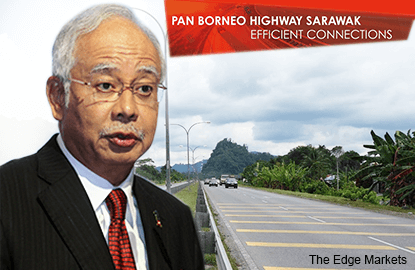 KUALA LUMPUR (March 30): Prime Minister Datuk Seri Najib Tun Razak said between RM5 billion and RM8 billion worth of Pan Borneo Highway Sarawak contracts would be distributed among Bumiputra contractors in Sarawak.
 
Najib wrote in najibrazak.com that Pan Borneo Highway Sarawak project delivery partner Lebuhraya Borneo Utara Sdn Bhd had indicated its commitment to ensure Bumiputra contractors' participation in the project.
"I wish to announce a new policy under which a portion of mega and iconic projects' value will be earmarked for Bumiputra contractors in a competitive manner," Najib said.
Najib said the initiative was first introduced under the Klang Valley mass rapid transit and Pan Borneo Highway Sarawak projects.
Pan Borneo Highway Sarawak's website indicated Najib had launched the project in Bintulu on March 31, 2015.
Upon completion in 2023, the 1089km highway will link Telok Melano and Merapok in Sarawak, according to the website.